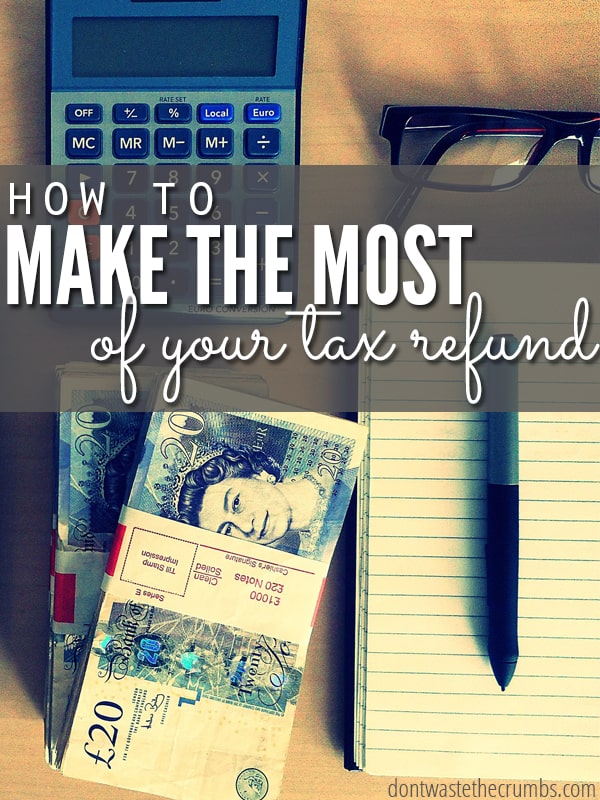 Today's post is written by Barry from Stacy Makes Cents. I've been a long-time fan of both Barry and Stacy and their debt-free approach to life, so it's truly an honor to have Barry share his financial wisdom here on Crumbs!
Each year, as soon as the calendar flips to January, advertisements inundate our homes to remind us it is officially tax season. As a financial coach, I roll my eyes and shake my head a lot this time of year because so many people get a tax refund and go crazy as though they've won the lottery.
These same people who, just a few weeks prior were in woe over what to do after overindulging their budgets at Christmas, are out making a new financial mess instead of cleaning up the old one(s).
If you get a refund this year, don't be that way! This year, let's do what it takes to make the most of your tax refund. How? Read on.
First, if you get excited for tax season every year because of the anticipation of that big refund, I can't blame you. Almost 80% of Americans got a tax refund last year, and over 40% of Americans didn't even have to pay any federal income taxes at all.
To most, a big tax refund is the most awesome perk of the new year. But as every financial expert worth his salt will tell you: a big refund simply means the government was nice enough to give you your extra money back to you. The fact that you get a refund simply means you paid too much!
If that's you, maybe you should consider ways to reduce your refund next year so you can get more money throughout the year. Until then, what should you do with that big check in your hand? Here are some good options.
How to Make the Most of Your Tax Refund
(1) Build your emergency fund
If you don't already have some money set aside as a buffer against the unknown, you need to make this a top priority.
I teach people to live with zero debt, and the only way to do that if something really expensive and unexpected comes along is to set aside some money just in case.
(2) Pay off debts
If your mailbox is generally full of bills, a big check in your mailbox may signal relief. But be smart about this!
Use the Debt Snowball and get rid of debts, and if you have enough to pay one or more debts in full, make some phone calls as you prepare to make those payoff payments.
Stretch these dollars as far as you can make them stretch – remember that another check from the government won't be coming next month.
(3) Save for retirement
If your debts are in order (read: paid off), you may want to focus on retirement. I'm a big believer in Roth IRAs for retirement savings.
You can put a good chunk of money toward retirement and get a head start on long-term savings with this boost from your own pocketbook, courtesy of the IRS.
(4) Save for a big purchase
If you don't have anything saved toward a newer vehicle and what's in the driveway is falling apart, it may be a smart idea to set aside some money toward replacing your ride.
What about the leaky roof you've been meaning to replace for the past year? Don't go into debt for these larger expenses if you can use your refund on this now instead of borrowing to fix it later.
(5) Bless someone
You really only have three options with money: you can save, spend or give it away. The most fun is to give it away.
If your financial house is in good order and you receive the unexpected surprise of a tax refund, maybe you should consider helping someone who may really need it.
People are often most generous during Christmas and then forget people have needs in January, February and beyond. If you've got a neighbor who is struggling, maybe you can help out a bit.
I hope these suggestions will get you thinking about ways to handle that check if/when it comes in the mail. To fix the problem of the IRS getting too much of your money next year, make some changes to your W-4 at work to have less money taken out of your paycheck each time.
Try to ensure you balance how much is taken out so you don't end up owing a bunch of money, but also make sure you don't get a huge "bonus" from your own pocket like you did this year. Doing this means more money will go in your pocket every payday…and that's always a good thing!
What do you typically do with your tax refund? Spend? Save? Give it away? Share your thoughts in the comments below!
This post was written by Berry at Humoroushomemaking.com.