As you consider your garden this year and start to make garden plans for what you want to harvest, take a cue from the Iroquois Indians and their method for companion gardening.
They planted "the three sisters," corn, beans and squash. The corn provided something for the beans to climb, the beans provided nitrogen for the corn and the squash spread between the rows providing ground cover and weed control.
Companion gardening is nothing new, and it's an effective method to use if you're gardening to save money.
Benefits of Companion Gardening
Companion gardening offers three main benefits:
Saves Money. Since many of the plants provide what other plants need to grow, you save money on fertilizers and pest control.
Saves Space: When you have limited garden space, companion gardening is a very space effective way to plant.We have a small garden and I have discovered ways to fit all kinds of plants in here and there. Herbs go in flower beds and some even grow in the yard. Raspberries are the fruit of choice since they take so little space for a huge crop. And the money we've saved by gardening is phenomenal.
Controls Pests:  Plant marigolds around the edges of your garden and sprinkle them throughout to deter beetles, tomato worms and other pests. Marigolds also attract pollinators necessary for the production of fruit. Sow radishes with squash, melon, and cucumbers to repel the striped cucumber beetle. Planting onions around early crops like lettuce, spinach, and strawberries will deter rabbits.
Companion Gardening Beginners Guide
There are many different ways to plant companion gardens, but to stay true to a beginner's guide, I'm giving you the 3 companion plots we use and the 4th one that we WOULD use if we had the space.
Companion Gardening: The Salad Garden
The first time I heard of planting a salad garden I was about 14 years old and intrigued by the idea. I planted everything like I was supposed to and then forgot to weed… Oh what a mess that first salad garden was!
A salad garden is meant for just that, salads. So the size of it relates to your family and how much you can eat at once. For the two of us, a 2 foot square salad garden is sufficient. Allowing 1 sqft per person is a good place to start, adding more or less depending on how much you enjoy eating lettuce and salads.
When planting, you can be purposeful like traditional square foot gardening and alternate the seeds, or you can simply scatter them and and thin as the plants come up. This is an early spring garden and often done by May, leaving time for more plantings of other crops later in the season.
Why various greens are good for companion gardening:
The lettuce and spinach are shallow growers, taking moisture and nutrients from the top and creating shade for the root crops which prefer cooler weather.
The root crops grow deep and as you harvest them, they aerate the soil allowing water and nutrients in.
Companion Gardening: Bush Beans, Cucumbers and Radishes
Bush beans feed nitrogen into the soil, and cucumbers naturally need a lot of nitrogen to grow well, making both plants mutually beneficial to each other.
Given the cucumber's propensity to spreading, plant them in small 1 foot diameter cages among your beans.
Why radishes are good for companion gardening with beans and cucumbers:
Planting radishes among your green beans will discourage rabbits from snacking on your green bean shoots. As your beans and radishes grow, harvest the radishes.
Planting radishes in your cucumber cages will help to repel the cucumber beetle. Do NOT harvest these radishes and even allow them to go to seed.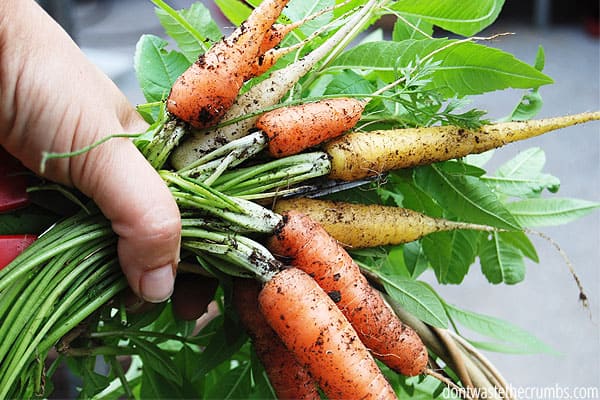 Companion Gardening: Carrots, Tomatoes and Onions
Carrots protect against onions maggots, while onions deter the carrot fly, whose larvae eat carrot roots. Tomatoes like to be watered deeply – the same as carrots and onions – making planting them together convenient using the same water source.
To allow enough room for all three plants, we use 2 foot diameter cages and plant carrots and onions around the inside of the cage.
Why tomatoes are good for companion gardening with carrots and onions:
Carrots and onions both do better when it's cool and grow nicely in the shade of tomato plants.
I particularly love this little "family" because the carrots and onions take up space otherwise considered wasted.
Companion Gardening: Corn, Peas and Squash
Although the original trio uses beans instead of peas, my family prefers peas. In order to make this companion gardening family work, you need a large area for the corn to properly pollinate. Make sure your plot is at least 10 feet both ways for best pollination.
Plant your sweet corn in hills spaced a foot apart, 3 seeds per hill. Between the corn hills, plant 2 bean or pea seeds. Space your corn/bean rows 3 feet apart and center your squash plants between the rows.
Squash can be anything from yellow crooked neck squash to pumpkins to zucchini.
Why corn, beans/peas and squash are good for companion gardening:
The corn provides something for the beans/peas to climb.
The beans provided nitrogen for the corn.
The squash provides ground cover and weed control.
If you struggle with beetles, plant some radish near the squash!
Other Plants that Work Well in Companion Gardening
We plant basil and peppers side by side as they each provide nutrients for the other.
Strawberries and spinach are good together in salads and also grow well together.
Plant a few garlic cloves around or near rosebushes to ward off diseases.
Red beets and cabbage also compliment each other in the garden.
There are many different plants that do well together, and others that don't get along well at all. If you are new to companion gardening, start with just a few plants and as you gain experience add in a few more!
Companion gardening is nothing new to me, yet I'm learning more each year. Do you use companion gardening?
This post was written by Kendra at aProverbs31Wife.com.