When my husband and I first married, I boasted about my chocolate chip cookies.  I had a great "secret" recipe and had the timing down to minutes for a soft, golden brown edged, perfectly cooked cookie.
Set the timer for 6 minutes, *beep*
Turn the pan 180 degrees, set the timer for 2 minutes, *beep*
Pull out of the oven to a cooling rack, put next pan in, set timer for 6 minutes, *beep*
Turn 2nd pan 180 degrees, take cookies off cooled pan, place on another cooling rack, set timer for 2 minutes, *beep*
Repeat.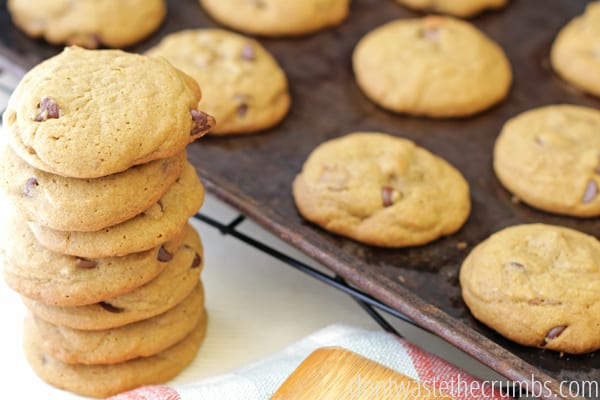 We moved to California and my perfect recipe went down the tubes.
The cookie?  Flat as a board.
Timing?  Burned to a crisp.
Taste?  See "the cookie" and "timing" above and take a guess.  😉
Over and over I trouble-shooted the recipe:  cold butter, room temperature butter, cold eggs, under beat the dough, over beat the dough, over beat the butter but not the flour… *sigh*
It was an exhausting process and I eventually gave up.  My oatmeal chocolate chip recipe was pretty stinkin' good anyway.  Chocolate schmocolate.
And then my husband made a batch of chocolate chip that came out great.
Oh no, he didn't. 
The War. 
Was On.
There have been some "good" cookies in the battle, at least until this weekend.  I tried a old recipe with a new twist and the war is over.  This recipe is the best and six years later I'm hanging up my hat as the winner of the war.
I've also come down off my high horse (a little) since my initial recipe and I'm sharing the recipe with you guys.  I'll share the title of winner too. 😉
Be sure to read the entire recipe (shoot, the entire post for that matter) before beginning.  The dough requires overnight refrigeration.
The Best Chocolate Chip Cookie Ever
Ingredients
1 cup (2 sticks) unsalted butter (see updates at the bottom)
¾ cup white sugar
¾ cup brown sugar ** see update below
2 eggs
1 tsp vanilla
1¼ cup all-purpose flour (see updates at the bottom)
1 cup bread flour
1 tsp baking soda
½ tsp salt
½ cup chopped milk chocolate
½ cup chopped dark chocolate
1 cup chopped semisweet chocolate
Instructions
Have all ingredients at room temperature.
In a large bowl (or mixer with paddle attachment), beat the butter, white sugar and brown sugar until it is light and fluffy (about 5 minutes). Scrape down the sides of the bowl and the paddle. Beat in the eggs and vanilla on medium speed until thoroughly combined (2-3 minutes). Scrape down the sides of the bowl again to thoroughly incorporate all the ingredients.
In a separate medium bowl, combine the all-purpose flour, bread flour, baking soda and salt. Add all three chocolates to the flour mix and toss to combine.
Turn the mixer on low (or continue to mix by hand) and slowly blend the flour-chocolate mixture into the butter-sugar mixture. Mix until the chocolate and flour are totally incorporated and the dough is completely mixed.
Scrape the dough into a container, cover and let it rest in the fridge for at least 12 hours.
Preheat the oven to 350 degrees. Drop the dough in ¼ cup balls onto a baking sheet 2 inches apart (dough will be tough to work with). Press down slightly with your hand. Bake until the edges are golden brown and slightly soft in the center 15-18 minutes. Remove and cool the entire pan on a cookie sheet for 5-10 minutes. Remove cookies from the pan and continue to cool for another 5-10 minutes (if you don't eat them first) before storing in a sealed container.
Repeat with additional cookie sheets. If you only have one cookie sheet, bake one batch and cool the tray by running it under cold water and drying before baking the second batch.
Notes
**Update: We've now made these chocolate chip cookies without brown sugar (and used all semi-sweet since we were out of the other chocolates too) and they were great! Not that I'm confessing or anything, but I ate two for breakfast the following morning with my coffee - YUM! If you're looking for a brown sugar-less chocolate chip cookie recipe, you've found it!
**Update 2: At a reader's suggestion, we used ½ cup coconut oil in place of one stick of butter. We also subbed 2 Heath bars (chopped up) in place of the milk chocolate and used all whole wheat flour - AMAZING! Our absolute favorite cookie ever made, and it's the healthiest!
Adapted from Joanne Chang's
recipe
.
Those who are fluent in the various cookie recipes out there will realize that this recipe is not too far off from the one on Nestle Tollhouse packages.  Although
the few alterations – bread flour, chocolate and refrigeration – are imperative to this recipe's success
.  Do not skip them!  The bread flour has more protein than all-purpose, so it gives the cookie a nice rise while baking.  This rise then comes down nicely over the chips when the cookie has cooled.  The combination of chips give the cookie dimension and the refrigeration allows the ingredients to get to know each other a little better. 😉
Using 1/4 cup of dough will yield large, bakery-style cookies.  Aim for a heaping tablespoon if you want smaller (and diet friendly) cookies.  If you go smaller, adjust the baking time and watch for golden edges and slightly soft center.  This is what makes the cookie still soft a day or two later.
The saying goes that the best ingredients always yield the best results, but "the best chocolate" is not in my budget.  So I used what I had – Hershey's.
I used 8 Hershey's dark chocolate mini-bars (chopped into the same size of a chocolate chip), 8 Hershey's milk chocolate mini-bars (also chopped into the same size of a chocolate chip) and 1 cup of Nestle's semi-sweet chips.
DE.LISH.
With Halloween coming up, it is the season for cheap candy.  While I don't advocate buying candy, perhaps you could snag some before dumping them into the bowl for the trick-or-treaters.  Or better yet, snag some from what your own little trick-or-treaters bring home.  They don't need all that sugar anyway. 😉
The same goes for Easter, by the way. 
If you don't have milk or dark chocolate on hand, use whatever you have.  Mr. Goodyear bars would be nice with the peanuts; a combination of vanilla and butterscotch chips would be yummy too.  Leftover Hershey kisses?  Imagine the flavor combinations with those!
One last thing I want to suggest is making the balls of dough before refrigerating.  I haven't done this yet, but since the dough was very hard to work with after refrigeration it's worth trying.  Again, I've only made the recipe as written above, so stray at your own risk!
How did you find your favorite chocolate chip cookie recipe?