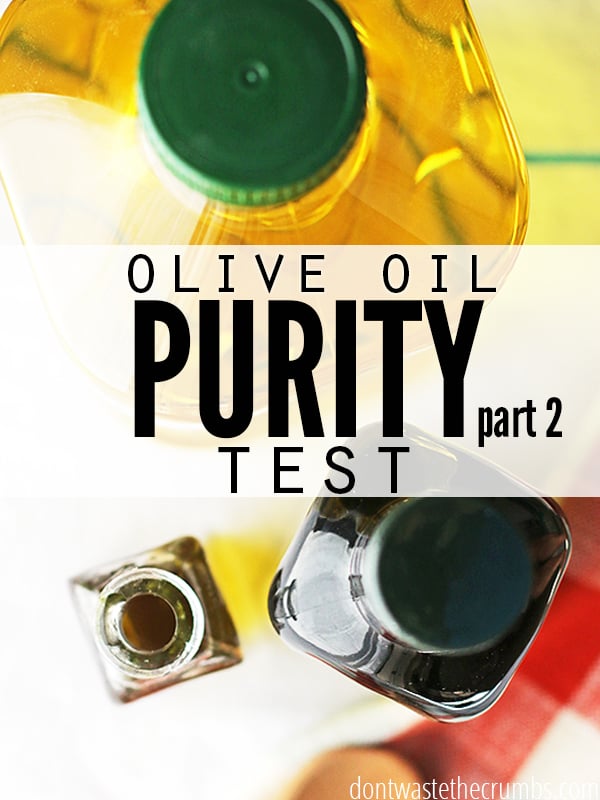 A few weeks ago I shared a simple 2-step test to determine the purity of your olive oil.  In the test, olive oil either passed or failed.  If it passed, it's pure.  If it failed, it isn't pure. (And likely diluted with polyunsaturated oils).
Turns out this topic is quite the hot debate!
Several readers chimed in with their thoughts and to note that the test wasn't valid.  The links left in the wake were a great resource in pursuing the validity of the fridge test a bit further.
Four weeks later (YIKES!) I've FINALLY been able to sift through the information, as well as some other data and articles related to the test.  There are as many different viewpoints as there are types of oil, several of which are unmistakably conflicting, which makes it somewhat difficult to put in to plain words that we can all understand (lucky me!).
The only way it can really understandable is by putting all the cards on the table for you guys to read too.  Most viewpoints belong on one side of the fence or the other:  it either claims the test is true, or claims it's false.  There are some "other" data too though that I felt was too important to exclude, so those have its own section at the end.
Let's hear from both sides of the story, shall we?
Sources Supporting the Fridge Test
Nourishing Traditions
Sally Fallon writes "Olive oil with its preponderance of oleic acid is the product of a temperate climate.  It is liquid at warm temperatures but hardens when refrigerated," on page 8 of her well-known and reputable book.
Science
Olive oil is naturally made up all three major fats:  saturated, monounsaturated and polyunsaturated.  The percentage of each fat that can be found in olive oil varies:
Saturated fat:  8% – 26%
Monounsaturated fat:  55% – 86%
Polyunsaturated fat:  3.5% – 22%
As a general rule of thumb:
Saturated fats are solid to semi-solid at room temperature and cooler (ex:  butter, coconut oil and tallow) because of their molecular structure.
Monounsaturated fats are liquid at room temperature, but solidify at cooler temperatures, also because of their molecular structure.
Polyunsaturated fats are liquid at room temperature and remain liquid even at cooler temperatures.
Worst case scenario, an olive oil can be 22% polyunsaturated fat.  This leaves 78% blend of saturated and monounsaturated fats.  Given that both saturated fat AND monounsaturated fats solidify at cooler temperatures, it is highly likely that an oil with such a large percentage of these fats would solidify in the fridge.
Sources Claiming the Fridge Test is False and It is Better to Judge By…
Sensory Tests
There is a crowd that claims the only way to truly judge the purity of olive oil is to perform a sensory test. The color, smell, taste and feel of the oil in the mouth determine its quality.  This is one way the International Olive Council (IOC) tests olive oils, however the IOC has very stringent requirements for someone seeking to be one of their qualified testers.  The IOC also requires these same conditions of any independent lab seeking IOC accreditation.  (source)
It should go without saying (but I'll say it anyway) – the ordinary customer with an untrained palate does not qualify to perform sensory testing.  In order to pass sensory testing, eight different testers must all agree that the oil has zero defects and at least some level of fruitiness.
Is that even reliable?
The way journalist Alex Renton explains it best in his review of Mueller's book give me a nice chuckle:
I conducted a blind tasting of extra virgin olive oils a few years ago for a national newspaper that wanted "the truth on expensive olive oil."
We had a dozen oils, and a panel consisting of an importer, an Italian deli owner and a couple of eminent foodies: the results were so embarrassing and confusing the piece was never published. The importer went into a fugue after he was informed that he'd pronounced his own premium product "disgusting"; the deli owner chose a bottle of highly dubious "Italian extra virgin" as his favorite (it had cost £1.99 [$2.59]at the discount store TK Maxx); and both the foodies gave a thumbs-up to Unilever's much-derided Bertolli brand.
To add to the case, the Olive Oil Times reported in a February 2011 article that 74% of consumers disliked oils identified as high-quality by expert testers and that  44% of the consumers actually preferred oils labeled by the experts as defective in rancidity, fustiness and mustiness.  (source)
The Results of the University of California-Davis Study
First, know that there are three studies on olive oil by UC Davis.
First study:
In July 2010, the university set out to evaluate oils sold in California and compare them with the standards set forth by the IOC and the United States Department of Agriculture (USDA) to detect adulterated extra virgin oils.  In addition to IOC and USDA testing standards, they also used new testing methods adopted in Germany and Australia.  According to this study, the oils were analyzed by a single sensory panel and various chemical tests.  Of the oils that failed sensory testing, negative results were confirmed through IOC standard chemical test in 31% of the cases.  Chemical testing using methods employed by Germany and Australia confirmed negative sensory testing in 85% of the cases.  Researchers recommended incorporating the German and Australian chemical testing methods into the IOC/USDA standards. (source)
Second Study:
In 2011, the university continued to evaluate the quality of extra virgin olive oils, yet tested more samples of fewer brands.  Two IOC-accredited sensory panels were used and the results range from a 56% to 94% failure rate.  Like the 2010 study, it was suggested that IOC standards would be more effective in assessing and enforcing olive oil quality by including the methods used in Germany and Australia, and also recommended further investigation into the chemical markers of sensory defects.  In plain English, the IOC standards are ineffective as they are currently in place, and the lab suggested finding a way to chemically measure what the senses can find.  (source)
Third Study:
In 2012, the university evaluated fifteen olive oils labeled extra virgin that were sold to restaurant and food service sectors.  In chemical testing, 14 out of 15 olive oils passed to be classified as extra virgin.  The one failed sample was adulterated with canola oil.  In sensory testing, 9 out of 15 olive oils failed.  Tasters of the panel labeled these oils as rancid (describing the oils as "stale walnuts," "crayons" and "waxy"), fusty/muddy sediment ("olive mill waste pond," "baby diapers," and "sweaty gym clothes") and musty ("moldy" and "earthy").  All oils that failed sensory testing also failed additional chemical testing.  (source)
While these studies are filled with great information, they do not create a clear-cut case for sensory testing.  In fact, two of the three studies clearly suggest incorporating the specific chemical tests used in Germany and Australia.  There is also no mention of refrigeration or cooling of oils in any of the UC Davis studies.
Finally, it is worthy to note that the 2010 and 2011 studies were funded by Corto Olive, California Olive Ranch and the California Olive Oil Council.  Similar to canolainfo.org supporting the American Heart Association's website on the "healthy" benefits of polyunsaturated oils (even though we know they offer NO nutritional value), one must be suspect of test results when the financiers have a vested interest.
Does the Price Make a Difference?
Sources who claim "any oil under this certain price" should be avoided (like Dr. Josh Axe) should eat their words.  Consumer Reports (CR) did their own testing on olive oil and found only 2 of 23 to be worthy of the label "excellent."  One of those two bottles costs $58.49.  The other was Trader Joe's California Estate at a much more affordable $11.83. (source)  Two additional "best buys" included Kirkland Signature Select Toscano from Costco, which also costs only $11.83 for one liter. (source)
Side note, CR notes that oil can be refrigerated if it's not used often and that it will liquefy quickly at room temperature.  If the oil is to liquefy, then it must solidify, right?  😉
Other Data to Consider:
By mere definition of the product, the fridge test should only be considered for extra virgin olive oil.  All other grades of olive oil are held to a lesser standard and results will not be as reliable.
The fridge test will not always be 100% accurate.  The region where the olives originate may play a part in the percentage of monounsaturated content.  It is generally accepted that cooler regions (e.g. Tuscany) will yield oil with higher oleic acid than warmer climates. That is, a cool region olive oil may be more monounsaturated in content than a warm region oil.  (source)  This could explain why one "pure" olive oil would solidify while another wouldn't (as in the reader's comment noted in this article).
Manufacturers of olive oil produced in the United States label their product according to the US Standards for Grades of Olive Oil published in April 2010.  Olive Oil manufacturers are not legally required to follow USDA standards, rather they do so voluntarily.  Adherence to these standards is not regulated nor monitored.  Manufacturers may have their product tested by the USDA for a fee.   The standards were merely designed to facilitate orderly marketing by offering a convenient basis for buying and selling and establishing quality control programs.  (source)

What's a Rookie Real Foodie to Do?
While this data is certainly interesting, there simply is no real clear cut answer.  The fridge test isn't certain, taste buds are unreliable, prices really don't matter and UC Davis wants more testing.  It's enough to drive us bonkers!
Let's not go crazy (yet).  I've devised a second 3-step process that us "ordinary folk" can use to at least weed out the bad oils.
1. Do the fridge test.
I know… I KNOW!  All this data just to come right back around where we started?  Hear me out.
While the fridge test isn't 100% true all of the time, it is at a minimum reliable. Because we know the molecular behavior of unsaturated fats. It filters out extra virgin olive oils that are so watered down that there's barely any oleic acid left.
Granted there may be a chance that a really expensive or high quality oil doesn't solidify. But to be quite honest, one can really only claim an oil to be high quality if they're absolutely sure of the source (as in you know the farmer).  And the chances of most Crumbs readers splurging on a $60 bottle of olive oil is just not very likely. This a frugal real food blog as it is.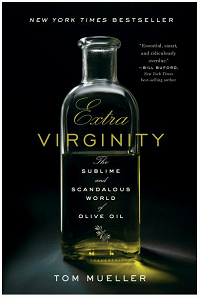 2. Educate Ourselves on Olive Oil
Tom Mueller is a journalist and author of a riveting book titled "Extra Virginity: The Sublime and Scandalous World of Olive Oil."  (He's also editor of TruthInOliveOil.com.)  He submersed himself in everything olive oil for five years and wrote a book that reads like a mystery novel. Mueller unfolds the deceit and fraud that underline the olive oil business (it's backed by the mob!).
So intrigued by the reviews on Amazon, I bought a copy for myself!  Beyond the scandalous stories, he offers excellent and practical advice for those looking to buy true, extra virgin olive oil.  I don't know if I'll ever get to step #3, but at least I'm doing my homework and I'll be better equipped at the grocery store!
3.  Become an Olive Oil Connoisseur
If you're one to pour a bit of extra virgin olive oil onto a saucer alongside a delicious balsamic vinegar, swirl a piece of homemade sourdough bread between the two, allowing the flavors to meld and the bread to soak them up before taking a luscious bite… outside of the local Italian restaurant, then get to know what a good olive oil tastes like.  Learn how to swirl, roll and decipher between musty, rancid and fusty like the pros and enjoy the learning process (and the great oils discovered!).
If you're like me and just want some olive oil to make homemade salad dressings, some rosemary olive oil bread or even to lightly flavor grilled vegetables – then the fridge test (supplemented with some good reading) will work just fine.
How Do the Fridge Test Results Compare?
I thought it would be interesting to note how our own fridge tests compared with those done by UC Davis.  Below are the tests that were done in the Crumbs Test Kitchen. As well as the oils noted by you guys, the readers.  See for yourself how the results compare.
Oils That Remained Liquid (i.e. not pure extra virgin olive oil)
Bertolli – failed UC Davis
Filippo Berio – failed Davis
Star – failed Davis
Oils That Solidified (i.e. labeled correctly as extra virgin olive oil)
Costco Organic  – passed UC Davis
Costco Signature Toscano (Crumbs second round test, pictured at the top of the post) – not tested by UC Davis, but recommended by Tom Mueller
CA Olive Ranch – passed UC Davis
Trader Joe's – recommended by Consumer Reports
What do you think about the fridge test now?  Still valid?  Not valid?  Worth a third post?!