My grocery budget for our family of 4 is $330 each month. This real food budget includes food, toiletries, household items as well as health & beauty products. It also includes EVERY meal, not just dinner. This post is our monthly budget accountability session, where we share what we spent on food for June 2015. You can read previous Counting Crumbs reports HERE.
—–
If there was ever a reason to sit down and take a look at the month ahead BEFORE you went shopping, today's post is it. It just goes to show that just a few minutes – no more than 10 – can make all the difference in the world in your budget.
And just in case you think I'm a broken record, I'm not talking about meal planning!
We went over in April, so we kept May lean and slid in with $80 to spare. My mentality going into June was free-reign… to both stock up and enjoy a few fun foods while the funds were available.
But I had forgotten something very important: some of our funds were already committed to the weekly CSA box.
Allocating money for future weekly expenses is not normal for me (not in the grocery budget anyway), so it takes purposeful planning and forethought to stay within a lesser budget, so to speak, in order to have those funds available later.
But I didn't realize this until AFTER I had already spent a good chunk of the budget.
Ah, I'm ruining the story. I'll let the pictures and shopping trips explain the rest, but let's say that I've definitely learned my lesson and I'm already making better plans for July!
Gizdich Ranch – $29.69
I took advantage of the budget reset by taking the kids berry picking again with some good friends. The timing was perfect, as we were able to take advantage of the very short olallieberry season. We picked strawberries too, and we still have plenty put up for future pies and snacking.
Here's one of the pies we've made so far: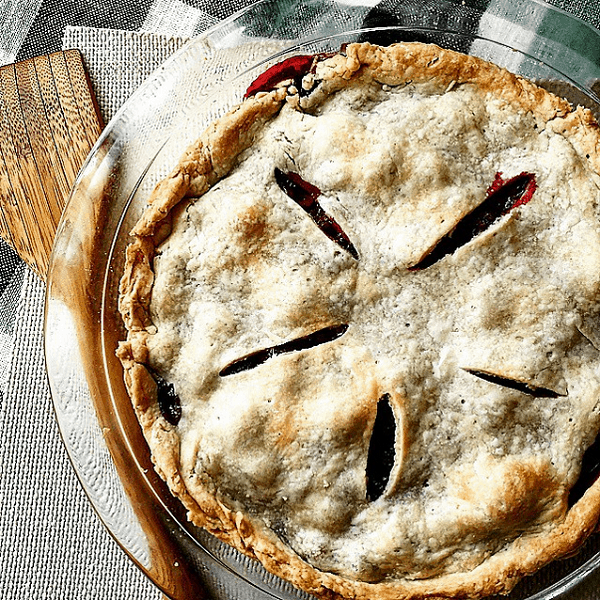 Costco – $195.59
bread flour 50lbs, 12.49
grass-fed butter x3, 6.99
organic whole chicken x2, 27.44
fresh mozzarella, 7.49
antipasto meats, 11.49
ribs x3, 26.79
natural peanut butter, 10.99
coffee 3lb, 14.99
contact solution, 19.99
organic ms, 11.79
old fashioned rolled oats, 8.99
applewood bacon 4lbs, 11.99
diced tomatoes, 5.99
After a lean month in May, the inevitable restocking was set for June. A good portion of this trip was to restock the pantry – flour, peanut buter, coffee, oats, bacon and tomatoes. The butter, chicken and mozzarella are monthly staples. I bought ribs for Father's Day and the antipasto meats were for a special trip to Jade Cove (where having an antipasto tray for lunch is part of the fun).
I was pretty proud of myself after this trip, thinking I replenished the kitchen and still had $100+ dollars for the month… and then I remembered the weekly CSA box… And the berries I had already purchased…
I added up the numbers and realized that as of the second day in the month, I had spent most of our budget. There was just $30 left for the next four weeks! YIKES!
Of course the damage was already done and I couldn't go backwards in time, so I told Mr. Crumbs my error in thinking/planning. While neither of us were thrilled, we were at least on the same page. This made the rest of the month SO much easier, because anytime we needed something from the store, we both tried to think of ways to make it work without spending more of the grocery budget.
Looking back at my purchases, I can see where I could have curbed my spending a bit. I usually buy contact solution when it's on sale (saving $5) and buy just 2 pounds of bacon instead of 4 (saving $6).
I've also been better in the past about shopping on Amazon and Tropical Traditions FIRST, using gift certificates/gift cards that I've earned. I could have done that for the oats and coffee for sure, and maybe even the peanut butter.
Grocery Outlet – $12.02
fontina, 3.49
havarti, 2.49
chevre, 3.05
brie, 2.99
Part of the fun antipasto lunch we had planned for Jade Cove includes fun cheeses, so Mr. Crumbs was so kind to pick out these four for me while he was out with the kids.
Savemart – $7.18
whole grain crackers, 3.49
white crackers, 3.69
While he picked up cheese, he picked up crackers too (still for the fun lunch).
CSA Box Week #4 – $0
red chard
broccoli
romaine
arugula
leeks
strawberries
cilantro
cucumbers
white peaches
ginger
A slight reprieve in the budget, we had pre-paid for this box in May! This didn't solve the entire budget issue, but it certainly did help!
I made a super yummy pasta dish with the chard (recipe coming soon!), lots of salads and snacked on the cucumbers. I used the ginger in a stir-fry and made pan-seared broccoli.
PS – I'm sharing what comes in our CSA box every week as it comes in via Instagram. Be sure to follow me to see what surprises the box holds and our plans to use it up!
Savemart – $10.48
eggs, 2.50
pepperoni x2, 3.99
Eggs are a monthly staple and pepperoni is for homemade pizza on Friday nights.
CSA Box Week #5 – $21.59
cauliflower
green butter lettucce
red leaf lettuce
red beets
zucchini
strawberries
green beans
cilantro
tomatoes
apricots
I mentioned last month that my parents and grandparents gifted us the CSA membership for the rest of the year, but I didn't think it would be very fair to get $21 worth of produce every month and stick to our regular $330 budget… because that would essentially be the equivalent of spending $435 each month instead. So we decided to decrease our actual spending and include the weekly cost of the CSA in our grocery budget tally. This would keep the total each month relatively the same as it is when it's not CSA season, and better explain how we do the real food on a budget thing.
We roasted the cauliflower and beets, blanched and froze the beet tops, ate salads and then made a huge stir-fry with what was left at the end of the week with the ginger from the week before.
Savemart – $14.89
milk, 3.69
yogurt, 3.69
carrots, 1.49
celery, .99
onions, 2.55
potatoes, .99
bananas 3lb, 1.49
The CSA boxes provide the majority of our produce each month, but we needed a few more inexpensive staples if we didn't want to exhaust everything in the fridge. We normally buy these items at Costco, and would have saved more per ounce, but we also would have walked out with a higher total in the end. We opted for Savemart and bought just what we thought we needed for the month.
Savemart – $1.69
A last minute and quick stop for lettuce. We brought dinner to my dad's house and we thought we had enough lettuce… but we didn't! Mr. Crumbs made quick run to the store for a head of romaine.
CSA Box Week #6 – $21.59
broccoli
red butter lettuce
red kale
lacinato kale
carrots
green onions
strawberries
watermelon
potatoes
bok choy
garlic
Pan-seared broccoli again, salads and I blanched all the kale and froze for future meals. Made carrot top pesto with the tops, roasted the carrots whole and made crash hot potatoes. The bok choy went into the stir-fry I mentioned above, we added the garlic to the pantry and The Boy demolished 3/4 of the watermelon at a free concert in Santa Cruz. True story.
Savemart – $5.16
Apples are one fruit we always have in the house. They're great for digestion, and they're relatively inexpensive year-round. We knew we were at, or over budget at this point, but it was a joint decision to buy them.
Savemart – $11.97
whole peeled tomatoes x2, 1.99
monterey jack cheese, 7.99
Mr. Crumbs and The Girl conspired to make dinner and they picked tomato basil soup and grilled cheese sandwiches… despite the fact that we had a house full of food. It's hard to argue when THEY are cooking dinner, not me, but I did remind everyone where we stood with the budget…
Grocery Outlet – $5.67
tea, 1.99
baking powder, .99
eggs, 2.69
This purchase was all me. We were one week away from the month being over and we needed eggs and baking powder in order to make everything else we had at home work. And I really, really, really wanted tea. I had already gone several nights without my nightly ritual, and I just couldn't stand it any longer!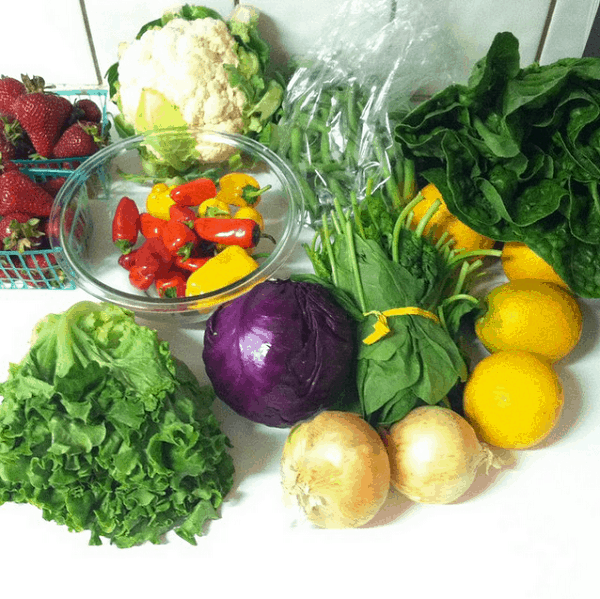 CSA Box #7 – $21.59
green leaf lettuce
romaine
cauliflower
spinach
red cabbage
strawberries
green beans
onions
oranges
sweet peppers
We turned the cauliflower into faux risotto, used the peppers in Greek pasta salad, snacked on green beans, oranges and strawberries.
Costco – $20.27
red potatoes, 5.29
apples, 5.99
sundried tomatoes, 8.99
We were at Costco for a business purchase, but nearly jumped for joy when we found the sundried tomatoes. These are Mr. Crumbs absolutely favorite in Greek dishes and we haven't seen them for months. We picked some up, along with more apples and potatoes to replenish the pantry.
Total Spent for June 2015 – $379.38
Wow. We are WAY over budget. It's totally my fault for not calculating correctly from the get-go, but I think the only reason we're not MORE over budget is because Mr. Crumbs and I talked about it early on. If you're struggling with keeping the budget under control, I can't stress enough the importance of being on the same page as your spouse!
Lessons learned for July and future months:
shop online using gift cards first (and keep doing those mundane tasks to earn more gift cards!)
modify the monthly meal plan to account for the CSA box AND to use up more of what we already have at home
shop using the gas saving method (which also happens to get the most bang for my buck grocery wise too)
remember that our actual spending should only be $222 for July to account for the pre-paid CSA box
Did you track your grocery spending? How did you do for June?