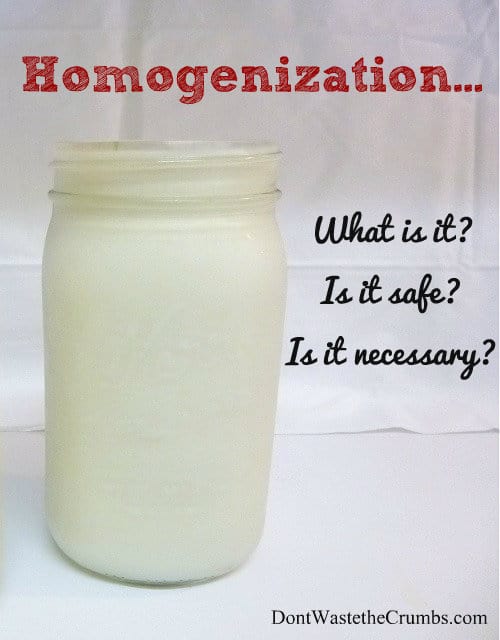 Homogenization.  Now that's a funny word, don't you think?
And I swear I misspell it.  Every.  Single.  Time.
Until roughly six months ago, I thought that all commercial milk was homogenized.  Like we didn't have a choice in the matter because the government made the decision for us.  That is unless we bought raw milk (which in some states is illegal to buy).
But from what I can tell, homogenization is not required by law.  Now I'm not claiming to be an expert or anything, but I'm a pretty darn good googler.  I can outwit and out-search just about anyone when it comes to researching a topic.  In fact, Mr. Crumbs and I used to have competitions to see who could find the answer to something the quickest using a search engine.
I always won.
Because of my mad researching skills, I'm fairly confident that there isn't a federal law requiring homogenization.  I could be wrong of course, but this quote from Organic Valley nearly seals the deal for me:
The process is so prevalent and expected by consumers, that the federal classification of milk is "homogenized." The law does not require us to label our milk "homogenized".  (source)
So while law doesn't require homogenization, consumers expect it.  So much so that the general classification of milk assumes that all milk has been homogenized.  What's interesting is that this assumption doesn't require dairy farms to label their milk when it is homogenized, rather they have to label it if it is not.
What is homogenization?
Homogenization is a physical process, not chemical, so nothing is added or taken away and in theory ("in theory"), the milk itself doesn't change either.
Wikipedia defines homogenization as "the process of converting two immiscible liquids (i.e. liquids that are not soluble, in all proportions, one in another) to an emulsion (i.e. a substance microscopically dispersed throughout another substance).  Homogenization is achieved by a mechanical device called a homogenizer."
In easy to understand English, homogenization is the process of using lots and lots of pressure to force hot milk (usually super hot, freshly pasteurized milk) through tiny holes.  This causes the fat particles to break up into super tiny pieces so that they remain suspended throughout the milk instead of being able to clump together to form a cream layer at the top.  And it's all done by a fancy schmancy machine.
Is homogenization dangerous?
There's a theory out there by Kurt A. Oster, MD who claimed that homogenization caused heart disease.  He claims that in the process, the particles of fat become too small to be broken down by the digestive system.  Instead, they're absorbed right through the walls of the intestines and into the blood stream where they end up damaging the walls.  Cholesterol (a natural healer of our body) comes to the rescue and in turn causes plaque, which causes heart disease.
Despite Oster's theory and what many people believe, cholesterol does not cause plaque in the arteries and his theory was de-bunked by Mary Enig (contributor to Nourishing Traditions) and the American Journal of Clinical Nutrition.  But that doesn't mean that homogenized milk is all hunkey dorey.
Mary Enig continues in her article to say that the break-down of large fat particles into small fat particles creates a larger surface area on the fats.  The newer, smaller membranes surrounding the fat particles now contain more casein proteins and whey proteins.  She suspects that the increase in proteins is contributing to the recent rise of milk allergies and believes the fat could even be more susceptible to rancidity and oxidation (which is what really damages the arteries).  Plus this article cites two studies showing that homogenized milk proteins survived digestion and effected one in 300 hundred heart attack victims and even young children were showing signs of hardening of the arteries (supporting Enig's theory).
Is homogenization necessary?
Raw milk naturally contains fat.  When left alone, the fat particles gather together and rise to the top, creating a "creamline" that can be seen from the side of a bottle or jug of raw milk.  (although faint, see it in the picture above).  The cream is at the top (the unpasteurized version of heavy cream) and the rest of the milk is underneath.  If you pour from the bottle of milk without shaking, you'll pour a delicious glass of cream.  Mmmm!
When the first homogenizer was patented back in 1899, scientists at the time didn't think the process effected the milk.  The idea to homogenize was developed from what appears to have been an inconvenience to a small portion of consumers who might have poured one too many glasses of cream, perhaps forgetting to first shake the bottle of milk.  After 20 years of dairy farms pitching the idea homogenized milk was easier to digest than non-homogenized milk, consumers finally embraced the concept.
Manufacturers benefit greatly from homogenization, and from their point of view, they're all practical purposes.
blend milk from different herds more easily
longer shelf life
able to be transported over longer distances
availability to grow and spread business
farmers can remove fat (thus producing 2%, 1% and non-fat milk), and increase their consumer reach
create more products with removed fat like ice cream or butter
The only two benefits that I can see though from the consumer's point of view is a longer shelf life (one to two weeks) and not having to shake the bottle first.  Personally, I'd be willing to forgo both for healthier milk. 😉
Should we avoid homogenized milk?
The homogenization process itself is slightly worrisome, especially if you're concerned about pasteurization.  Essentially the high pressure the milk is subjected to (right before it's forced through those little holes) causes high heat too, so without intending to do so, homogenized milk can be pasteurized for a second time.
I firmly believe that we should avoid food that has been unnecessarily processed whenever possible and this includes homogenized milk.  To read comments from this company that their lactose-intolerant customers can drink their non-homogenized milk is encouraging.  They've even had reports of children unable to tolerate cow's milk in general able to drink non-homogenized milk!
Now I realize that affordability and even availability are issues.  The only two stores I've seen non-homogenized milk at is Trader Joe's and Whole Foods.  Trader Joe's offers their brand organic cream-top milk for $3.69 per half gallon while Whole Foods sells Horizons brand Grassmilk in the same size for $5.69.  That's a big difference price even locally, but if you only  have access to Whole Foods, that's double the cost of organic milk (and more than three times the cost of conventional).
So what do you do?
Before disregarding non-homogenized milk altogether, see if you can find a smaller, local grocer who sells milk from a local farmer.  Surely you pass at least one odd-looking store in town.  You know, the one you REALLY don't feel comfortable going into because you're not sure what you're going to find?  Take a friend and scope it out.  Sometimes you're VERY pleasantly surprised!
The other option is checking into local farms.  Sometimes farmers will use the low-heat method of pasteurization, but skip homogenization (which does add more work and cost to their process).
If non-homogenized milk is completely out the question right now, whether cost or availability, you're not alone.  Anything but conventional milk is unattainable for many people.  If this is you, I encourage you to continue making baby steps in the direction of better.  Try switching one gallon a month to organic, or drinking less milk and fermenting milk (via kefir or yogurt) more.  Also consider making it a goal to ferment conventional milk and only drink organic.
Do Something:  Consider your stance on non-homogenized milk and if you agree that it's better, exhaust your local area for sources of non-homogenized milk.  Compare the price to what you're currently paying and see if switching is worth the cost for your family.
What do you think about homogenization?  Is it worth avoiding?  Can you afford it?