The title of this post says two months, but it's really two months and one week.  I got a bit overwhelmed last week and wasn't able to get this out as planned… and rather than just giving you some of the update, what's just one week so you can have all the awesomeness at once?
You'll remember our original plan for the urban garden here, and the last update here.  Onward to the new and exciting growth!
Frugal Urban Garden Update:  Two Months
First up – the tomatoes:
What was that?  Did you just say holy smokes, they're huge?
I know!!!  They're gigantic!  I am OVER THE MOON with how far they've come along.  We were able successfully get rid of those icky, nasty grey flesh fruit flies and the one plant that was stunted in growth is now taller than the rest (the one on the far left)!  Plus we successfully transplanted two more tomatoes, and they're doing well too!
We learned a neat little trick this month, thanks to a gardening pro (who happens to be my very good friend Maria).  She said to wrap the newly planted tomatoes with plastic wrap to protect them from the wind (a big issue for us).  It creates sort of a greenhouse effect, so they can grow well while acclimating to being outside, without getting damaged by the wind.  Here's a shot of them when they were wrapped:
The wrap was on for 4-5 weeks or so, until they reached the first rung in the tomato trellis thingy (my own made-up rule for the graduation of no more wrap).  Here's a now/then of the tomatoes from last month's update to just yesterday:
You'll see that they barely cleared the first ring last month, and in just five weeks are now passing the third ring!  Amazing!  If you look closely, you can see what the plant is gently hiding inside:
EEK!!  And you know what these mean, right?
Waking up to these beauties is one of my favorite parts of the day.  Cup of coffee while watering, watching Our Creator's mighty hand at work?  Amazing!!
Next up, broccoli.  I don't even have a "before" picture to show you because it was still a tiny little stem in an old yogurt container.  We transplanted it, but it didn't go very well… that is until this magical milk jug!
Suddenly, this little fella is doing pretty good!  The milk jug is another way to duplicate the greenhouse effect, and while there definitely won't have broccoli any time soon, this might just work.  And if so, we'll do this from the get go next season (or in the fall… since apparently broccoli is a winter veg?).  Anyway.  The squash got the same treatment.  Check them out – before:
After:
Don't they look GREAT?!  I'm SO excited that these guys are doing well.  Once deemed gonners by other members of the Crumbs house (who shall remain nameless), but that amazing little milk jug trick?  Golden.  Best invention ever!
The lettuce is doing well too:
If you remember, that big red head of lettuce up top was originally re-grown in water.  WATER folks, from a head we bought from the farmer's market.  Simply chop off the bottom, regrow a bit in water and transplant to garden.  Ta da!  Now, no promises that every variety will work – two varieties of lettuce did NOT make it thus far (hence the empty spots in that row), but it's always worth a shot!
Note to self to pick that thing, eat it up and try to regrow it again, lol!
As you can see, the second row of lettuce is starting to fill in too.  FUN!  Leaves here and there are making their way into our salad bowls, among the lettuce we already have in the fridge.  This is a baby leaf lettuce, so it won't get all big and fluffy like a normal head, but what we're getting is making the lettuce we buy last twice as long, so it's all good in my book!
Finally, the space hogs in the garden, the zucchini: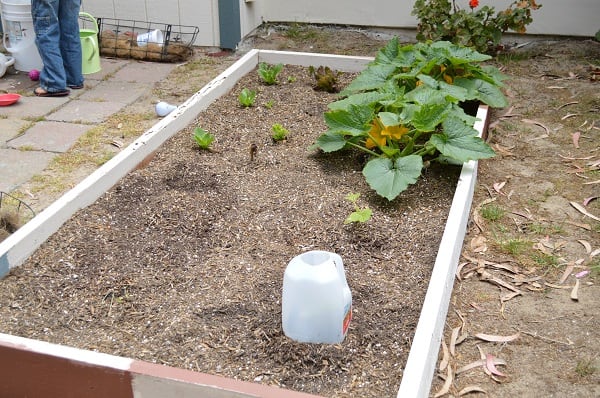 This was the only way I could show you just how BIG these plants are!  There are 5 zucchini plants altogether, and believe it or not, we've already picked and eaten four zucchinis!  At any given time, there are about eight veggies growing.  Here's a few:
LOVE!
Last but not least, our fabulous basil plant:
This little buy is FLOURISHING just inside the back window.  Thanks to this little tip on trimming basil (that I learned on Pinterest by the way… which is another reminder that you need to follow me if you haven't already because the stuff I'm finding is UH-MAZING!), our plant is doing really, really well.  We've even considered splitting it up between 3 pots, just to give it more room to grow.  As it turns out, when you prune basil the right way, MORE grows.  Not just replacement growth, but like duplicate to triple growth!  Definitely more than worth the $3 investment from Savemart. 😉
Are you growing a garden this year?  How's it looking?  Running into any problems?  Lessons learned so far?  Share with the newbie black thumb (me)!