The word "fat" has such a negative connotation in today's society.  Surely this hasn't always been the case, has it?  When did it change?
Consider for a moment those who live in climates so cold that vegetation cannot grow.  Until the modern food industry came along, their only method of survival was to hunt animals.  They would eat the entire animal – fat, organs and all – and until modernization, they've been mostly free from disease.
What about the French?  We don't have to go back into history – their current diets are laden with fat.  Butter, cream, liver, cheese, pâté… all added liberally to their meals.  Yet France has an incredibly low rate of heart disease – quoted by Nourishing Traditions as less than half when compared to the United States.
As a country we have been groomed to believe that the fats at the heart of French cuisine are "bad" fats and should be avoided as much as possible.  If we're following this lifestyle and avoiding the fats that have been the foundation of multicultural diets for centuries, then why are we plagued with more disease?
In order to understand the answer, we need to understand the basics.
What is fat?
Just like carbohydrates, proteins, vitamins, minerals and water – fat is a nutrient.
In the human body, fat is used as energy and as a means to absorb vitamins that cannot be absorbed by any other means (vitamins A, D, E and K).  Ever pour oil into a pot of water?  Oil and water don't mix.  Because of its chemical make-up, one simply cannot dissolve into the other.
Our bodies require a variety of nutrients, some of which are water-soluble and some that are fat-soluble.  The fat-soluble nutrients do not mix with water.  The only way our bodies can absorb and use fat-soluble nutrients is by consuming something they do mix with – fat.
The mere fact that we can stand upright and rigid without our organs succumbing to gravity and falling to our feet is because of fat.  We are born with fat for one purpose and as we grow, our body creates fat for a multitude of purposes.  Those reasons include supporting our organs and protecting the body.
Our bodies purposely create and store fat as a source of energy.  Humans were engineered to be able to thrive when feasting and survive during famine.  When no other food source was available, we survived famine using the fat reserves our bodies had created.
Here's a fun fact to put it into perspective:  one pound of fat provides about 3600 calories.  If no other physical activity was required of me, one pound could fuel me for nearly three days!
Fat is more to our bodies than just energy though.  It's also the catalyst for many of body's natural processes, including growth, immunity and reproduction.  There only two ways our bodies can get this vital nutrient:  make it, or eat it.  This is a food blog, and we will talk about food, but we first need to talk a little bit about the science behind the food.
The Truth About Saturated Fats
All fats can be narrowed down to two main types:  saturated or unsaturated.  Unsaturated fats can be further classified as either monounsaturated or polyunsaturated.
We need all three types of fats in our diets. However, the quantity of each one depends on their molecular structure and how it effects our bodies.
Saturated fats have their name because of their molecular structure. Basically stated, every carbon atom is attached to a hydrogen atom. This creates a strong structure that is less likely to break and won't attract free radicals.
Free-radicals are extremely reactive single atoms or clusters that attack healthy cells.  They seek molecules with a weakness so they can latch on and do their damage.  When they find their prey, they can trigger mutations in tissue, blood vessels and the skin.
It's also because of this size that saturated fats tend to be solid at room temperature.  Ever wonder why butter stays a solid even when it's been left out on the counter for DAYS?  It's because butter is primarily saturated fat.
Again, the are no weak points in saturated fat where free-radicals can attack.  This is a good thing.  Thanks to their solid stature, saturated fats are excellent for cooking, especially at high temperatures.
Saturated fats are the good fats!
These fats also come from animals or tropical plants, and are minimally processed (if processed at all).  We all know that minimally processed food is a good thing, right?
Coconut oil (92% saturated), butter (63% saturated), tallow (beef fat, 55% saturated) and  palm oil (50% saturated) are excellent sources of good, saturated fat.
The Benefits of Saturated Fat
Because fats are nutrients and help our bodies absorb other nutrients, we need them in our diets. They contain different fatty acids including lauric acid, oleic acid, omega-3 and omega-6 acids. Studies show that all of these help our bodies function in various ways.
Saturated fats specifically:
Enhance our immune system
Myristic acid and lauric acid are both found in butter and coconut oil and play vital roles in keeping our immune system healthy.  When there aren't enough saturated fatty acids (like myristic and lauric acid) our white blood cells are impaired and can't properly recognize foreign intruders (like viruses and bacteria).  These two fatty acids are big components in breast milk – and it's common knowledge that babies gain immunity through mother's milk – but we must continue to replenish our bodies as we grow beyond weaning.
Help to regulate insulin levels
Particular saturated fats found in butter, coconut oil, palm oil and lard have the specific function to tell our bodies when to release insulin.  When our bodies don't have these fats, the job either gets done incorrectly or not at all.
Support healthy brain function
The brain is primarily made up of fat and cholesterol, and a big portion of those fats in the brain are saturated.  Consuming saturated fat essentially feeds the brain raw food, allowing it to do its function better.  There's a pretty interesting study on Alzheimer's and coconut oil here.  Read it when you get a chance!
Protects from and Possibly Heals Liver Damage
When your body consumes saturated fat, it triggers the liver to release the excess fat it naturally stores.  When unnecessary fat is released, the liver is able to filter through toxins better and over time, damage to the liver (most often caused by alcohol and drugs like Tylenol) can be reversed.
Sally Fallon and Mary G. Enig, PhD (authors of Nourishing Traditions) wrote an article back in 2000 that offered two more ways saturated fat works in our body:
Helps to absorb calcium (and they say that at least half of our fat intake should be saturated in order for the absorption to really be effective)
Fights off harmful microorganisms in our digestive system (the body gets help from the liver to digest some saturated fats and the viruses, yeasts and pathogenic bacteria that can be found in our digestive tracks aren't big fans of this help)
Saturated fats have long been blamed for heart disease and related issues. I've explored those claims and recent studies on the relationship between saturated fat and coronary heart disease. You can read my interesting findings HERE.
More on the benefits of unsaturated fats here: Monounsaturated Fats and Polyunsaturated Fats.
The Type of Fat Matters
American society has trained us to be fearful of anything that contains fat. Yet our bodies need it! The key to remember is that there are good fats and bad fats. The good ones come in whole real foods (think avocados). The bad fats come from factories and in highly processed foods (think potato chips).
It's hard to pick apart each fat and only eat one type and avoid another. When you find one fat, you are likely to find the others. Food is in its natural state contains a balance of these fats that give us the optimal nutrients we need.
Related: How to Choose Good Fats for Cooking // How to Bake with Healthy Fats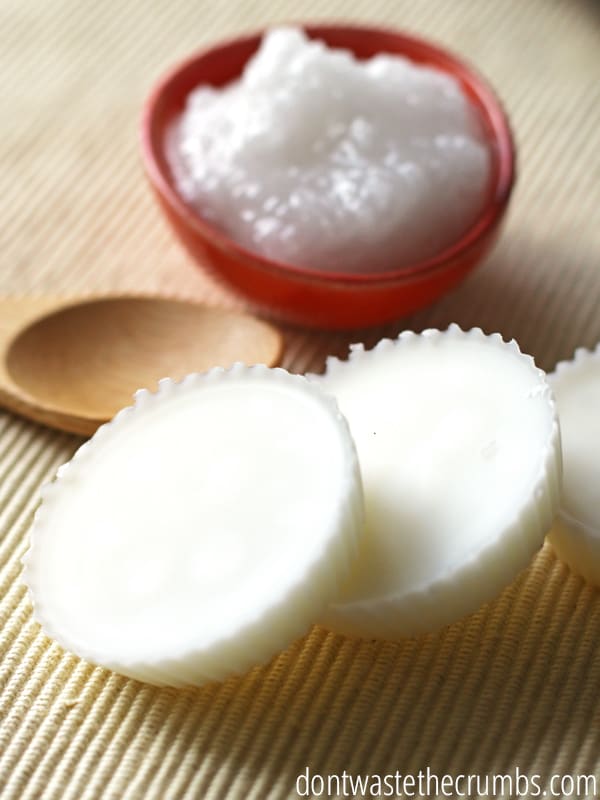 What oils contain the good saturated fats?
The most common oils containing saturated fats include coconut oil, butter, tallow, and palm oil. Of course sourcing these oils for quality is important too.
I prefer to buy my coconut oil from Tropical Traditions. I like to buy in bulk when they have free shipping. Keeping coconut oil on hand is a priority for my kitchen! You can read more about the benefits of coconut oil specifically HERE.
Butter is very beneficial to our bodies in more than one way. Read these 13 reasons to eat more butter! (And find out where and what kind I like to buy.)
Tallow is hard to find unless you have a local farmer that makes it. You can render your own tallow and lard by following this tutorial.
I don't have much experience using palm oil but you can find it at Thrive Market for a good price (and ethically sourced).
Saturated fats can be expensive (like coconut oil) but I prioritize quality fats in our diet. Learning to balance food priorities, buying in bulk, and keeping it all in my budget are principles I teach in Grocery Budget Bootcamp.
How will the truth about saturated fat change your cooking and eating habits?