Earlier this week I made chocolate cake with 1/2 cup coconut oil (instead of vegetable oil like the recipe called for) AND a full stick of organic butter.  I accidentally left out half the sugar, subbed white whole wheat flour for some of the all-purpose and even used some homemade yogurt instead of buttermilk.
You may as well call my cake a science experiment, because my ingredient list barely resembles the one in the cookbook.  I didn't even use the same pan as they suggested!
It always boils down to how it tastes though, right?  And considering Mr. Crumbs and I ate nearly half the cake in less than 24 hours – without my beloved icing – it's definitely a winner.
Until I figure out a delicious recipe of my own, nourishing my body with healthy saturated fats – especially via chocolate cake – tastes pretty good!
We're not limited to just baking when it comes to eating saturated fats.  It's really all the other times we're roasting, grilling, broiling, deep-frying, stir-frying and simmering that matter most.
Those are the times we're more inclined to grab whatever oil happens to be nearby and jump in to cooking, without giving much thought to how the cooking method could possibly change the molecular structure of our oil.  Kinda scary when we think about it, right?
So let's talk about these methods and how we can cook with saturated fats to keep us healthy and stop causing us to become sick.
How to Choose Good Fats for Cooking
Determining the smoke point of fats and oils is essential to knowing when to use what fat.  The smoke point is the temperature at which the fat or oil begins to smoke. When an oil smokes it is starting to create free-radicals. And free-radicals are not good.
If we know the smoke point of the fat AND how we're cooking our food, it becomes a simple matching game.  There is one big thing to consider though before I spill all these awesome numbers:  the numbers aren't exact.
Both smoke points and cooking temperatures are approximations.  The purity of the fat, time passed since original pressing, the tools used and even the methods used to determine the smoke points can affect the final outcome.  This explains why through the many sources I've read, some temperatures vary up to 25°F.  The temperatures below are an average of the temperatures most agreed upon, but keep the variance in mind when you're choosing the best fat for your cooking project.
The Numbers on Good Fats
Smoke Points
Avocado Oil:  520°F*
Ghee (clarified butter):  485° F
Palm Oil:  450° F
Peanut Oil:  450°F
Sesame Oil:  450°F**
Hazelnut Oil:  430°F**
Tallow (rendered beef fat):  420°F
Almond Oil:  420°F*
Macadamia Oil:  400°F**
Walnut Oil:  400°F**
Coconut Oil (unrefined):  350°F
Butter:  350°F
Clarified Butter: 450°F
Lard:  375°F
Extra Virgin Olive Oil:  375°F
Flax Seed Oil:  225°F**
* Avocado oil is expensive (to the tune of $19 per liter!) which is why we don't hear of it being used in high-temperature cooking often.  Its flavor is only moderately strong, but some may not prefer their fried chicken to remind them of guacamole.
** Almond oil, sesame oil, hazelnut oil, macadamia oil and walnut oil are also expensive and each have distinct flavors that are usually not desired in dishes that require high heat (sesame flavored French fries anyone?).  These oils are most often used at the end of cooking specifically for their flavors, not their smoke points.
Cooking Methods
Baking:  200-425°F
Roasting:  300-350°F
Grilling:  300-600°F, sometimes as high as 800°F
Deep-Frying:  350-375°F
Stir-Frying: 350-375°F
Boiling:  212°F
Simmering:  180-205°F
Common Monounsaturated Fats
Here's a list of common fats and oils that contain high amounts of monounsaturated fat.  Remember that monounsaturated fat can be good when eaten in their natural state and not heated to high temperatures.
Olive oil:  75%
Avocado oil:  70%
Almond oil:  62%
Macadamia oil:  60%
Cashew oil:  58%
Tallow:  50%
Peanut oil:  45%
Lard:  45%
Polyunsaturated Fats
Omega-6 and omega-3 fatty acids are essential fatty acids. Because our bodies cannot make them we must get them from our food. They help with lowering inflammation, improving brain function, reducing risk of heart disease, and fetal development.
Yellow vegetable oils like canola oil, soybean oil, and sunflower oil are high in polyunsaturated fats. They are marketed by manufacturers to be "good" oils because they contain omega-3 and omega-6.
But these types of oils are highly processed, highly volatile and their "welcome home" sign for free-radicals is a concern. The molecular structure of polyunsaturated fats is so fragile that even cooking with them at low temperatures could potentially damage the bonds. They offer no nutritional value and consuming these oils often disrupts the balance of nutrients inside our bodies.
The Benefits of Saturated Fat
Because fats are nutrients and help our bodies absorb other nutrients, we need them in our diets. They contain different fatty acids including lauric acid, oleic acid, omega-3 and omega-6 acids. Studies show that all of these help our bodies function in various ways.
Saturated fats specifically:
Enhance our immune system
Help to regulate insulin levels
Support healthy brain function
Protects from and possibly heals liver damage
Matching Up Good Fats
Baking:  The large range in baking allows us to use a variety of fats, but anyone who has baked a chocolate cake knows that you can't just always throw in whatever you want and have the end result taste good. This is a topic worthy of its own post. You can find more on baking fats HERE.
Roasting:  Most roasting recipes call for butter, olive oil or a combination of those.  Both of these begin to smoke at the upper limit of the roasting range, so take care when using fats for roasting purposes.  If you're basting for added moisture, consider using broth in place of fat.  When roasting vegetables, try to not roast higher than 350°F and allow the food to roast longer.
Recipe Ideas: Ridiculously Easy Potato Skins // Crash Hot Sweet Potatoes // Perfect Crispy Potato Wedges
Grilling:  This one is very tricky.  Some sources say that grilling period is harmful to your health. But using olive oil and citrus can combat the toxic effects that could occur from charcoal grilling.  But then there's the risk of free-radicals at high temperatures (which can occur one the grill). Other sources stick with the smoke point vs. grilling temperature and advise not to use olive oil.
I'm undecided which is better, to use olive oil or not, and I'll leave it up to you to decide for your family. (We sure do love our grill!)
One option is to use Clarified Butter. The process to make clarified butter removes the milk solids giving the butter a much higher smoke point, 450F! This makes it safer to use at higher temperatures such as grilling.
Deep-Frying:  Palm oil, tallow and peanut oil are the most commonly used oil for deep-frying because of their high smoke points.  Not everyone has heard of palm oil and tallow requires some work up front (gotta render it from raw beef fat).  That leaves peanut oil and it's readily available in stores for our deep frying pleasures.
Peanut oil is mostly monounsaturated, so it's not the best fat option (remember that saturated fat is the best), but it is suitable for frying purposes.  Unless you're the type to take a spoon to the oil leftover from deep-fried twinkie night.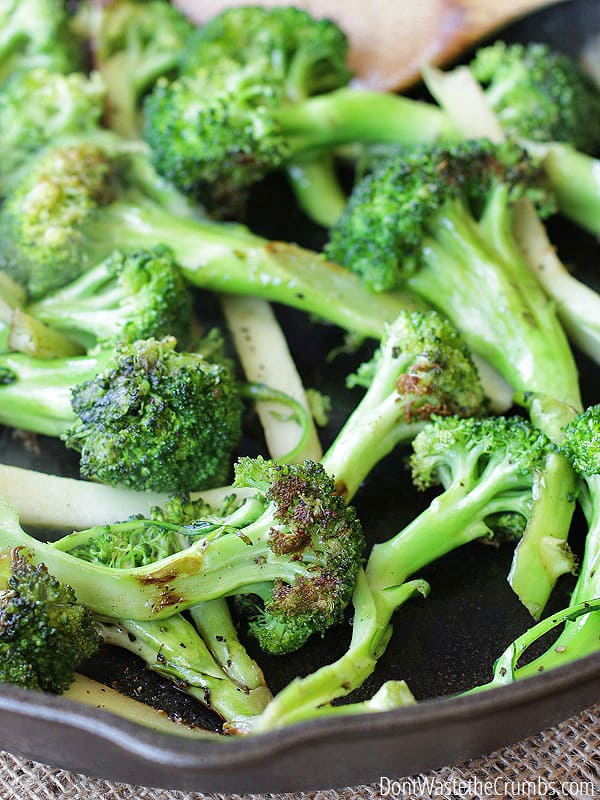 Stir-Frying (or pan-frying):  Like grilling, this one is tricky too.  We most often stir-fry on stoves that offer temperatures such as low, medium and high.  Consider yourself lucky if you've got even numbers ranging 0 to 10!  Not only do these NOT specifically correlate with certain degree temperatures, but "low" on one oven doesn't necessarily equate to the same "low" on another.
Stir-fry often call for olive oil and cooking over "medium-high" heat just to thin out the oil to coat the pan.  My suggestion would be to cook it on medium a minute or two longer to achieve the same effect and use only as much needed.  Another option would be to splurge and use one of the nut-flavored oils that are safe beyond 375°F.  You would have an excellent tasting dish and greatly reduced (if not eliminated) the chance of creating free-radicals.
If you aren't sure about using olive oil because of the free-radical issue, you could try clarified butter. The high smoke point gives you much more room to work with when needing to cook at high heat.
Recipe Ideas: Vegetable Fried Rice // Pan Seared Broccoli // Homemade Chicken Nuggets
Boiling and Simmering:  I added these temperatures in just to round out the list, but personally haven't come across any recipes asking me to boil or simmer oil.  Not sure what I would do if I did!  Anyway, it's there in case ya'll find one.  And if you do, let me know!
Final Note:  just because we're using a fat with a certain smoke point IN our cooking, and we cook at a temperature CLOSE to the smoke point, doesn't necessarily mean that the fat we used is actually getting to that temperature.
Choosing good fats for cooking is really all about matching the right oil with the right temperature. Choosing oils high in saturated fats will give you higher smoke points and the ability to cook at higher heat. Save the olive oil for dressings!
Does choosing the right fat sound too difficult?  Do you think you can give up all those "yellow" polyunsaturated oils and choose good fats for cooking?