Most people prefer to either cook or bake.
Cooks have the ability to throw whatever they want into the pot.  They liberally change ingredients based on what they have and their measuring spoons are named "dash" and "pinch."  If the dish doesn't seem to be shaping up as they thought it would, they add "a sprinkle" of that and the dish is fixed.
Bakers almost always follow a recipe.  One tablespoon over or under the amount noted on paper won't make or break a recipe, but ½ teaspoon more of salt can ruin a batch of cookies.  Forget the baking powder and a cake won't rise.  And don't dare mix up that baking powder with baking soda in a batch of brownies or you'll surely be sorry.
Trust me on that one.
I'm a baker.  Maybe it's because of my type-A personality, but there's comfort in following a short list of rules and ending up with a delicious masterpiece.  And knowing you can follow that list again and end up with the same result is even better!
I've talked about the smoking points of various fats, including butter, coconut oil and palm oil (350°F, 350°F and 450°F respectively).  It's because of their stability at relatively high temperatures – and the fact that they're healthy saturated fats – that these are most often used in baking.
Branching out beyond butter and taking out yellow vegetable oil from tried and true baking recipes hasn't been easy, but one thing is for certain – the results have always been just as delicious, if not better.  Making the switch hasn't been difficult on my budget, but wanting to make more yummy desserts sure has!
Why Use Healthy Fats in Baking?
Fat in general has a bad rap, just like lard.  People swap out applesauce for butter and expect their cakes to turn out just as fluffy and moist.  More often than not, those cakes come out dense and crumbly.
Fats play an important role in baking and it's not just because butter makes everything taste better.  Here are three really good reason not to leave out the fat the next time you make a cake.
1. Fat protects the proteins in flour.
Fat acts like a rain coat so that it doesn't come in contact with moisture.  If all the proteins in flour were mixed with the liquids in the recipe and stirred, the cake would turn out very chewy and flat.  Instead, the fat preserves some of the protein and shortens the length of gluten strands that will develop. (This is where shortening gets its name.) This is why swapping a low-fat ingredient changes the density.  Removing the fat gives gluten a free pass to develop, giving cakes a more bread-like texture.
2. Fat traps air bubbles inside the batter.
Many baking recipes have you first cream the fat and sugars.  As you cream these two ingredients together, you add air bubbles.  These bubbles help make the item rise during baking.  Some recipes say to cream together for just a minute or two, but really the creaming step should last for 8-10 minutes for optimal rise.
3. Fat "adds" moisture to the item.
Fat doesn't really add moisture, but it makes it appear so.  Baked items that contain fat tend to be moister, mainly because the lubrication that fat provides to the proteins doesn't evaporate in cooking and isn't absorbed by any other ingredient.  While we can't see it, the fat that was there during the first creaming step is still there in the end.
In summary – fat makes our baked goods soft, aerated and fluffy.  It also helps them to rise higher and reduces the chances of the item crumbling into pieces on our plates.  I've eaten cakes that were hard, flat, and dense and turned into cake crumbs with one slice of my fork.  Not fun, my friends.  And certainly not worth repeating.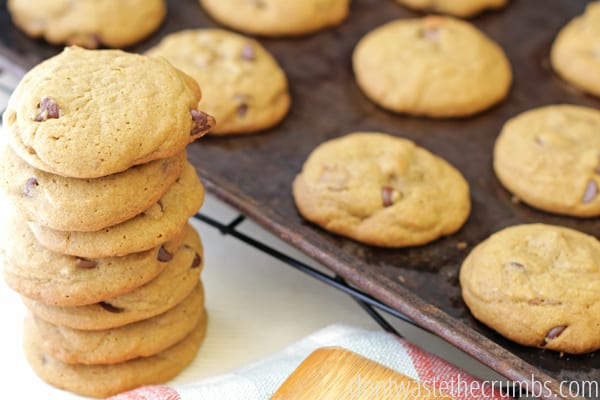 How to Bake with Healthy Fats
Baked goods fall into four different categories:  loaf breads, cakes, cookies or pastries.  Each type uses a different type of fat for good reason.
Loaf Breads
Since breads need to be chewy, as much of the gluten as possible should be allowed to develop.  This explains why most loaf bread recipes call for very little fat – perhaps 1 tablespoon of fat per loaf.  In these instances, yeast provides the rise, thus eliminating it from the "to-do" list of the fat.
The type of healthy fat you choose in yeasts breads isn't a make it or break it deal.  Butter, coconut oil and palm oil (including shortening) will all do the job equally as well. You will more than likely need the fat in a liquid state, for equal distribution and ease of kneading.
Recipe Ideas: 90 Minute Man Bread // Soaked Whole Wheat Bread // No-Knead Artisan Bread
Cakes
Cakes are meant to be soft and not crumbly.  Moist, but not wet.  The choice of fat in cakes is important, with butter or palm oil shortening (or even a combination of the two) taking first place.  Palm oil shortening is palm oil with some of the unsaturated fat removed so that it's solid at room temperature.  Although it's "manipulated" from its original state, it's still not a bad option for baking.  Unless your recipe says otherwise, make sure the fat is in a solid state so you can whip in as many air bubbles as possible when creaming the fat with the sugar.
Recipe Ideas: Homemade Yellow Cake Mix // Death By Chocolate Zucchini Mug Cake // Overnight Kefir Coffee Cake
Cookies
Most cookie recipes call for butter for good reason – it tastes good!  Butter is what causes cookies to spread, so those who traditionally bake with shortening will notice a chewier, more cake-like cookie.  For optimal cookie (in my opinion), choose a combination between butter, coconut oil and/or palm shortening.
As long as the total fat remains the same, the recipe will be fine.  You can tinker with the ratios to suit your personal preferences, but you won't go wrong with a 1:1 ratio of butter and coconut oil/palm shortening.
Recipe Ideas: Molasses Breakfast Cookies // Vanishing Oatmeal Chocolate Chip Cookies // Best Ever Chocolate Chip Cookies

Pastries
Pastries that need to be flaky and tender can be tricky.  Leaving fat in clumps causes the pastry to be flaky; yet not distributing the fat well can inadvertently cause the protein to develop and make the pastry chewy instead of tender.  It's a catch-22.  This is why the fat needs to be cold and firm, and incorporated well before adding liquid.
Lard is the first choice for pastries, followed by palm shortening and then butter.  Coconut oil can be used in pie crusts, but it can be difficult to maintain malleable dough.
Recipe Ideas: Mini Chocolate Chip Scones // Homemade Bisquick // Key Lime Pie
A Lesser Known Fat in Baking

If you bake for fun (or to satisfy a husband with a sweet-tooth), you may not know this, but eggs can be used as a fat to create a desired texture in baked goods.  Eggs come with a binding property, and adding additional egg yolks (or using only egg yolks), makes cakes richer and denser (in a good way).  Whipping egg whites into meringue and folding it into cake batter adds additional air, giving an aerated and fluffy texture in the end.
Baking with Healthy Fats and the Budget
Since most of our baking fats can be used interchangeably other recipes, using the ones that fit our budget make the most sense. Butter is the least expensive, followed by palm shortening and then coconut oil.
The quality of butter you buy is up to you and your budget. I go more into the Benefits of Butter HERE and where to find quality butter. Making your own is an option too, especially if you can use raw milk!
Palm shortening can sometimes be found at local grocery stores, but I've found pretty good prices on Amazon.
Since I use coconut oil for much more than cooking, I typically buy it in bulk. Tropical Traditions has excellent prices and is well worth it when they offer sales and free shipping.
Right now you can get a FREE jar of coconut oil at Thrive Market! Order through this link and get a free 15 oz jar of coconut oil AND a 30-day free trial to Thrive Market when you spend $29 or more (free shipping on orders $49+).
How do you incorporate healthy fats into your baking?