Do you ever feel so overwhelmed by real food that you just wish someone would tell you what to do so you didn't have to think so hard?
Yeah, me too.
Unfortunately, those type of decisions usually don't last very long.  The ones that really make an impact in the long run are the ones that you make because you want to change, not because someone told you to do it.
So in order to drink better milk, you need to want to do it.  You need to want to change.
But knowing where to begin is hard.  There are so many options out there… pasteurized vs non-pasteurized (and the three various types of pasteurized), homogenized, raw, organic, whole, skim… I get dizzy just thinking about them all!
To help you guys out, I created this super handy picture to walk you through how to take baby steps towards drinking better milk.  It's super easy to use:  Bad is at the bottom; Best is at the top.  Find where you are in the ladder and take a baby step up.  That's it!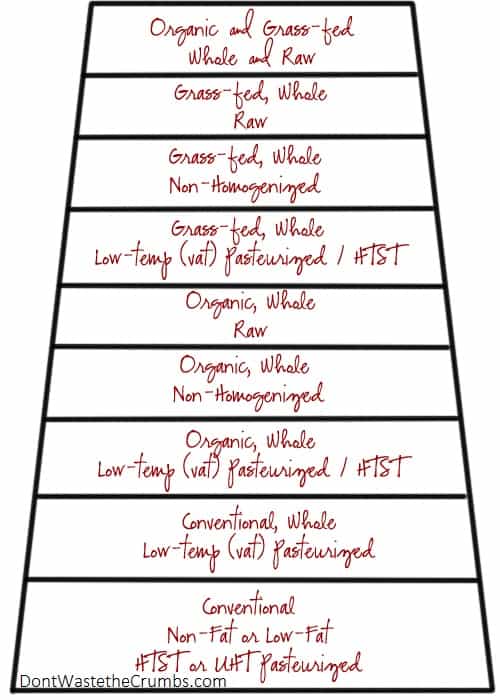 Here are some other milk posts you'll find helpful if you're unsure what some of those terms mean:
If you find yourself close to the bottom in the "bad" section, try making homemade non-dairy alternatives instead.
For those who absolutely do not want to make non-dairy milk alternatives, restrict your dairy to fermented and cultured diary like kefir, homemade yogurt, cultured buttermilk, cultured butter, cultured cream and raw cheese.
Someone asked me to spell out the differences between organic and raw milk, the "good, bad and ugly" so to speak.  I wish the line was easy to explain between the two, but it gets muddy because of what the cow eats.
Milk from grass-fed cows is usually always better… unless the cows are being treated with hormones and antibiotics.
Most (but not all) organic milk comes from cows fed feed… although the cows are not treated with hormones or antibiotics
Most (but not all) raw milk is from grass-fed cows.
So when given the choice between raw and organic, 9 times out of 10 the best will be the raw.  Farmers selling raw milk tend to take better care of their animals.  However, the only way to REALLY know the quality of your raw milk is by talking to the farmer and tasting it.  If your farmer isn't forthcoming on the feed and/or treatment of the animals and the milk doesn't taste much different than conventional milk, then I think your better option is to go with organic.
There are always exceptions to every case, like finding "conventional" milk that comes from a farm who practices sustainability and traditional farming practices.  Or the organic milk that comes from grass-fed cows.
Unfortunately, milk is just one of those areas where no one can tell you what to do.  You just gotta get out there, start asking questions and take it one step at a time.  (Use the chart though if you need it – that's why it's there!)
Do Something:  Find where you fall into this ladder and take a step up.  If you're not able to do so, try reducing your dairy intake until you can.
Where does your milk fall into the ladder?