I can honestly say that knowing how to eat real food on a budget has transformed my life.
None of this happened overnight though, and there were plenty of reasons why I wasn't saving money on food in the first place.
It's taken me YEARS of research and trial and error to finally create a system that allows me to be intentional with my money, spending it on the foods that are most important to me and my family's health.
Earlier this year, I took everything I learned and created Grocery Budget Bootcamp – a hold-your-hand course that teaches you EXACTLY what you need to know to feed your family healthy food for less. Hundreds of graduates are saving hundreds of dollars a month because the invested their time into learning a system that actually works!
They're no longer making the same mistakes I did, but instead, are learning from them and reaping the rewards week after week.
Curious where I went wrong all those years? Wondering why you're not saving money on food?
I wrote today's post with this in mind, but I have to warn you – you might not like what I have to say.
Take heart – my words are meant to help you and guide you. There's tough love, yes, but there's also grace.
5 Reasons You're NOT Saving Money on Food
1. You're not making a meal plan.
Let's just be honest here. Knowing how to meal plan is a skill you learn. You're not born with it, and it takes a long time of consistent practice to be able to do it well.
But if you never even try, you'll never truly save money on food.
Meal planning is the first domino of many. If you don't meal plan, it causes a slew of side effects (like overspending and food waste) which negatively affect the bottom line.
If you want to save money on food, you have to meal plan. There's no way around it.
Here's my basic tutorial on how to make a meal plan. It's a great starting point if you're at ground zero.
If you need meal planning ideas, I have FIVE YEARS worth of free meal plans.
For the time when money is super tight, I even have this $50 meal plan, and a second $50 meal plan to get you through.
2. You're not shopping for the best deals.
You don't have to spend hours upon hours digging through the weekly circulars or driving to every store in town in order to save money. But you do have to look.
Good deals are out there, but they won't come find you. You have to go find them.
I have plenty of shopping guides here on the blog, including:
… just to name a few. Set aside some time and start digging into all the shopping guides here on the blog. Implement the ideas and I promise you'll start saving money on food.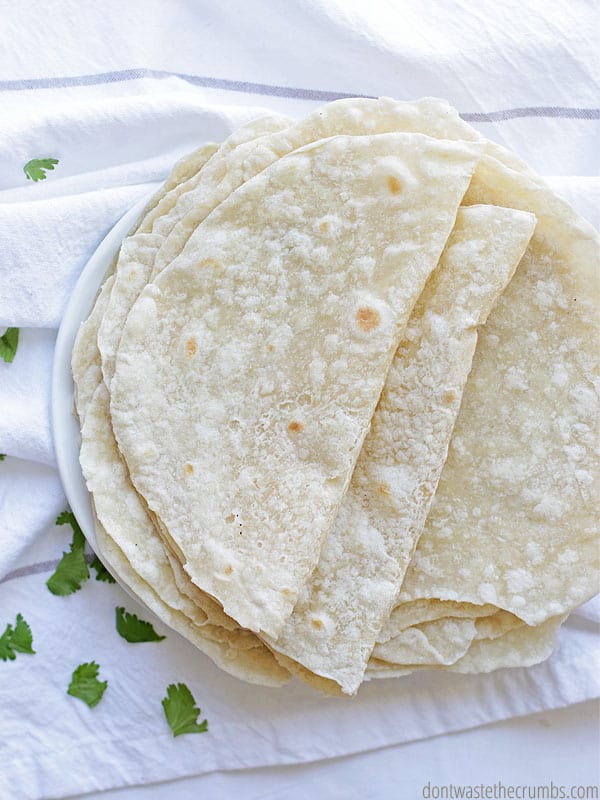 3. You're buying what's convenient.
When I was researching for my free video training series Grocery Savings Made Simple, I was SHOCKED to see the cost of convenience.
Granted, I know that you're busy and that convenience foods are quick and easy… but… if something is truly important to us, won't we make the time for it?
Now, that doesn't mean you have to make EVERYTHING from scratch ALL THE TIME.
Oh no, no, no. There are seasons for making, and there are seasons for buying. Buying tortillas and pre-cut onions two weeks after you have a baby is not being lazy. It's recognizing you can't do it all in that season, and you're getting help.
The key though, is to not make a habit of buying when you could easily do it from scratch instead.
It's not worth your time or effort to spend hours on a marathon cooking session this weekend, so start with this post on the best foods to make from scratch. Choose something you're buying a lot of, and make it a goal to make that item from scratch this month.
Soon you'll see the savings on your grocery bill, and that will encourage you to keep on going.
4. You (or your family) aren't eating leftovers.
Look, I hate seeing that ugly orange casserole in the fridge day after day as much as you do, but it won't go away simply because we ignore it.
Not eating leftovers means you're not saving money on food. How so?
Because every scraped plate, all the extra rice and every serving of that unidentifiable dish was once money in your pocket. And every time that food goes uneaten, you're throwing it away.
An easy first step here is to simply eat the leftovers.
Maybe you eat them for lunch, or you serve them again for dinner in a couple nights. You can even freeze them for dinner in a few weeks, when most of the family has long forgotten about whatever it was they were turning their nose up at.
Then next time, maybe you make a half batch. You know, the less you make, the less there is to eat…
Or learn a way to re-invent the leftovers, leftover oatmeal chocolate cake, anyone?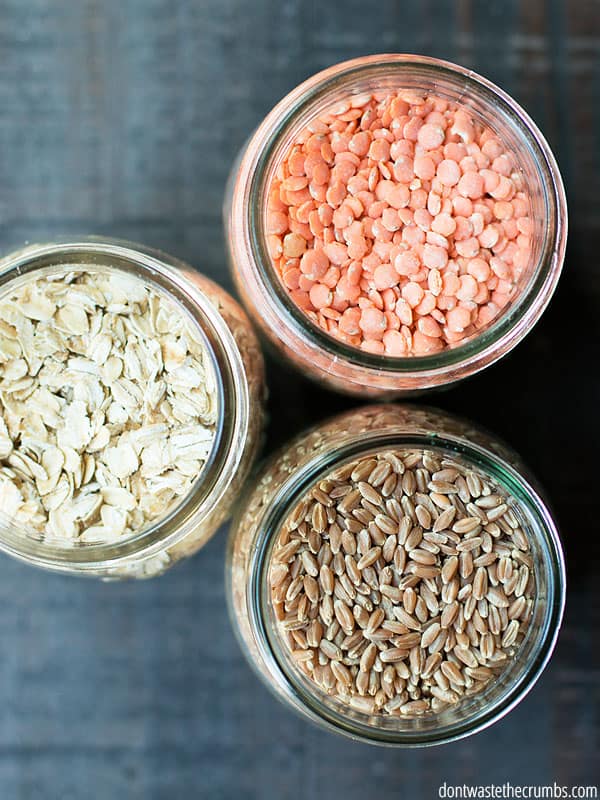 5. You're not eating what you already bought.
In case you think I'm still talking about leftovers, I'm not.
I'm talking about the food you have in your fridge, freezer or pantry that stares you in the face, yet when you open the door you can't find anything to eat.
A few years ago, my husband and I felt compelled to go 30 days without spending any money. This included food, and you know what? We went 33 days.
I don't say this to boast – quite the contrary. I stood at the kitchen sink thinking we had nothing to make for a pot luck AND YET, we had enough food to feed my family of 4 for more than a month. Saying it out loud is humbling, embarrassing and shameful.
Wanting more and not seeing what you already have will wreck your grocery budget.
Pay attention to your cupboards and your deep freezers. You spent money on everything you see. Steward it wisely.
Does this overwhelm you? Or have you tried all of these things and still aren't saving money on food?
My course Grocery Budget Bootcamp can help.
Just listen to what graduates have had to say:
I'm glad I signed up for Grocery Budget Bootcamp. I am more aware of what I buy, including mostly organic foods. There's a lot more hidden costs than I thought, but there are a lot more deals than I thought too. In just 2 months, I've saved over $330 on my grocery budget! – Katherine from California
Tiffany, this was an amazing, life-changing course! You taught me things it would have taken me years to figure out, if at all. With what I learned, I cut my grocery budget down by $300/month! I don't regret in the least buying the VIP package in order to pick your brain about specific questions and being able to dive deep into the different lessons. If you are serious about getting your budget under control while keeping your food priorities for your family, this course will do it. I was shocked to see what I was spending the majority of my money on, shocked by the amount of money I could save by focusing on just a few items, and surprised that the stores I was shopping at were costing me MORE money! – Kristin from Tennessee
I have dropped my grocery budget $250 thus far and I'm excited to fine tune everything because I think I can even drop my grocery budget farther! I sing your praises to my friends and have mentioned that they all need to go through your course. It has helped so much to have someone who is taken all those parts and worked them into a seamless plan! Thank you for giving such a great plan that works and provides hope for a better tomorrow. – Stephanie from Texas
If you're stuck in the hamster wheel of trying to eat real food on a budget, but not really going anywhere, I'd like to encourage you.
Don't give up. Change doesn't come overnight and it only comes with work. But you can do this.
Whether you piece-meal a solution together on your own, or you enroll in Grocery Budget Bootcamp and jump in with two feet – keep making those baby steps. Even marathons require putting one step in front of the other to win!
And if you are interested in joining me for Grocery Budget Bootcamp, I encourage you to sign up today!
What mistakes have you made with your grocery budget that you've now overcome to save money on food?