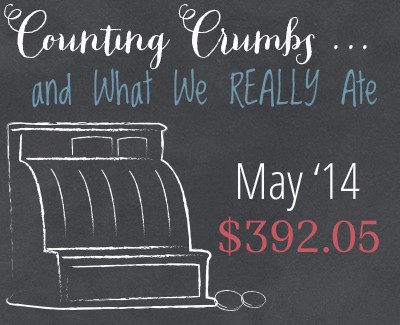 My grocery budget is $330 each month for a family of four – two adults and two kids.
This real food budget includes food, toiletries, household items as well as health & beauty products.
Today marks the end of May 2014.
The purpose of these posts is so you can see EXACTLY how our meals happen in this house, plus how we shop for these meals. I hope you find encouragement in seeing real food and normal life, in action together. Some days we get it all done. Most days we don't. Even life in the Crumbs house isn't perfect, because just like you, we do the best we can with the resources we have.
—–
Have you ever just wanted to crawl under a rock and hide?
That's how I feel about this month's budget accountability.  Going back through my purchases is SO humbling and eye opening, but it makes me SO thankful that I have you all to hold me accountable each month.  It's a HUGE reminder that even when you think you have it nailed down, life can throw a curve ball… or a couple toothbrushes… and then you've got to re-evaulate your plan!
As a reminder, my original meal plan is in bold, and what we really ate is underneath in italics.  You'll see how I shopped for each week underneath the week as a whole.  The pictures are of what we really bought, although not necessarily in the order of appearance.
If you have questions, like why I bought what I did, or how a new meal turned out, leave me a comment!  I always enjoy hearing from you guys, and your input has helped me immensely!!
And we're off!

Week 1 Meal Plan & What We Really Ate

(S)  Slow Cooker Salsa Chicken with Mexican Cornbread
–> Skipped.  Family dinner went as planned, so this will get "saved" for another day in the month.
(M)  Buffalo Chicken Wraps, Homemade Flour Tortillas,  Garden Salad and Homemade Blue Cheese Dressing
–>  As planned.  Delicious!  Made whole grain tortillas, served with chopped carrots/celery/cabbage/mushrooms and a side of steamed broccoli.
(T)  Kale Salad with Cranberry, Feta and Pumpkin Seeds, Kashi Flour Biscuits
–>  As planned, but skipped the biscuits.  A batch of homemade spaghetti sauce had been cooking in the slow-cooker and the family couldn't resist the smell, so the others had a small plate of spaghetti with their salads.
(W)  Lentil Macaroni
–>  As planned!
(T)  Hearty Minestrone Soup with Barley, Soaked Whole Wheat & Spelt Bread (from Nourishing Traditions)
–>  As planned, but forgot to soak flour.  Used 50/50 whole wheat and spelt in rosemary olive oil bread instead.
(F)  Homemade Pizza
–>  As planned.
(S)  BBQ Ribs with Homemade BBQ Sauce, Roasted Potatoes, Homemade Caesar Salad and Seasonal Veggie
–>  Birthday dinner moved to Sunday night with family, so made tacos instead (originally planned for Monday, week 2).  Swapped chicken for beef (had to carve whole chicken anyway), plain chopped pineapple, skipped corn salsa (no corn) and made corn instead of flour tortillas (faster – spent the day running errands and working in the garden).
Week 1 Shopping
Costco – $156.11
balsamic vinegar 1L, 10.99
extra virgin olive oil 1L, 11.99
tomato puree 10#, 2.79
fresh mozzarella x2, 6.99
whole bean coffee 3lb, 13.99
bananas x2, 1.39
craisins, 3.79
apples, 6.49
power greens, 4.59
granulated sugar 10lb, 3.99
kerrygold butter x3, 6.99
oats 10lb, 8.39
organic cheddar 2lb, 11.99
organic whole chickens 2pk, 25.10
chocolate chips, 8.69
Alrighty… let's start with the usual suspects.  EVOO, butter, sugar, chocolate chips and coffee are to replenish the pantry.  Mozzarella for pizza, craisins for snacking, trail mix and oatmeal, bananas and apples for snacking and smoothies.
Power greens (for variety, instead of just kale) for smoothies, cheese for snacking and meals, oats for oatmeal and the occasional homemade cookie craving.
The balsamic vinegar was a bit expensive up front, but it's not much cheaper in other stores and the bottles seem so much smaller!  We use this often for basic salad dressings, so this upfront purchase should hopefully last us a couple months.
The tomato puree was actually an accident.  I meant to buy the tomato sauce for homemade spaghetti sauce, but as it turns out, the puree was a better deal!  Because it was super thick, it made a double batch of sauce, rather than just one… so while chopping everything for the crock pot on the current batch of sauce, I chopped another batch and put it in a gallon bag with half of the tomato puree for a future batch of sauce.  All it'll need is a thaw, seasonings and a couple cups of water!
Good News!  S&W doesn't use BPA to line their canned products!  We're making progress to avoid BPA ever since I researched this post, but I hadn't had a chance to make a purchase at Jovial for jarred tomatoes as of this shopping trip.  At least my back-up plan isn't to shabby either!
Grocery Outlet – $48.88
organic eggs 20ct, 4.99
organic molasses, 3.99
ground black pepper, .99
Italian seasoning, 2.99
dried rosemary, 2.99
dried basil, 1.99
shell pasta 7oz x2, .34
yellow mustard, .79
bacon x2, 2.99
havarti, 1.49
feta, 4.12
organic ground beef, 4.99
conditioner, 6.99
goats milk soap, 3.99
salt, .99
Eggs, pepper, Italian seasoning, rosemary, basil, pasta, salt and mustard are all to replenish the pantry.
Instead of buying brown sugar, I've switched to making my own instead with molasses and white sugar.  Simply swap white sugar for the brown sugar in the recipe and add 2 Tbsp of molasses per cup of sugar.  It's way cheaper in the long run since white sugar is so inexpensive.  Plus I think we make less cookies with this method too. 🙂
Nitrate-free bacon for meals & breakfast, havarti for macaroni and cheese later in the month, ground beef for spaghetti sauce.
We were down to the last bottle of conditioner, so I bought a brand that was free of all the weird stuff you find in beauty products like sulfates and phthalates.  I'll admit to not knowing too much about them, but if I'm having to replenish stock anyway, might as well avoid toxins where I can, right?
My skin was reacting to the face soap I was using, so I switched to goats milk soap instead.  It's much more mild, and my skin is improving too.  This soap too is void of the weird beauty additives, and the three pack will last a LONG time.
CVS – $1.91
paper towels x2, .88
Although we switched to cloth napkins, there are two instances where we've found the cloth napkin just doesn't do that great of a job:  soaking up grease from bacon, and absorbing moisture in bagged greens.
Note that these are priced better than the dollar store!
Savemart – $22.32
chili sauce, 1.99
Worcestershire sauce, 2.29
rice vinegar, 1.79
organic whole milk x2, 6.38
bell peppers x4, .50
bag of bananas, 1.49
The chili sauce, Worcestershire and vinegar are for the Asian-inspired recipes on the menu this month.  Although they're not something I'd normally buy, they added delicious variety to the meal plan and we can use them again next month.  Whole milk for yogurt, peppers for salad, tacos and pizza.  Bananas for snacking and smoothies.
Wow, we eat a lot of bananas!
Week 2 Meal Plan & What We Really Ate

(S)  Pan-Seared Honey Glazed Lemon Salmon, Garden Salad, Seasonal Veggie
–>  Skipped, had birthday dinner instead (originally planned for Saturday, week 1).  Seasonal veggie was broccoli and corn on the cob.  Skipped salad, but made couscous.
(M)  Homemade Tacos:  Steak, Pineapple Jalapeno Salsa, Southwestern Salsa Fresca, Homemade Red Salsa, Coconut Rice and Homemade Flour Tortillas
–>  Skipped since made on Saturday, week 1.  Made pan-seared salmon, as planned for day before.  I subbed lemon for lime in the sauce, but it was pretty good!
(T)  Chopped Asian Salad (with dressing as written), Kashi Flour Biscuits
–>  As planned, and really good!  Definitely a make again, and adaptable to what's already in the kitchen.  Skipped the Kashi flour biscuits and made whole grain biscuits since I already had some of that flour available.
(W)  Baked Ziti
–>  Skipped.  We did a little bit of cleaning out the fridge of leftovers instead.  The kids had lentil macaroni, Mr. Crumbs had spaghetti and I tested a smoothie for the "Whole Pie" recipe subscription.
(T)  Roasted Tomato Basil Soup,  Soaked Whole Wheat & Spelt Bread (from Nourishing Traditions)
–>  As planned.  This was the last trial run of the bread so you can expect a recipe coming very soon!!
(F)  Homemade Pizza
–>  As planned, and hosted my dad for dinner.  Made one pepperoni, one pepperoni & sausage and made two dozen wings from the freezer as an appetizer.  Whipped up an Asian-style wing sauce with what I had on hand.
(S)  Grilled BLT Panini's, Roasted Potatoes and Garden Salad
–>  As planned, but no bacon.  I actually thought we ran out, but it was hidden in the freezer.  Swapped one chicken breast, cut horizontally, and made several sandwiches with variations of cheese, chicken, pesto, hummus, lettuce and onion.  Potatoes as planned, skipped the salad because we ate all the lettuce!
Week 2 Shopping
Savemart – $16.95
banana bags x2, 1.49
salami, 5.99
pepperoni, 3.99
pepperoni, 3.99
More bananas for snacking and smoothies…. aka, the bananas craze.
Mr. Crumbs made a comment about not being much of a fan of the pepperoni we'd been using, so I picked up two new brands and salami for a fun little taste test.  He knew right away that the salami wasn't pepperoni, and he turned that down.  Both other brands passed the test, and he chose Armor as his current new favorite.  Now I just need to find a good price.  We're still on the hunt for nitrate-free pepperoni, and I hear that Applegate has some, but none of the stores in my area carry it. 🙁
Grocery Outlet – $5.98
pineapples x2, 1.99
mangos x4, .50
My original intention was to find pepperoni for pizza (reference the previous Savemart trip), but they didn't have any.  Instead, we got fresh pineapples and mangoes for snacking and smoothies.
Savemart – $17.77
crushed tomatoes x2, 2.89
orange marmalade, 3.99
cottage cheese x2, 2.99
cilantro, .33
butter lettuce, 1.69
This was "one of those days."  I spent a portion of the day driving family back and forth all over town and wasn't able to really get a good grasp on what was required of me at home.  Th day prior I made my list for the week, but realized that it was missing a few important items, like tomatoes for tomato basil soup, cilantro and orange marmalade for the Asian salad.  There was a good deal on cottage cheese (a brand that doesn't have any weird additives) and opted for butter lettuce to serve the salad in, since I wasn't sure the salad itself would be enough food to cover a whole meal.
A note on the marmalade – have you ever read the ingredients on orange marmalade?  Every single brand, except for the one I bought, had high fructose corn syrup listed as the first ingredients.  Not even ORANGES came first!  I was NOT happy about the price on this small jar, but the flavor is so versatile.  I'll be watching for sales and deals and possibly stocking up on a spare jar or two since it's a unique item that's tough to find healthy.
CVS – $12.67
toothbrushes x2
Our kids use battery operated toothbrushes and the batteries ran out.  Unfortunately, the little part that you unscrew to replace the battery would NOT open!  CVS had a BOGO 50% sale, so we paid $12.67 for two toothbrushes.  Not the best deal ever, but no other store in the area could beat it.
The Farm – $11.81
organic golden beets x5, 25¢/ea
organic strawberries x3, 2.50/basket
organic bell pepper, 1.25
green onion bunch, 1.25
organic ginger nub, .56
This place is a small, organic farm owned by a local Christian family.  They have story-time on Tuesdays, so I took the kids and made a morning of it.  Unfortunately, seeing all the toddlers and lap-babies made me realize that my kids were officially too big for story-time.
*sniff*
We picked up strawberries for snacking (better price than the farmers market), beets for smoothies, and the rest of the ingredients needed for our Asian salad.
This trip and the frozen beet greens my freezer made me realize that while beet greens are GREAT for nutrition, we're not a big fan of them.  I'd rather buy just the flesh, and if I get golden beets, no one can taste them in their smoothies! 😉
Trader Joe's – $11.76
sunflower seeds, 1.99
feta, 2.79
pepperoni, 2.99
organic bell peppers, 3.99
Sunflower seeds for the pantry, feta for couscous next week, pepperoni for pizza (another brand to taste test) and bell peppers for fajitas.
Savemart – $10.05
organic milk, 6.38
cucumber, .69
fresh mint, 1.99
spinach, .99
Milk for coffee; cucumber and mint for the salad, spinach for macaroni and cheese.
Note:  the recipe only used half of the mint, so next time I need to find two recipes that call for the fresh herb so that it doesn't go to waste.
Costco – $55.52
organic AP flour, 14.99
oranges, 10.99
natural peanut butter, 10.99
multi-grain tortilla chips, 3.99
apples, 7.99
garlic, 3.79
bananas x2, 1.39
I was pretty much over budget at this point in time, but we still needed a few items to get us through the rest of the month.  Flour, garlic and peanut butter are staples.  We tried going 100% whole grain for everything in the kitchen, but it just didn't make sense for somethings like dusting the counter.  We're still committed to more whole grain than not, so my goal is to really stretch this bag.  Oranges, apples and bananas for snacking.  The chips aren't a staple, but I couldn't resist the urge!!
Week 3 Meal Plan & What We Really Ate

(S)  Steak Fajitas with Homemade Flour Tortillas and Simple Spanish Rice
–> Skipped.  Mr. Crumbs took me out for lunch since it was Mother's Day so we weren't very hungry come dinner.  He made steak & couscous for himself while the kids and I ate peanut butter sandwiches and apple slices.
(M)  Turned Roasted Chicken, Honey Lemon Carrots, Garden Salad and Kashi Flour Biscuits
–>  Modified.  I forgot I had planned this when I chopped the whole chickens earlier in the month, so I breaded and baked two chicken legs and the other half of the breast from the previous Saturday.  Running low on carrots so make broccoli instead and made spelt biscuits since I didn't take the flour out of the grinding bin and I was feeling lazy. 🙂
(T)  Thai Chicken Satay Salad
–>  As planned with two thumbs up.  I omitted the lime since I didn't have any, and will definitely make again but will chop veggies much smaller than I did this time.  (Used one chicken breast.)
(W)  Spinach Mac and Cheese with Toasted Wheat Berries
–>  As planned.  Swapped whole spelt for einkorn wheat, ziti for rotini.  Used a combination of havarti, sharp cheddar and Parmesan cheeses and an entire 9oz bag of spinach.
(T)  Tortilla Soup, Soaked Whole Wheat & Spelt Bread (from Nourishing Traditions)
–>  As planned.  The bread included a little bit of Kashi flour too, but I think that prevents the bread from rising well.  Kashi flour makes great non-rise items though, like pancakes, so I'll stick with that from here on out.
(F)  Homemade Pizza
–>  As planned.  Yum!
(S)  Middle Eastern Lemon Feta Chicken, Couscous and Seasonal Veggie
–>  As planned, and Mr. Crumbs LOVED it despite me mis-measuring the spices.  Made carrots as the veggie.
Week 3 Shopping
Grocery Outlet – $7.98
organic carrots, 1lb, 1.99
organic eggs 20ct, 4.99
mango x2, .50
Our grocery budget was definitely spent, but we had very little produce in the house.  Picking up just enough to get us through the next week was more budget friendly than shopping in bulk at Costco (which is where I normally buy carrots).
Carrots were for meals, eggs for baking and breakfast, mangoes for snacking and smoothies.
Week 4 Meal Plan & What We Really Ate

(S)  Homemade Spaghetti
–>  Skipped.  We had dinner with family, including delicious grilled pizza, and celebrated a belated birthday and Mother's Day.
(M)  Baked Ziti
–>  Potponed.  I'm trying to save some food for the camping trip so I made an orange beef stir-fry with orange juice in the fridge, beef in the freezer, one bell pepper, carrots, celery and onions.  All of it on hand from previous meals!
(T)  Chicken Bacon Avocado Chopped Salad, Kashi Flour Biscuits
–>  Skipped.  Made the baked ziti from Monday instead.  Subbed frozen beet greens for kale and added a third layer of noodles.
(W)  Leftovers a la Veggie Fried Rice
–>  Skipped.  Made another stir-fry using the leftover beef from Monday's (thawed one package that contained two steaks) and the remaining vegetables we had in the fridge
(T)  Leftover Soup From the Freezer, Soaked Whole Wheat & Spelt Bread (from Nourishing Traditions)
–>  As planned.  There was leftover tortilla soup from last week, plus homemade bread to use up the last of the leftovers in the fridge before our trip!
(F)  [Camping]
–>  We're leaving early evening and won't arrive to pretty late, so we'll likely stop somewhere on the way to the campsite.
(S)  [Camping]
–>  On the menu, grilled steak with potatoes, corn on the cob and fresh fruit. 
Week 4 Shopping
Savemart – $12.34
organic whole milk gallon, 6.38
bananas bags x4, 1.49
This was a very last minute trip for milk.  Mr. Crumbs found our milk to be going sour the day before, and since it's pasteurized, we didn't feel safe consuming it.  I picked up the milk, but also saw bags of marked down bananas in the produce section.  I picked up four and we've eaten one bag already.  I took one bag to the last AWANA celebration for ice cream sundaes, taking another bag camping and will put whatever is left in the garage to stay cool until we get home.
Total Spending for May – $392.05
There were some unusual purchases this month that I think made it a bit more difficult to keep a reign on the final tally.  There was $24 worth of toiletries that happened early on in the month, and the mid-month pepperoni show-down racked up another $17.
I can't avoid toiletries altogether, but I am slowly weaning myself off of the need for them and stretching what I have.  I dream of going 'poo free one day, but it'll definitely take some time.  For now, I'm going to try to wash less (maybe every other day?) and dilute the HUGE bottle of conditioner with water.  The goat soap will last awhile.  It's been four weeks and I'm barely through one bar.  The package I bought has three!
The condiments will be used in next month's meal plan too (orange marmalade, chili sauce, etc.) so they won't just sit and collect dust.  Next time though, it would be smarter to use them up in the same month, rather than having them span over two.  The hunt for pepperoni will continue, but at a much slower pace, lol.
One thing I have implemented though, that I believe is working in reducing trips in general, is shopping for as much as I can that first week, then shopping just weekly for perishables needed for the meal plan.  I've been doing this in the past, but this month included lists and extra diligence.  It made it MUCH easier to stick to the meal plan, but a bit tougher on the budget in general.  Going forward, I'll try to keep a better eye on the bottom line earlier in the month and make sure there are funds set aside for future spending.
How is your budget coming this month?  How well did you stick to your plan?  Your budget?