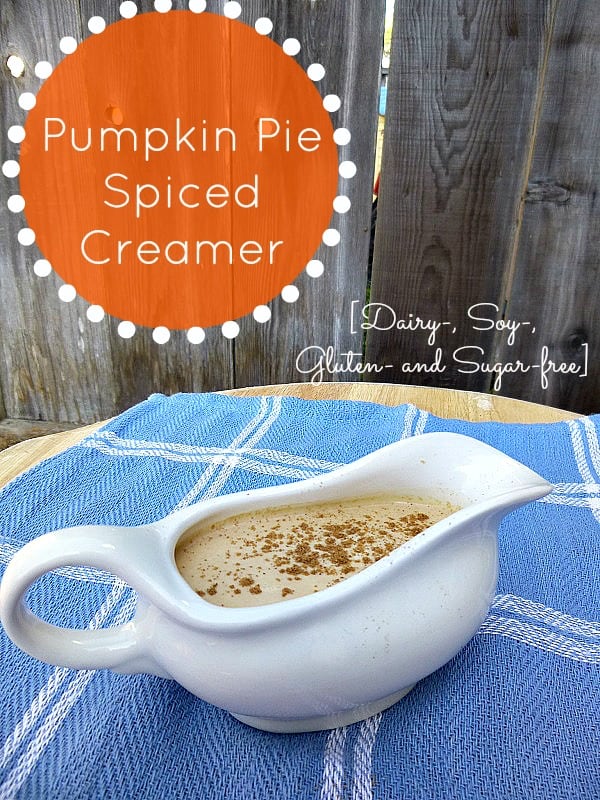 Remember that time when you invited your friend over for coffee and were really excited to share your new love of homemade vanilla bean coffee creamer?
But then found out they can't have any dairy?
When this happened to me recently, I was determined to come up with something delicious to share with my friend next time she came over.
The result is amazing – non-dairy pumpkin coffee creamer. So good I drank half the jar before sharing it with anyone else!
The secret? It's made from cashews.
Yeah, I did not realize that cashews could be so amazingly delicious in a beverage!
At one point or another we all have that friend that has to go non-diary, or gluten-free, or some other special diet due to allergies or other health reason. It may even be you. Thankfully there are alternatives.
And the alternatives are good for everyone because the store-bought creamers are bad. Really bad.
Quite a while ago I stopped drinking coffee creamer because they are loaded with hydrogenated oils (which is really more like plastic than food!). If you look closely at the labels, they aren't even made with any milk either!
Chemical laden, milk-like product made in a lab? No. thank you.
Homemade vanilla bean coffee creamer is my favorite now because, well, it's vanilla. And I'm a sucker for all things vanilla. But for those times when pumpkin is in the air, pumpkin coffee creamer is the go-to. And it works for my non-dairy friends!
Homemade Non-Dairy Pumpkin Coffee Creamer
The base of this coffee creamer is cashews. This means that you do have to plan ahead in order to make it. The cashews need to soak for 3-6 hours to get soft enough to blend. I usually buy my cashews from Costco, but also found these on Amazon for a good price.
Maple syrup is the sweetener used in this recipe. My family quit sugar and maple syrup is a great natural alternative. I use it all the time in our cookie dough hummus and on our overnight steel cut oats!
Mix the cashews and maple syrup with water and homemade pumpkin pie spice and your non-dairy pumpkin coffee creamer is ready to go!

Non-Dairy Pumpkin Coffee Creamer
Ingredients
½ cup cashews
2-3 cups filtered water
1½ Tbsp maple syrup
2 tsp pumpkin pie spice
Instructions
Place cashews in a container and cover with water. Allow to soak for 3-6 hours. This softens the nut and makes it easier to blend. Plus you can benefit from the breakdown of phytic acid.
Drain nuts and place in a blender. Add enough filtered water to just cover the nuts.
Add maple syrup and spices and blend thoroughly.
Store safely in the refrigerator for up to five days.
Add 2-3 tablespoons to your favorite cup of coffee or tea
Additional Recipe Notes
The consistency of this non-dairy creamer is like half-and-half. If you'd like it thicker, reduce the amount of water in the blender. For thinner creamer, use more water. Remember you can always add more water but you can't remove it.
More Ways to Use Non-Dairy Pumpkin Coffee Creamer
Use this creamer in more than just coffee!
Here are some other coffee and pumpkin posts you might be interested in:
What is your favorite non-dairy coffee creamer?