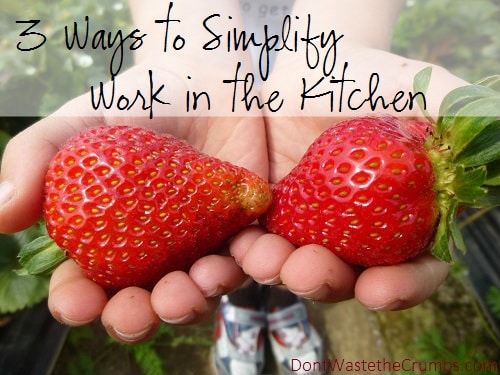 Sometimes my brain makes things harder than they really need to be.
It's a side effect of having a type-A personality.
You know those types of people… always have lists, like things to be done "just so," go a little stir crazy when they can't get to their washer or dryer without stepping on massive boxes of peaches and bell peppers.
Ahem.
That would be me.  And my brain.  Unfortunately, we're inseparable.
A couple weeks ago I sat down to plan out the first quarter of our homeschool year.  I was trying to wrap my head around not only the curriculum we'll be working through, but what our typical day would look like too.  You know, to gauge how the upcoming days and weeks would be changing so I knew what to expect.
There isn't a crystal ball on my dining room table and there's still a full week to go before school starts, so as of today, I have no idea what to expect.  However, my fellow homeschooling friends always seem to be really busy and my over-thinking brain is already fearing the worst.
Fortunately, that same brain likes to make lists, because I think that will be my only saving grace.
As my brain started spewing all these ideas for ways we as a family could be more efficient with the time available, it dawned on me that it really boiled down to just two concepts.  Two ideas that have stood the test of time and are used successfully in nearly every facet of life:  1) Keep it Simple, and 2) Work Smarter, Not Harder.
I've come up with three ways we can simplify in the kitchen to help make our homeschooling days a bit easier.  These ideas can work for any kitchen though, regardless of where the kids go to school or even if all the kids are done with school and have started families of their own.
1.  CHOOSE ONE-INGREDIENT NUTRIENT DENSE FOODS
It sounds so simple, but I think we often overlook this.  Fruits, vegetables, yogurt, eggs, nuts, beans – all of these are high in nutrients and require little work, if any, to prepare.  These would make excellent snacks, or they can be mixed together for an easy meal.
Opening a bag of pretzels or chips requires little work too, but they don't offer much nutrition.  Instead of truly feeding the hungry bodies, they'll give us a short-term fill-up… and then a mere two hours later, bellies will be empty again.  And you'll have to eat again.  Which means you'll have to clean again.  Why not save the duplicate efforts and just eat the good stuff the first time?
2.  CHOOSE FOODS THAT ARE IN THE PATH OF LEAST RESISTANCE
If you had the choice between swimming to China or flying on a plane, and there's no reward or incentive to swim, which would you choose?
Does that seem like a silly question?
Um, hello?  It's no different than choosing to make foods that require more time and more prep over foods that are just faster and simpler to make, especially when in the end, it's the same food.
Take bread for example.  We talked about the practical implications of soaking and sprouting our grains, whether it's truly feasible for the average family to do it all in the kitchen, day in, day out, every single week.
If we're eating bread, whether for lunch or dinner, why not choose the recipe that requires the least amount of effort?
That's why I choose sourdough.  In two minutes a day, there's enough starter for 2-3 loaves of bread each week.  As a bonus, there's enough for a big batch of pancakes too. 
Having the starter ready means I don't have to soak my grains separately, or even think much about measuring flour and water in the morning.
Even the time it takes for the bread to knead and rise is less than it would take for me to make traditional bread for a last minute dinner request.  Especially when I can plan the day to bake bread in advance and make pancakes around our schedule.
Oh yeah, did I mention that sourdough is the healthiest bread available too?  That should get double points for being easy AND nutrient dense!
3.  CHOOSE FOODS THAT MAKE GOOD LEFTOVERS
Can you think something that you like to eat for dinner but you despise eating as leftovers?
For my family, there's two big ones:  potatoes and salad.  I personally will eat leftover salad, but it's not my first choice and no one else in the family will touch it.  It will sit on the leftover shelf for a few days while all the other good leftovers get eaten.  By the time I'm finally "in the mood" for leftover salad, the lettuce is soggy and the whole thing becomes very unappetizing.  In the end, it gets tossed instead of eaten.
Simply put, we don't eat leftover potatoes.  We aren't big potatoes eaters in the first place and find the texture and taste of reheated potatoes to be that much more unpleasant.  Potato pancakes, mashed and hashed – we're just not a potato family.
Oddly enough, I do enjoy leftover potato salad.  Go figure.
Choose foods that you know you'll eat again.  Instead of potato wedges, make a leftover-friendly vegetable like green beans, corn or carrots.  Instead of dressing the whole salad, set aside half for the next day and dress only half.  Not only will the entire salad get eaten, but you'll also have saved some prep work for later!
Keeping it Simple – In Action

Wondering how this might look in the kitchen?  Here are a few ideas to get started.  It's not an end all,  be all list, but it's definitely a starting point for ideas that we can all use for meal plans in the next few weeks.  Plus the ideas that do require a bit of work can be made in bulk (i.e. granola bars or yogurt) so it's a small bit of time up front for a long term pay-off.
SIMPLE PORTABLE or AT-HOME MEALS



smoothies (essentially yogurt and fruit, blended together)
baked oatmeal squares
whole grain or sourdough waffles with fruit, no syrup
hummus with veggie dippers
peanut butter and  banana roll-ups on homemade tortillas (only if there's leftovers)
sourdough pancake wrapped sausages
leftovers from dinner
SIMPLE PORTABLE, MID-MORNING OR AFTERNOON SNACKS



dehydrated fruit
fresh fruit w/peels, or pre-chopped fruit
nuts
sliced veggies
cheese sticks
nuts
hard-boiled eggs
Are you preparing for school?  How do you simplify in the kitchen?