This vegetable pasta primavera recipe is versatile & easy, made with creamy cauliflower sauce & any vegetables you have in the kitchen! You can add meat if you'd like, or make it dairy-free or gluten-free if you need to.
Have you ever tried "sneaking" vegetables into dinner and gotten caught? 
I have, which is why I love this pasta primavera so much. The post-dinner conversation goes something like this:
Your Family:  Mmm… this is really good!  Thanks for cooking dinner!
You: (thinking to yourself:  Hehe. It's vegetables.)  Well, thank you! And you're quite welcome.
That's because you CANNOT TASTE the hidden vegetables in pasta primavera!! You simply get full bellies and empty plates to prove how good this super easy meal is!Click to Continue »
Learn how to cook yellow rice in an Instant pot or pressure cooker with this quick & easy recipe. Use simple, real food ingredients for the absolute best yellow rice! Pairs well with delicious & tender slow cooker chicken and Instant Pot steamed vegetables.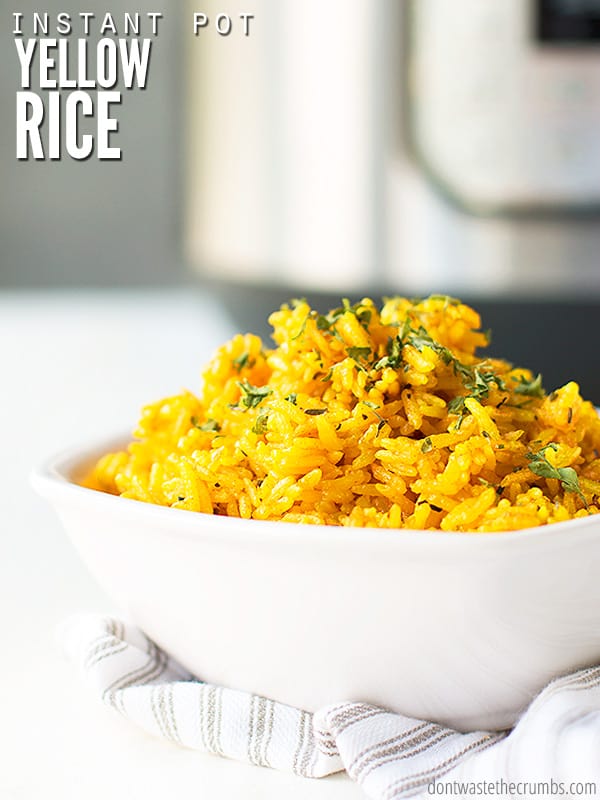 My family loves rice, but I confess that sometimes rice feels boring…
I used to buy packages of yellow rice from the store and I remember thinking they tasted SO GOOD.
But they're also full of preservatives and food coloring and since we've switched to eating real food, we generally avoid that stuff.
I've learned how to make Instant Pot yellow rice at home with simple ingredients! I get the deliciousness of that yellow rice without the bad-for-you ingredients of the store-bought kind, and rice is never again boring!
This clean eating gingerbread smoothie recipe is a perfect holiday treat! Sugar-free, gluten-free and vegan, you can enjoy the flavors of Christmas AND fuel your body! It's perfect for anyone who loves gingerbread. You can even boost the protein with any of these real foods! What's your favorite part about the holiday season? Mine isClick to Continue »