These healthier candy cane cookies are inspired by Betty Crocker, made with less sugar, use real pieces of crushed candy canes and are flavored with peppermint! This is PERFECT with a cup of crockpot hot chocolate!
Making cookies at Christmas is a tradition my step-mom started and one that I hope to continue for years to come.
In our efforts to eat less sugar, I created a healthier sugar cookie that allowed us to keep our tradition AND stick to our real food goals. 
Although my step-mom always made sugar cookies, I stepped out of the box one year and made candy cane cookies.
This easy recipe for healthy chocolate chip cookies is low sugar, uses whole grains, and is vegan-friendly! Makes irresistible chewy and crispy cookies!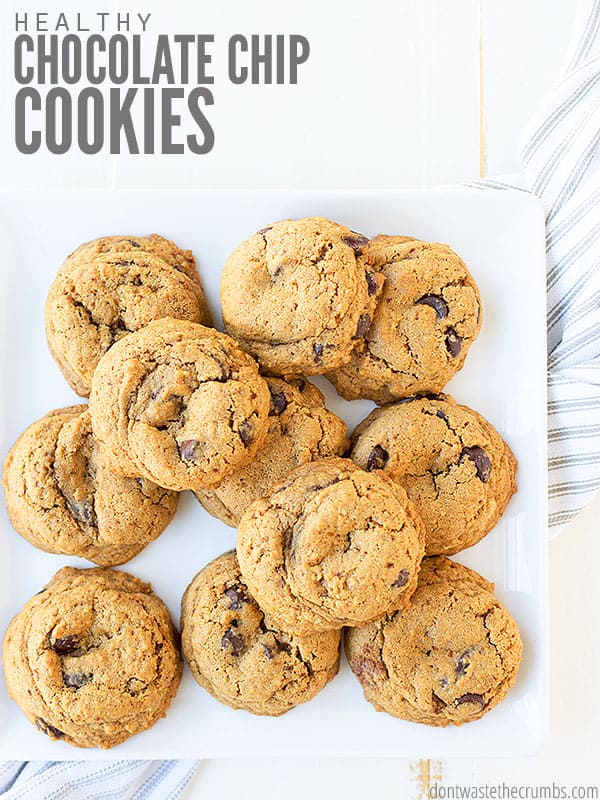 I don't ever want to give up eating cookies.
But I have this thing with cookies, in that I make them, eat them, and then eat more of them. I love them so much, I have a hard time stopping at just one!
That's one reason I created recipes like healthier sugar cookies, healthy peanut butter cookies, and dark chocolate chip oatmeal cookies.
This year, I vowed to make healthy chocolate chip cookies in such a way that they're still irresistible, but not as detrimental to my waistline!
An easy and healthy recipe for pumpkin cake topped with fresh cream cheese frosting! Made with homemade pumpkin puree made from scratch or from the can. I'm an everything pumpkin girl. Pumpkin French toast, pumpkin donuts, and pumpkin chocolate chip muffins are my BFF's this time of year. BUT… My pants also tend to getClick to Continue »