This healthy vegetable stir fry recipe is perfect for a last-minute meal. Use fresh or frozen vegetables, rice or noodles, and top with a savory sauce! Add sweet and sour chicken for an extra protein boost.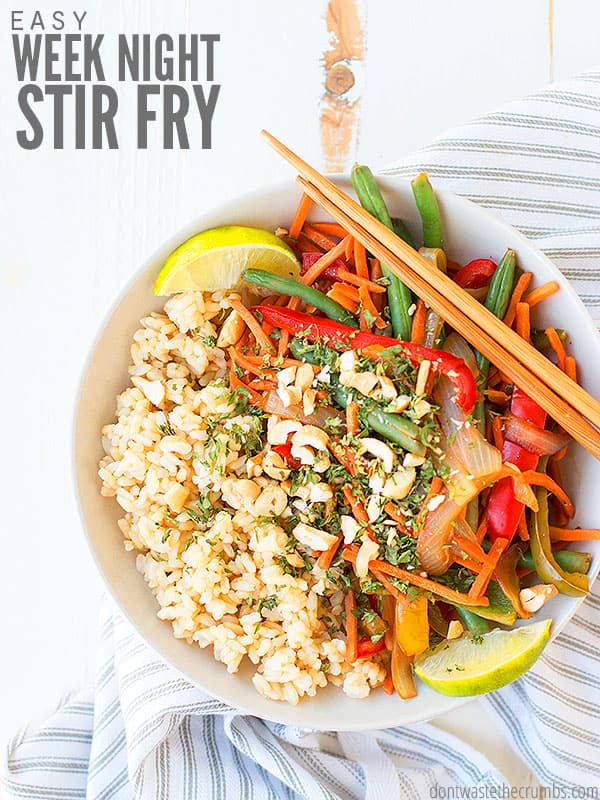 Ever order Chinese, eat dinner and then immediately regret it?
I sure have, and it's why I haven't ordered Chinese food in FOREVER.
With quick and easy recipes like 30-minute cashew chicken, kung pao chicken, and sweet and sour chicken, there's just no need!
Today I'm sharing another one of my favorite recipes with you – weeknight veggie stir fry!
Simple, practical tips for Halloween candy alternatives for kids! Ideas on healthy DIY non-candy treats, party favors, and no-sugar snacks to hand out, like homemade gummies and brownie bites. Plus helpful tips on how to limit candy for kids.
When I was a kid, filling up a pillowcase with as much candy as possible was the goal on Halloween.
Now that I have kids of my own, my goal is to limit Halloween candy as much as possible… my how the tables have turned! 
There are two ways we work this out in our home. 
First, we have ground rules for what types of candy are ok and what to do with extras. 
Second, we utilize candy alternatives whenever it's OUR turn to share sweet treats with friends.
An easy tutorial on how to dehydrate apples, plus a way to add flavor and make dehydrated caramel apple chips – an excellent alternative to holiday candy! If you find a good deal on produce, do you stock up and preserve? Do you freeze blueberries? Or make strawberry jam? Do you dehydrate apples? If not, there'sClick to Continue »