published by Tiffany Leave a Comment
I don't know if there's anything "traditional" about migas, but I do know this: migas is one of my FAVORITE ways to use up leftovers.
In fact, I have been known to intentionally put meals on the meal plan just so that I have leftovers to make myself migas for breakfast (and lunch). Like Instant Pot Korean beef. Or slow cooker carnitas.
I'm sure there are plenty of ways you can make migas, but let me show you how it's done in the Crumbs house.
published by Tiffany Leave a Comment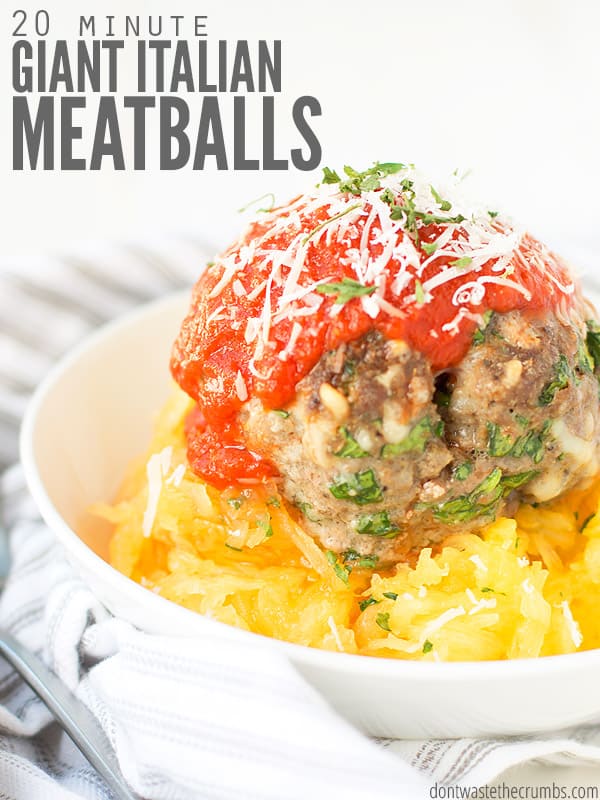 My kids love homemade meatballs… and ground beef taco meat (which is PACKED with veggies) and homemade breakfast sausage and the easiest burgers on the planet.
So it didn't surprise me when my daughter asked to make BIG meatballs.
There was a restaurant we loved to eat at in California where you could order three giant meatballs as an appetizer. They were big, juicy and definitely filled your belly. She wanted THAT kind of meatball.
So here's what we did for a big, giant Italian easy meatball recipe!
My grocery budget is $300 each month for a family of four – two adults and two kids.  This real food budget includes food, toiletries, household items as well as health & beauty products. I've been sharing with you how Mr. Crumbs and I became debt free by creating a budget.  Part of that wasClick to Continue »