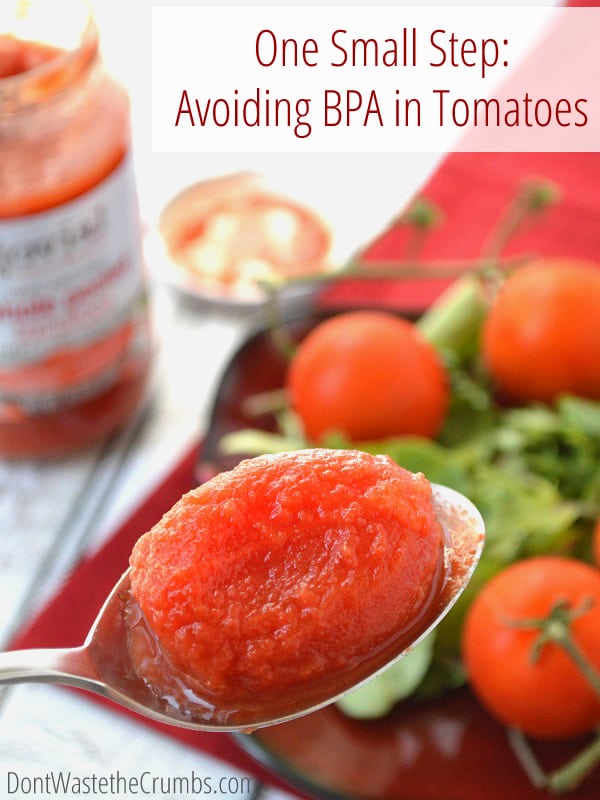 When we started climbing out of debt nearly eight years ago, eating real food wasn't on the radar.  We just hoped to have food on the table.
When we started eating real food about two years ago, BPA was something only the crazy-crunchies worried about.  Quite frankly, I cared less to learn about it.
Now that I've learned the basics about healthy fats, properly prepared carbohydrates and even the truth about dairy – AND we have a working grocery budget that covers our needs every month – I've got a good foundation set and I'm ready to take on some of those bigger ticket items like BPA.
Just one at a time though.  I might be a bit more "seasoned" in terms of real food than I used to be, but I'm still taking baby steps. – especially when those steps require a bit of extra thinking and digesting.  Would you take this one with me?
What is BPA?
BPA is an acronym for bisphenol-A, a man-made compound that's used to make certain plastics.  It's found in a huge variety of consumer goods, for example:
baby bottles & sippy cups
water bottles (both disposable and re-usable)
sports equipment
CD's & DVD's
canned food (beans, fish, fruit, meals, soups, vegetables)
canned beverages (juices, milks, soda)
lids of jarred foods (including baby food and most canned items)
baby formula (concentrate or ready-to-use)
sales receipts
storage containers
dental fillings
eyeglasses
Clearly, this isn't an exhaustive list since plastic is pretty much everywhere around us, but it's a decent start to get our wheels turning.

Why should you care about BPA?
In large doses, BPA acts like estrogen, a hormone whose primary function is to develop the female secondary sexual characteristics.  While it's typically considered a "girl" hormone, estrogen is also found in men to help the maturation of sperm.
The Environmental Protection Agency (EPA) says a "large dose" of BPA is no less than 50 ug/kg/day.  For me – the normal, healthy female adult – a large dose is 2600 ug.  For my daughter – a normal, healthy female child – a large dose would be 800 ug.  (That ug means micrograms, just in case you didn't know.)
[To find your own "large dose," take your body weight in pounds, divide by 2.2 and multiply by 50.]
However, the Food and Drug Administration (FDA) estimates that the average adult intakes .185 ug/kg/day of BPA.  Using myself and my daughter again as examples, this translates to an average intake of 9.81 ug/kg/day of BPA for me and 3.03 ug/kg/day for my daughter.
[To find your own "average intake," take your body weight in pounds, divide by 2.2 and multiply by .185.]
A mere 9 ug and 3 ug for myself and my daughter, respectively, seems like no big deal when you compare it against 2600 ug and 800ug, right?  But it would help if we had some other statistics to compare it to as well, like how much BPA we actually encounter.
How much BPA do really we encounter in our daily lives?
In 2010, the Breast Cancer Fund (BCF) pulled together this really informative report that basically eliminated all the super-hard math stuff, like converting micrograms to parts per billion.  They created two hypothetical diets that would approximate the levels of BPA exposure the typical family could have from food.  Check this out:
"Low" BPA Diet
breakfast:  granola and yogurt, coffee
lunch:  canned tuna fish sandwich with lettuce, tomato, mayonnaise; soda
dinner:  baked chicken; canned green beans; rice pilaf
snack:  fresh fruit and nuts
Now with the exception of the soda at lunch, this could easily be a typical day in our house.  We might swap a can of tomatoes for the green beans, possibly using a can of pineapple in smoothies, but this really isn't too far out of reach.
Total estimated exposure to BPA on the "low" BPA diet:  9.0 ug/day for an adult, 6.0 ug/day for a child.
So for the average adult (me), the "low" BPA diet is right on target with what the FDA estimates our intake to be.
However, for the average child (my daughter), the "low" BPA diet provides levels twice as high as what the FDA estimates.
Now, for the second hypothetical diet:
"Typical" BPA Diet
breakfast:  oatmeal and milk; canned juice
lunch:  canned tomato soup; grilled cheese; soda
dinner:  taco meat; salsa made with canned diced tomatoes; canned re-fried beans; canned corn; soda
snack:  canned fruit cocktail
Granted, this menu has a lot of cans in there (and a lot of soda), but for the average person on the standard American diet (SAD), it really isn't too far off from the typical day.
Total estimated exposure to BPA on the "typical" BPA diet:  41.4 ug/day for an adult, 27.6 ug/day for a child.
The BPA exposure for the adult on the "typical" diet is more than FOUR times as high as what the FDA says the average intake is, and more than NINE times as high for the average child.
Basically, the FDA says we're not exposed to much BPA, but based on the daily diet in a typical American household, the FDA is very, very wrong.

But let us not forget – this estimated exposure is just from food.  This doesn't include any of the other things in our original list of potential contaminants like water bottles or storage containers, nor does it include the increased exposure that result from catalysts like microwaving food in plastic containers or leaving water bottles in hot vehicles for long periods of time.
Unfortunately, there's no way to determine the exact values of of how much additional BPA we're exposed to on a daily basis since we all come in contact with plastics to different degrees.
It doesn't take a "large dose" of BPA to cause damage.
In studies conducted in mice, BPA exposure at incredibly small levels still produced significant changes in the anatomy:
.02 ug/kg/day – changed enzymes in the brain
.025 ug/kg/day – changed mammary glands and caused female genital tract alterations
.2 ug/kg/day – caused male reproductive tract changes, decreased sperm motility and sperm production
.25 ug/kg/day – reduced sexual differentiation in the brain, additional mammary gland changes including abnormal increase of mammary gland cells
2.4 ug/kg/day – testosterone disruption, effects on puberty and body weight, caused puberty-onset changes
How's this for the kicker:  The FDA estimates the daily intake of BPA of babies fed canned infant formula to be 2.42/ug/kg/day – the same level at which noticeable changes were seen in the testosterone of male mice and puberty-onset began in female mice.
In fact, the effects of BPA is most dangerous when babies are still in womb or are exposed very early in life.  Perhaps that's why the FDA officially banned BPA from baby bottles and children's drinking cups in July 2012.  But there still isn't official federal regulation banning it from foods…
Scientific studies on BPA are kinda like the cha-cha – two steps forward, one step back.  For every report you find saying it's bad, you find another that says it's not that bad after all.  Some studies say it's only bad in big doses, and manufacturers of canned goods cling to those studies.
But then there's studies like this one that say even small doses can cause obesity and diabetes in offspring.  This reputable site says that even minuscule exposures increase risks for breast cancer, prostate cancer, infertility, early puberty, metabolic disorders and type-2 diabetes.
What are we supposed to think?  What are we supposed to do?
The fact that both the National Toxicology Program (the group that conducts most of the BPA testing) and FDA have concerns about the potential effects of BPA on the brain, behavior, and prostate gland in fetuses, infants, and young children means that BPA isn't entirely off the hook.  If our government (who seems to be hiding behind the red tape and current legislation when it comes to accurately testing the effects of BPA and banning it's use) says they're concerned, then I think we should be too.
There are a lot of places where I can't control exposure of BPA to myself and my kids.  The playground.  Toys.  Shopping carts.  Containers that aren't even in my own home.
I could easily get myself worked up in a tizzy, trying to control every aspect of my kids' lives so that they never come in contact with a piece of plastic again.
Or I could be realistic and start with the one place I know I can control:  My kitchen.
Common BPA levels in our food.
The chart on page six of this document shows the levels of BPA in the most common canned foods found in the kitchen.  Here are the top five offenders and their respective levels of BPA:
coconut milk – 78.1 PPM (parts per million)
soup – 70 PPM
meat – 65 PPM
vegetables – 63.8 PPM
meals – 36.3 PPM
As you can see coconut milk ranks the highest.  An easy solution to this problem is to make your own homemade coconut milk instead.
We stopped eating canned soup very early on in our real food journey not because of the BPA, but because of the hydrogenated oils and high fructose corn syrup.  There are PLENTY of real food options in terms of soup that aren't condensed and from a can – just check out my collection on Pinterest for ideas.
Canned meat is not referring to fish or tuna, since those are specifically called out on a different line item in the chart.  I don't have much experience with canned meat, but if it's in your diet (I'm thinking for preservation purposes?), then makes sure you can it yourself using jars with BPA-free lining.
I can't think of a single thing that's healthy nor remotely real about canned meals.  Can you?  They're full of preservatives, additives and likely chemicals too so they can still taste "fresh" whenever you decide to open the can (up to two years after it was sealed…).  If these are in your kitchen, let's get rid of them ASAP and not turn back, okay?
That leaves us with just vegetables, which honestly is difficult to address in the real food realm because canned vegetables ARE real food.  While fresh vegetables are always best, canned vegetables are a viable option as well and often the preferred choice over the "fresh" produce you find in the supermarket in January when the ground is covered in ice.
Since tomatoes are not in season in January, our next best option for every meal pictured in this post would be canned.
But then there's the BPA issue…  *sigh*
Avoiding BPA in Tomatoes
If you could offer extra brain juice to think about just one par of BPA, and take just one baby step towards fighting it, be concerned about tomatoes. 
Here's my reasons why:
They're acidic, which encourages the leaching of BPA into the tomato.
The way tomatoes are canned – the process itself – is a catalyst for increasing the BPA level (see below for a bit more on this).
Tomatoes aren't in the freezer section, where other vegetables are (and therefore more easily avoided in cans).
In a large manufacturing environment, tomatoes are packed and sealed in the BPA-lined cans AND THEN pasteurized/sterilized.  Those high levels of heat for indeterminate periods of time (which depends on the specific type and cut of tomato being canned) is what starts the leaching process.  (I found a neat YouTube video of the process HERE if you want to watch.)
Essentially, when you buy tomatoes in a can lined with BPA, you're buying food that has already been exposed.  The longer it sits on your kitchen shelf, the more BPA is leached.
And remember, it's not necessarily us we should be concerned about.  It's our kids.

Think about all the times you open a can of tomatoes… all those spaghetti nights, the lentil macaroni, the chips and salsa… all of the family favorite recipes that start or end with a simple can of tomatoes.
Since there's no industry standard in labeling BPA, the best way to avoid it is to simply not buy cans.  Fortunately, more and more companies are beginning to offer their tomato products in jars instead of cans, specifically because of the concern of BPA.  Many of those companies are making sure the lids don't contain BPA either.
It's definitely an uphill battle, but it's one worth fighting in order to keep BPA out of our kitchens and reduce the risk of BPA exposure.
You can help fight that battle by supporting companies like Jovial Foods, who are taking a stand against BPA by packaging their tomato products using BPA-free materials.
This post is brought to you by Jovial Foods and Crumbs is honored to partner with them.  The mission of Jovial Foods is to create authentic and satisfying foods you can trust. Their crops are cultivated by small-scale farmers and their products are crafted by Italian artisans, resulting in the finest nutrient-rich, distinctly flavorful foods.
Join the Jovial Community today
and be a part of their mission.