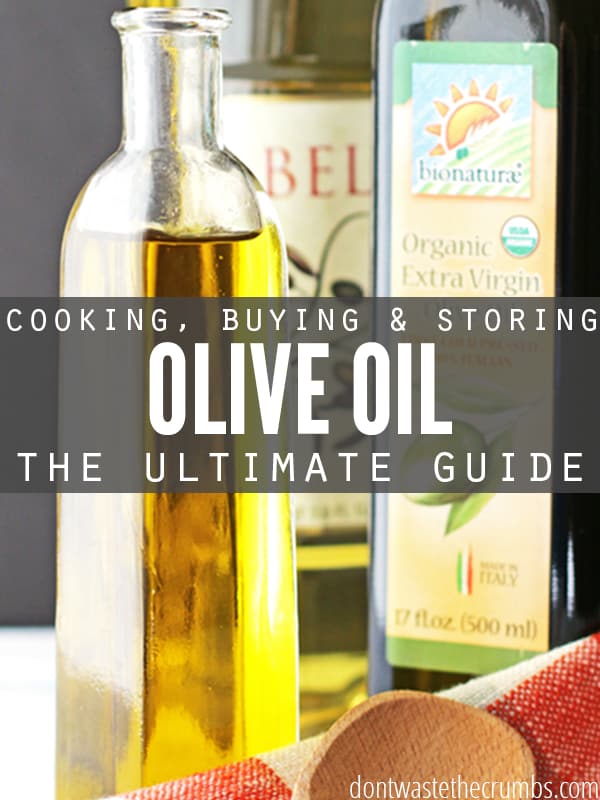 Let's take a poll.  Raise your hand if one of the first things you reach for when cooking is olive oil.
Would some of you have raised your hands if asked this question three months ago?
We're talking all about olive oil this week, hopefully covering all the basic issues.  If you have questions or want to add to the topic, be sure to leave it in the comments.  I really enjoy hearing what you guys have to say, and you guys have some great input!
This post is part of a series:  Truth About Fats.  You can read more about fats and why we need them HERE. 
Remember back to one of our first lessons in fat when we discussed the molecular structures of fats? You didn't sleep through chemistry that day, did you?
Olive oil is a monounsaturated fat, meaning it has one bend in its molecular structure that causes it to be liquid at room temperature and solid when refrigerated.  It's this bend that makes it slightly less stable that saturated fats (which have no bends), but it's still not a "bad" choice per se.  After all, our bodies naturally make monounsaturated fat out of some of the saturated fats we eat.
The Benefits of Olive Oil
Nutrition
Like butter and coconut oil, olive oil is a super food.  There's an incredible amount of nutrition packed into every small amount of oil.  And like butter and coconut oil, including it in your regular cooking habits and consuming just a small portion each day will be enough for your body to reap the benefits of the oil over time.
Oleic Acid
Olive Oil contains 75% oleic acid, a long-chain fatty acid.  This omega-9 is thought to aid in the battle against aggressive breast cancer in as little as one tablespoon each day (although researchers still suggest to obtain oleic acid from other whole foods such as nuts, seeds, beef, eggs and cheese that can be eaten throughout the day, rather than a single daily dose).  Oleic acid also strengthens the cell membranes in the blood vessels in our bodies, allowing them to withstand the pressure put on by the normal blood flow and daily operation of our bodies.
Vitamin E
Vitamin E is best known for being an antioxidant, as it prevents and repairs damage done by unstable free-radicals and is required by our bodies to maintain the integrity of the cell membranes of our mucus membranes.  It also aids in the healing process in skin and naturally thins the blood so platelets don't abnormally clump abnormally.
Polyphenols
Olive oil contains at least 18 different polyphenols, including some of nature's most powerful anti-oxidants.  Included in the list are some that protect portions of LDL cholesterol from oxidizing in the blood vessels and potentially becoming calcified.  Another type slows the growth of unwanted bacteria responsible for digestive tract infections including ulcers.  Some of the long-term benefits of these polyphenols can include coronary artery disease, degenerative nerve diseases, improved brain function and diabetes.
Oleocanthal
Oleocanthal is a specific type of polyphenol worth mentioning because of its anti-inflammatory affects (essentially inhibits the production of two enzymes).  Olive oils with a stronger flavor contain more oleocanthal and in general, 3 1/2 tablespoons of olive oil is equal to a 200mg capsule of ibuprofen. An excellent way to naturally manage the pain and swelling from arthritis.
Tips for Buying
Aim to buy extra virgin olive oil labeled "cold pressed."  These oils are extracted from olives using only pressure and nothing else.  Extra virgin olive oil comes from the first press of the fruit and will have the freshest flavor.
Virgin olive oil comes from the second press.  It still tastes fresh and is only extracted using pressure, but it will be slightly more acidic.  The difference may or may not be noticeable, so it could be worth experimenting between the two if the price difference is significant.
A bottle labeled "light" olive oil means that it has been filtered to remove some of the sediment from the fruit.  It's not a note in relation to calories or fat, only color. Because filtering can remove some of the benefits of olive oil, I typically won't use light olive oil for anything except homemade mayo.
A bottle labeled "pure" is very misleading and you should not buy these.  It's a combination of refined extra virgin, virgin and olive oils that aren't great quality.  Sometimes these bottles are just labeled "olive oil" as well.
Olives are harvested in the fall and the oil will be on the shelves the following year.  Make sure to check the bottle of your olive oil to ensure a harvest date is listed.  This way you know you're not buying old and possibly rancid oil. Plus, you can guesstimate how long you have to use it.
Real extra virgin olive oil has a shelf life of 18-24 months. Although, it should be consumed within 12 months of its harvesting if possible.  Spanish researchers found that after 12 months, the healthy vitamin E was gone and other nutrients dropped dramatically.  More studies should be done to determine just how accurate this is, but our hard-earned money shouldn't be wasted.  We need that nutrition if our food is really going to be good for our bodies!
If the deceptive labeling terms weren't enough of a hint, the U.S. government doesn't regulate the labeling of oils.  However, the North American Olive Oil Association (NAOOA) is the leading organization that certifies quality olive oil.  This group has very strict quality control requirements. They verify that the manufacturers are really following the rules by buying olive oil off the same shelf as you and me, and then testing it on their own.  Look for the NAOOA on your bottle and you've greatly increased your chances of purchasing an exceptional oil.
You can also test the quality of your olive oil by doing the fridge test at home. Some debate the validity of this test, but as a home cook and "regular-joe" consumer, it works just fine.
Where to Buy
I usually buy my olive oil at Costco. But I've also found quality olive oil available on Amazon. You may want to do a little research on the brand or test the olive oil when you try it. I've also seen quality olive oil online at Thrive Market.
The cost of olive oil can be high, but it's well worth making sure your oil is true. But also making sure to shop around for the best price is important. It is one of the basic elements I teach in Grocery Budget Bootcamp. You can really make the most of your grocery budget when you buy your staple items at their rock bottom price!

Cooking
Here's an oxymoron for you:  the majority of these great benefits of olive oil are lost when we heat it, yet that's how we most often use it!
That one bend in the structure of olive oil makes it unstable at higher temperatures.  Heat can damage and literally break the oil, allowing those pesky free-radicals to cling on for a free ride.  The smoke point of olive oil is low: 375°F.  If your oven is set correctly, baking bread with olive oil at 350°F or using olive oil to coat vegetables during a long roast at 300°F shouldn't be a problem.  However, coating our sauté pan with olive oil and turning the heat up to medium-high is a big no-no.
There are SO many other options of fat to use for cooking that there's really no need to reach for olive oil.  Butter, coconut oil, lard (make your own lard/tallow tutorial here), palm oil, tallow, ghee (tutorial here) and clarified butter (tutorial here) are all excellent options for cooking at any temperature.
Instead of cooking with your expensive olive oil, use it raw in salad dressings or for dipping homemade bread (mixed with balsamic vinegar, salt and pepper?  Oh my…).  Although it's best to use olive oil in moderation.  Oleic acid is a long-chain fatty acid and the body tends to store this rather than converting it immediately into energy like the short and medium-chained fatty acids found in butter and coconut oil.
Storage
The relatively short shelf life of olive oil (when compared to other fats) makes storage very important.  Storing olive oil incorrectly can potentially cause your expensive oil to go rancid much more quickly. Rancid oil not only tastes bad, but it effects the structural integrity of the oil as well.
The bottle should be glass, dark and opaque (see-through).  Avoid clear glass since light can cause the oil to deteriorate faster.
Seal the bottle when not in use.  Like light, air causes the oil to deteriorate as well.
Store the oil in a cool location, anywhere from 57-70°F.  If your kitchen is usually warmer than this, consider a closet, basement or garage where it's naturally cooler.
Keeping your oil in super cute, clear glass bottle with a pouring spout right next to your stove is bad.  This goes against every rule on the proper storage of olive oil.  Don't do this.  Dare to be different.
How do you use olive oil?  Are you gaining the benefits of olive oil?