All carbohydrates – both starches and sugars – fall into one of two groups:  they're either refined or unrefined.  Knowing which group a carbohydrate falls into isn't an exact science, but knowing where it originated from helps.  For now, we'll focus on starches.
Rarely do we eat starches straight from the field.  In almost all circumstances they're processed in some way.  It could be as simply as sifting wheat berries from the hull, or it could be layers and layers of manufacturing to turn that same wheat berry into a saltine cracker.
When a starch is found in nature it's considered to be unrefined.  When it's been changed and altered so that it no longer resembles its original design, it's considered to be refined.
Remember from yesterday that unrefined carbohydrates are good and that refined carbohydrates are bad?  The nutritional difference between unrefined and refined carbohydrates is staggering.  Check it out.
Nutritional Profile Unrefined Carbohydrates (Starches)
Unrefined starches are comprised mostly of glucose, the primary sugar in our blood.  Glucose is the sugar (-ose) that our body calls upon to supply energy wherever and whenever needed.  Building cells, healing wounds, thinking thoughts or moving limbs – all those processes require glucose.
In nature, glucose molecules are linked together with other building blocks that our bodies need to function properly too, including vitamins, minerals, enzymes, protein, fat and fiber.  It may sound strange, but glucose is not easy for our bodies to digest.  Our bodies are smart though and take those same building blocks and re-purpose them to be components in digestion.  This allows our bodies to adequately break the glucose down so it can be converted and used as energy.
Take a look at the nutritional profile of wheat berries and you'll see what I mean.  (source)  You can click on all of these images to make them larger.
The data is for 1 cup of wheat berries.  Notice how high the amount of protein is – 24 grams!  And check out that fiber – 23 grams!  That's nearly 8 grams each of protein and fiber for one 1/4 cup serving.  (The same as two servings of high protein trail mix!)  Here's the vitamin profile.
That same cup is an excellent source of vitamin B6, thiamin, and niacin (vitamin b3).  Those B vitamins are crucial – they are the specific vitamins our bodies use to actually break down the starch.  Finally, look at this amazing mineral content in unrefined wheat berries.
Do you see how manganese and selenium are off the charts?!  Even copper, phosphorus and magnesium are at 100% of the recommended daily value, or higher.
It's important to keep in mind the context here – these nutrients weren't provided so that we could skip out on chicken and fresh produce and eat a handful of wheat berries instead.  Oh no no no… these nutrients were provided so that we could eat the wheat berries for their excellent nutritional profile AND be able to digest them AND then still be able to absorb and USE the nutrients inside to help our bodies function.
Unfortunately the same cannot be said for refined carbohydrates…
Nutritional Profile Refined Carbohydrates (Starches)
Refined starches are created in a processing plant and are not found in nature.  Ever seen a tree grow crackers?  Or been able to shake sugar out of a bush?  Didn't think so.
The refining process takes the grains that are ordinarily found in nature and removes much of their vitamin and mineral components.  Refined starches are the exact opposite of unrefined.  Instead of being self-contained with everything needed for digestion and even supplying the body with beneficial nutrients, refined starches force the body to use its own reserves of vitamins, minerals and enzymes in order to properly break it down and metabolize it.  Consuming refined starches forces the body to work beyond what it's being provided with.  It's like using a savings account that isn't being deposited back in to.
Take a look at the nutritional profile of refined, unenriched all-purpose flour. (source)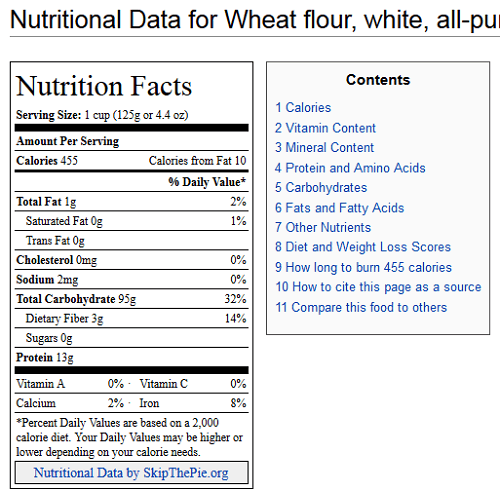 This data is also for same 1 cup of flour and you can see how the refining process has stripped much of the nutrients that the berries once had.  The amount of protein was cut in half and fiber was reduced by  nearly 87%!
What has the refining process done to the vitamin profile?
Wow – do you see the difference?  The once prevalent thiamin and niacin have been reduced to merely 5%.  We should be concerned that vitamin B6 and niacin (B3) barely register on the chart – remember that those are crucial for our bodies to break down the starch!  Without the grains supplying that vitamin, our body will have to rely on the vitamins it has stored up to break the starch down – and then it won't be replenished!  And to top it off, vitamins K and E are non-existent!
Finally, the mineral content.
Manganese and selenium went from 400% of our daily value to less than 40%.  Iron, magnesium and phosphorus went from more than sufficient for one day to not even reaching 10% of what our bodies need.  Calcium and potassium barely register.
You guys are smart.  You know that it's better to eat food that is as close to its natural state as possible.  But white flour is not "natural."  It's been stripped of everything good about it and consuming it doesn't provide any benefit for our bodies.  In fact, it creates MORE work!
Every wonder what has to be done to pull off the feat of stripping away 14 vitamins and 10 minerals from the whole berry?  (Or just want to turn a blind eye and pretend everything is okay? 😉 )  Stay tuned – more on this topic coming Monday!
Did you know the difference between refined and unrefined wheat was so staggering?  Soothe my ego  and let me know if the comments!