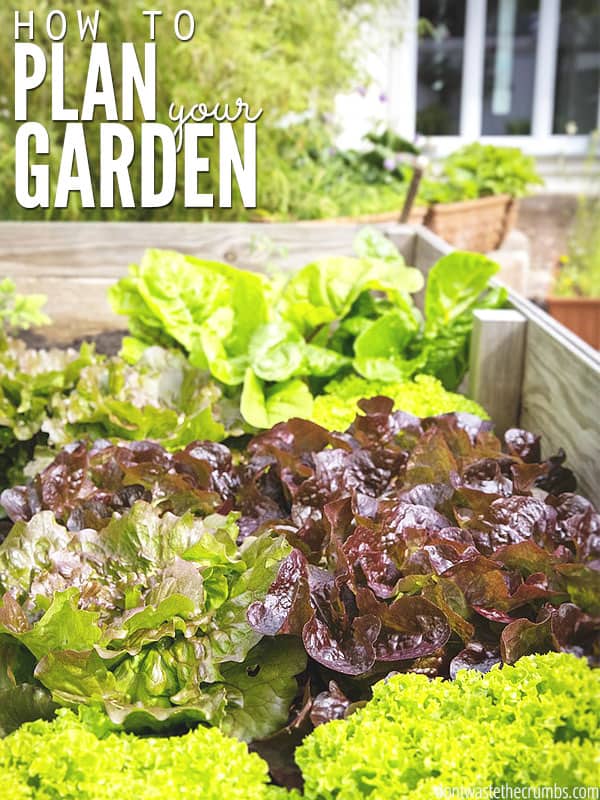 If you're trying to cut your grocery bill, growing a garden is the best place to start.
You can creatively water your garden for free AND fertilize your garden for free, which means you can have fresh organic vegetables for practically nothing more than your time.
But how do you get started?
Garden planning can feel overwhelming, with composting, companion planting, crop rotation and yields to think about. Don't worry, I've got you covered!
Along with these tips for beginner gardeners, here is a simple DIY garden planning strategy for even the newest green thumb.
How to Plan Your Garden
Step 1: Get organized
Once you've decided what you're going to grow and which seeds to buy, you'll need to get organized – whether it's with a spreadsheet on your computer or just paper and pencil.
Start a list of vegetables, herbs, berries, etc. that you are planning to grow. Make a note of when you'll need to start the seeds, when they'll need to go in the ground, which plants are best directly sown (as opposed to started in a pot and transplanted) and when you need to do it.
But don't go crazy!
It's so easy to get seed fever and want to plant everything. If you're a new gardener, stick with vegetables and herbs that you use most in your kitchen OR the ones that are typically expensive to buy in your area. Better yet, a combination of both!
After this you'll want to sketch out your garden space using a spreadsheet or graph paper. Your seed packets will tell you how much space you need per plant.
The concept of sketching out your garden ahead of time is similar to planning a square foot garden, and many gardeners like to use good old fashioned paper because they can easily take notes for following years.
Step 2: How much should you grow?
The answer depends on your gardening space, your eating habits and taste preferences.
If you want to expand your garden this year or have a lot of space for your first garden, make a list of the produce you use and roughly how much you buy on a weekly basis. This should give you a better idea of how much to plant based on what your family eats.
However, when you're just starting out, 2-4 plants of each variety is fine. If you know you want more green beans, for example, just plant more.
Also consider whether you are gardening for fresh produce or whether you will preserve any for later in the year. If you have limited space, you may want to plan on gardening for fresh vegetables and only preserve what you can't use fresh, rather than planning to grow enough for preservation too.
This is especially important if you're new at preservation. Remember, keeping gardening simple means not getting in over your head!
However you approach this, keep notes for next year on how many plants you had and whether you got enough (or too much) produce for your family. The easiest way to figure it out is to keep a gardening journal and reevaluating the prior year before you start each season.
Step 3: Companion Planting
Companion planting can get overwhelming. Which plant goes best with which? Which shouldn't go together? Forget all of that.
The point of companion planting is to diversify the plants in one area so that insects have a harder time finding and devastating your plants.
This is called polyculture. Monocultures, on the other hand, tend to be more susceptible to pests and disease.
You can create diversity in your garden by interplanting flowers and herbs with your vegetables (crop rotation is also helpful and we'll talk about that below).
Marigold, calendula, and nasturtium are great companion flowers for just about any vegetables. Plant these flowers in between vegetable plants.
Nasturtium is considered a sacrificial plant, meaning that pests are drawn to nasturtium and away from vegetable plants.
Marigold and calendula attract beneficial insects to your garden, and as a bonus, you'll have fresh calendula available to make healing hand lotion next winter!
Herbs should also be planted between vegetable plants instead of planted separately in an herb garden.
Grow parsley, oregano, mint, sage, and basil between your carrots, squash, melon, tomatoes and whatever else you're growing.
Step 4: Garden Health
If this isn't your first year gardening, you want to keep your garden soil rich and deter pest problems by rotating your crops.
Crop rotation is not as hard as it may seem. Keep it simple by dividing your crops into 4 groups: leaf, fruit, root, and legumes.
Each group of plants has their own elemental needs so rotating them each year will ensure that your soil remains fertile. It will also help keep pests and disease away.
For example, potato bugs will hunker down in the potato plot for the winter. When they wake up in the spring the potato plot will now have no potatoes nearby to feast on so they will (hopefully) die before they find the new potato home!
Here's how to do it:
Year 1:
Plot 1 – Leaf
Plot 2 – Fruit
Plot 3 – Root
Plot 4 – Legume
Year 2:
Plot 1 – Fruit
Plot 2 – Root
Plot 3 – Legume
Plot 4 – Leaf
And so on…
Leaf vegetables need nitrogen, fruits need phosphorus, roots need potassium and legumes fix nitrogen- just in time for leaf vegetables to take their place!
You can also add a compost plot to your crop rotation to greatly improve your garden's soil fertility.
One note: Even though potatoes are roots I like to keep them totally separate (in potato towers) and as far away from tomatoes as possible since similar pests and diseases affect them.
After considering all of these things, jot down a quick sketch in your garden planner of where each plant or row of plants will go.
Keep in mind where the sun comes up and goes down and which plants may grow tall and shade others.
There are tons of online tools and programs to use for garden planning, but as you can see, you can do just fine without them.
This simple strategy has saved my time and sanity when planning my garden!
What are you growing this year?
Disclaimer: This post contains affiliate links. By making a purchase through those links, I will earn commission that helps to keep the lights on in the Crumbs house – with no additional cost to you. Thank you for supporting Crumbs in this way. Read my full disclosure statement here.