When we brought home my husband's weight in produce, my dad asked me what we were going to do with it.  My first response was, "I don't know… eat it probably.  And then freeze it.  The berries for sure…"
To which my husband retorted, "I don't think our freezer will hold all this."
Ha!  Watch me. 😉
Everyone should know the basics of food preservation.  Whether you're working in the kitchen for only five minutes or five hours, knowing how to put store food properly for later is not only a way to be a good steward of the resources God's given you, but it's also ultimately a survival skill.  The zombie apocalypse will happen one day (we watch too many zombie movies) and you don't want to the be the family that's holed up inside the house without food or water.
As for me and my family, we're grabbing the berries and making a run for the nearest boat.  We're counting on the fact that zombies can't swim.
Where was I again?
Oh yeah, freezing fruits.
The biggest concern with freezing fruit is the answer to this question:  What do you plan to do with the fruit later?
The answer to that question determines what type of prep works needs to be done before you freeze the fruit.  Here are the most common scenarios.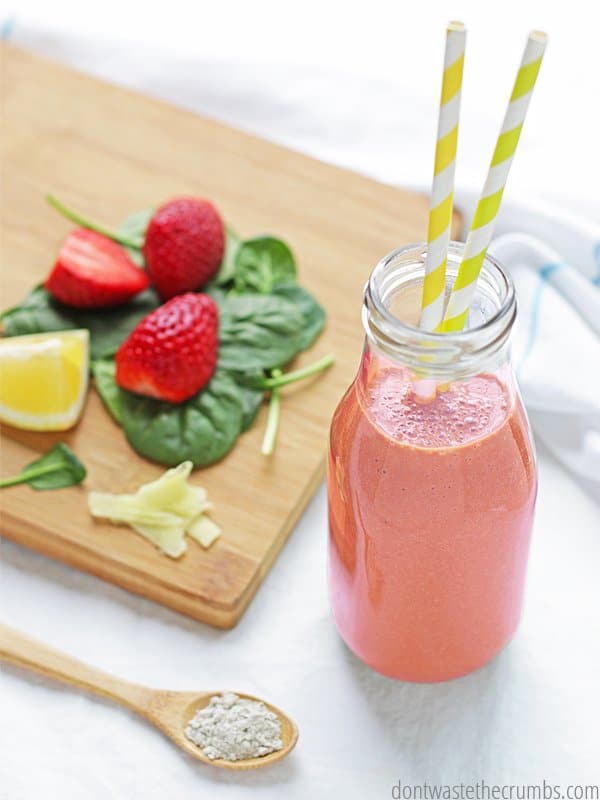 How to Freeze Fruit for Smoothies
Since the end result of the fruit is to be obliterated by a blender, the only prep work required to freeze fruit for smoothies is a good wash with a natural produce wash and a good dry.  This DIY salad spinner would be more than sufficient for the more sturdy fruits.  (Hmmm…  boredom buster activity for the kids? 😉 )
Once washed and dried, smaller, whole fruits like strawberries, blackberries, blueberries and raspberries can be flash frozen.
How to Flash Freeze Fruit
Line the fruit in a single layer on a cookie sheet.  Lining the cookie sheet first with parchment paper, wax paper or silicone  baking sheets is completely optional (and in my opinion, is not necessary).
Place the fruit in the freezer for at least 6 hours.
Remove the cookie sheet from the freezer and move fruits to a freezer safe bag.  Remove all of the air and seal.  This method is also known as dry packing.
Stone fruits like apricots, peaches, plums, and nectarines can be cut in half and frozen as is with the pit removed.  If you do not have a high powered blender, slice each half into another half or quarters to go easy on your blender.
Cherries should be pitted before being flash frozen, as well as grapes with seeds.
Bananas should be peeled and at least broken in half.  Again, if you don't have a high powered blender, break whole, peeled bananas into quarters.
Apples should at least halved with the core removed, but apple quarters or slices will likely blend better.
Avocadoes can be cubed and flash frozen. (Thanks RJ!)
Citrus fruits can be frozen whole and then juiced when thawed. (Thanks Judith!)
Another option in freezing fruit for smoothies is to blend the fruit first, pour into an ice cube tray and store the frozen cubes in a freezer safe bag.  This is especially helpful when you're working with fruit that is past its prime.
Heavily bruised peaches and squishy strawberries are prime examples of fruit that can still be preserved using this method.  Cut the peaches in half, remove the pit and puree with a blender.  You don't even have to remove the stem from the strawberries if you prefer.  Frozen cubes of fruit puree can be tossed directly into the blender, or thawed to make homemade toppings and syrups.
Whether flash freezing or freezing puree, here are some smoothie recipes that are excellent with frozen fruit:
Note: Want more amazing smoothie recipes? My ebook High Protein No Powder offers many delicious, real food smoothie recipes. The best thing is they are high in protein, without the common processed protein powders!
How to Freeze Fruit for Pies
Typically fruits are peeled when they're used in pies.  Because the texture of fruit changes after it's been frozen and thawed, it's best to peel the fruit after it's washed, but before it's frozen.  This goes for any fruit with a peel.
Once it's washed and peeled, it can be flash frozen using the method above and stored in a freezer safe bag.  Some cooks likes to toss the fruit with ascorbic acid (vitamin C) or lemon juice just before laying on a tray, to help prevent discoloration over time.  I personally skip this step with my small freezer in the kitchen, but I'd be inclined to include it if I was putting away fruit in long-term freezer storage (6+ months).
In either case, be sure to mark the bag "apple pie" so that you know it's been properly prepared for pie.  It would be typical of me to want to bake a peach pie at the last minute and pull out a bag of slices peaches… only to find the skin still on the slices.
Here are few recipes that work very well with frozen fruits:
How to Freeze Fruit for Fruit Butters
Fruit butters are an excellent alternative to sugar-laden jams and jellies.  The process for making butters using fresh fruit and frozen fruit is the same, so only a good wash and dry is needed.  The methods described above in the smoothie section apply here with only one difference:  the cutting of the fruit.
Fruit  butters are cooked down and ultimately pureed, so it doesn't matter what size fruit you begin with.  If you're freezing fruit for butters, save a step and only cut  large fruits in half.  At that point, pits and cores can easily be removed and half pieces take up less room in the freezer than whole fruit.
This strawberry apple fruit butter was my first attempt at making a fruit butter and it was delicious.  Three more delicious fruit butter recipes are coming next week!
How to Freeze Fruit to Eat Whole Later
This is somewhat tricky since freezing changes the texture of most fruits.  Small fruits like berries and grapes are often enjoyable straight from the freezer.  They become an instant frozen real food treat!
Fruits with skins can be washed, dried and frozen whole.  When you're ready to eat them, run the fruit under cold or room temperature water and the skins should slide right off.
Other Tips for Freezing Fruit
Smaller fruits can be flash frozen for yogurt or ice cream toppings.  Larger fruits can be used in the same manner as long as they're cut into smaller chunks before freezing.
Citrus zest can be frozen directly into a bag. (Thanks Judith!)
How do you freeze fruit?  Do you have any tips to add to the list?