Make your own bug repellent with just a few ingredients, using essential oils as mosquito repellent. Plus it works for gnats, flies, and ticks! Perfect for summer fun with my homemade citronella candles.
Camping, picnics, evenings on the back porch. What do these things have in common? SUMMER! FUN! BUGS! And the fact that you need homemade bug repellent.
There's no summer without bugs, and really, I could do without the bugs. That's one reason we make this homemade bug repellent.
Besides being much safer than store-bought chemical insect repellents, homemade bug spray is:
Easy. Just combine the ingredients and go!
Cheap. Using only a few drops of essential oils per batch, your pure essential oils will last for a long time! (And it's still cheap if you use high quality essential oils and avoid using oils from unknown sources.)
Versatile. There are two different ways you can make some depending on your preferred application: rub on or spray on.
The key ingredient for either recipe is essential oils. The strong scent of essential oils will repel bugs away as well as give you added aromatic benefits!
Ingredients
Making your own bug repellent is simple and effective! You only need a few key ingredients:
Essential oils
Carrier oil (Avocado oil is great on the skin!)
Witch hazel (Be sure to pick one like this brand, that only has witch hazel listed in the ingredients. We also use this in our favorite after sun spray.)
A Quick Note on Essential Oils
I know there are a lot of essential oil companies out there and I've certainly tried my fair share of brands. But after testing and researching and more testing, only one is worth spending money on (in my opinion). For a couple of years now I've been committed to Young Living oils, and you can read more about their oils and my decision HERE.
However, I understand that not everyone wants to join Young Living. I've heard great things about Plant Therapy on Amazon. They are a great choice!
Homemade Bug Repellent: Rub-On
This is a crazy simple recipe. You only need two ingredients: a carrier oil and a mix of essential oils. You can use a similar recipe for your pets as well and avoid the need for chemical-laden flea and tick collars. Just keep in mind that not all essential oils are safe for pets. Check out this pet-friendly adaptation for your four-legged friends.
Rub-On Bug Repellent Supplies
Carrier oil (I like sweet almond oil or avocado oil they are light on the skin and not too greasy)
10-20 drops of preferred essential oils (see above for single oil recommendations, or below for some great combos)
Step By Step Instructions for Rub-On
Step 1. Add 2 tablespoons of carrier oil in a small bottle or re-useable jar. Add in 10-20 drops of your preferred essential oil.
Step 2. To apply, simply shake the bottle well and rub a small amount of oil on exposed skin. The bugs will stay away and your skin will be nourished!
Homemade Bug Spray
If you prefer a spray-on repellent this works great although it uses a few more ingredients.
Bug Spray Supplies
Carrier oil (I like sweet almond oil or avocado oil as they are light on the skin and not too greasy)
10-20 drops of preferred essential oils (see above or below for some great combos)
Distilled water
Vodka or witch hazel
Step By Step Instructions for Spray-On
Step 1. In a 2 ounce bottle or jar add in 1 1/2 Tbsp of distilled water, 1 tsp of carrier oil, 1 tsp of vodka or witch hazel, and 15-25 drops of essential oils. Shake well before spraying on your skin.
Step 2. This recipe could easily be doubled or tripled for a camping trip or frequent outdoor activity and put in a larger glass spray bottle.
Step 3. With both of these recipes, avoid getting the repellent in your eyes or mouth!
Homemade Bug Repellent Without Essential Oils
If you're in a pinch and don't have the chance to get essential oils as mosquito repellent, or if you'd just simply prefer not to use them, we've made our own plant-based homemade bug spray using herbs and extracts instead with good success.
The best part is that you likely already have everything you need at home, and if you don't, you can get it all at the grocery store.
Store-bought Bug Repellent
I know some families aren't the DIY-ers and would prefer to buy it ready to go. If that's you, here are the top bug repellents I recommend:
I am so happy to keep the bugs away by using a natural product that is free of nasty chemicals. Plus when you think of the money you save by making your own bug repellent, I don't know why you wouldn't do it yourself!
FAQs
What smells do mosquitos hate?
Here are some of my favorite essential oil combos for repelling bugs. They seem to all work the same; it depends on what kind of scent you desire!
Campfire: 10 drops Rosemary, 6 drops Cedarwood
Floral: 8 drops Geranium, 5 drops Lavender, 5 drops Rosemary, 2 drops Patchouli
Hippie: 10 drops Lavender, 6 drops Cedarwood, 4 drops Patchouli
Fresh: 12 drops Lemon, 5 drops Peppermint, 3 drops Eucalyptus (Use caution with lemon and sun exposure. This EO is better used after the sunsets!)
Don't forget to experiment with some different combos and mix it up! Your bugs may be repelled better by some essential oils more than others.
What is the best homemade bug repellent?
I think pure essential oils make the best homemade bug repellent. These essential oils are traditionally recommended for their bug-repellent properties:
Citronella
Lemongrass
Rosemary
Geranium
Spearmint
Thyme
Clove
How do you use essential oils as mosquito repellent?
You can either make a spray-on homemade natural bug repellent, or a rub-on. This post will show you how to make either option step-by-step!
More Summer DIYs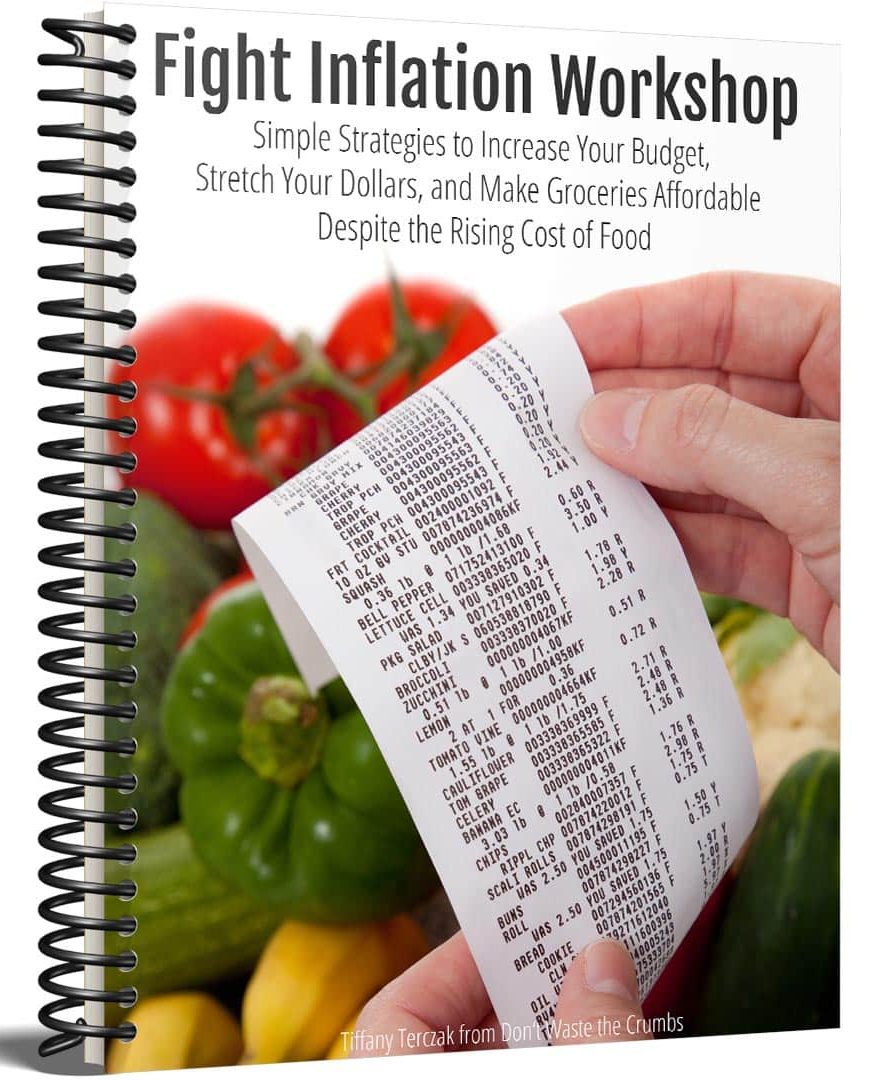 Fight Inflation Workshop
Sign up for my FREE
Fight Inflation Workshop
and learn simple strategies to save money, even with rising food costs!