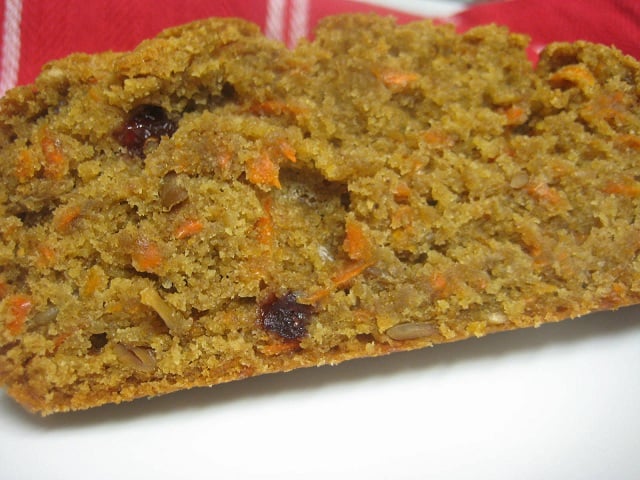 In the midst of a pantry challenge, with two hungry kiddos wanting some breakfast STAT, what do you do if you run out of a key ingredient?
Make do and substitute.
Our beloved spiced carrot bread calls for a few ingredients that I didn't have:
eggs
cooking oil
buttermilk
white sugar
vanilla baking chips
See?  Just a few key ingredients. 
Psh!  Only the ones that make the recipe possible!
With a few minutes spent sipping my coffee and pondering the dilemma (and two bowls of fruit later to hold off the hungry crowd) I came up with a solution.
No eggs?  Use 1 tablespoon of flax seed and 3 tablespoons of water.
No cooking oil?  Use coconut oil.
No buttermilk?  Use regular milk with vinegar (or you can be EXTRA lazy like me and skip the vinegar altogether and use plain almond milk, lol)
No white sugar?  Use brown.
No vanilla baking chips?  Use dried cranberries and sunflower seeds.
Purely by accident and through a pantry challenge, an eggless version of this delicious recipe was born.  It wasn't until later in the day that I realized it was dairy free too!  In fact, you could even call it "healthier" because in the mood of substitution, I also used oat flour for half of the all-purpose flour called for, added two more tablespoons of flax seed to the batter (one for each cup of flour, and separate from the egg substitute) and added another 1/2 cup of shredded carrot (ok, this last one was on accident, but it was still good!).
It only adds to my joy that this recipe is so versatile!
This egg substitute could be used in any baking recipe for those who are allergic or avoiding dairy.  The flavor of coconut wasn't noticeable, or if it was, it wasn't contradictory to the existing flavors.  Milk and vinegar is a common substitute for buttermilk, but plain milk works too if the recipe isn't relying on the tang factor.  Brown sugar is interchangeable with white sugar in most recipes, and even sometimes tastes better (as in banana chocolate chip muffins).  The cranberries gave bites here and there an extra punch of sweet while the sunflower seeds gave the other bites little crunches.  I tossed in some extra "spice" too, because who can resist eating batter that smells like pumpkin pie?!
And you bet your britches there would have been a can of that good stuff in this batch if we had some in the pantry!
The original recipe can be found here, so here I'm including the healthier version, along with some optional ingredient ideas in case you're out of flour and sugar by the end of the month too.

Health(ier) Spiced Carrot Bread
(allergy options available)
Ingredients
½ cup vegetable oil (or butter, or coconut oil)
2 eggs (or 1 T flax seed + 3 T water per egg)
¼ cup buttermilk (homemade buttermilk recipe here, or use soy / almond milk without any alterations)
1 tsp vanilla extract
1 cup white sugar (or brown, or your preferred sweetener)
1 cup shredded carrot
2 cups all-purpose flour (or bread / wheat / oat flour)
1 tsp baking powder
1 tsp salt
1 tsp cinnamon
splash lemon juice
¼ tsp baking soda
¼ heaping tsp ground nutmeg
¼ heaping tsp ground ginger
¼ tsp ground cloves
¼ cup sunflower seeds (optional)
¼ cup dried cranberries (optional)
Instructions
Preheat the oven to 350 degrees. Spray your pan with nonstick cooking spray and set aside.
In a large mixing bowl, combine the oil, eggs, milk, vanilla and lemon juice. Add the sugar until mixed well. Stir in the carrots.
Add flour, baking powder, salt, cinnamon, baking soda, nutmeg, ginger and cloves to the carrot mixture and mix well to combine.
Pour the batter into your pan and bake until the top is golden brown and a toothpick comes out with a few crumbs. This is about 1 hour for a 8.5″ x x4.5″ loaf pan and 30 minutes for mini-loaves. Since every oven is different, check often to ensure the bread isn't over-baked!
What do you do when you're out of a key ingredient?
Disclaimer:  This post contains affiliate links.  By making a purchase through those links, you support the ministry of Crumbs without any additional cost to you. Thank you for supporting Crumbs in this way!  Read my full disclosure statement here.