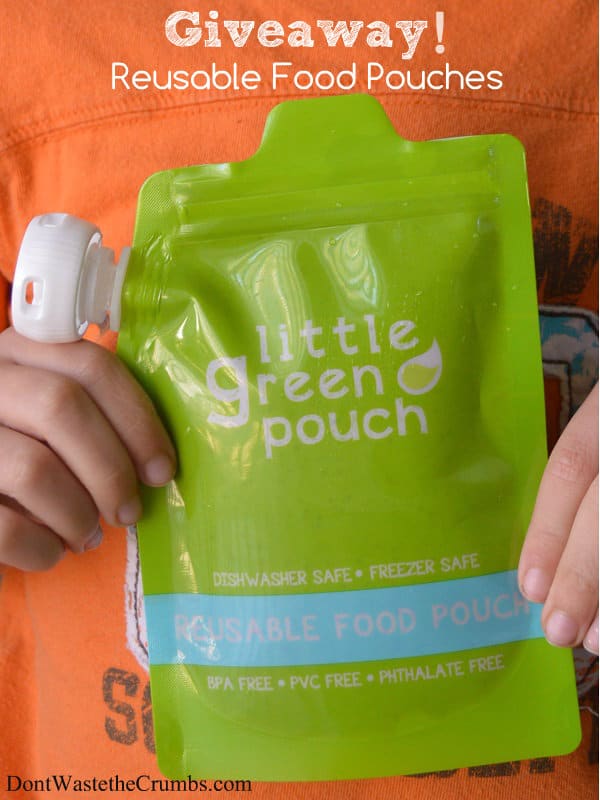 Round 2 of our 72-hour FLASH giveaways continues thanks to Little Green Pouch!
These giveaways are in honor of "
High Protein, No Powder
" officially being available on Amazon.  In addition to the giveaways, you can save 25% off "Just a Slice" or "The Whole Pie" here on Crumbs.  Just use code
CRUMBS25
at checkout.  Click
HERE
to get your copy today!
I admit – whoever invented those little pouches filled with food puree is a genius.  To be able to take things like yogurt, smoothies and applesauce with you WITHOUT the mess that usually goes along with it (which tends to be multiplied time a million when you're feeding a baby) is really, REALLY a blessing to many moms.
There are just a few tiny issues I have with them… like the fact that they're not environmentally friendly.  You're essentially throwing away several packages a week… or day, depending on how much you're away from home.
Plus in most cases, they're usually not filled with wholesome foods.  Sure "applesauce" sounds healthy, but dare I ask how much sugar is in each little pouch?  Even the portable yogurt tubes should raise eyebrows with artificial colors that trigger allergies, artificial sugars that are linked to diabetes and artificial thickening agents that are linked to cancer.  (Think I'm being a bit facetious?  Read this.)
To top it off, they're expensive!  At an average cost of $1 for just 3.5oz, it should feel as if we're bleeding money just to afford the convenience of taking sugary, fake-colored "food" with us to go!

Fortunately, those smart thinkers have spawned off even smarter thinkers who have upped the ante on food pouches.  Two of those smarter thinkers are Maggie and Melissa, founders of Little Green Pouch.
These two ladies had the same concerns as I do and actually did something about it.  They've created reusable pouches that are made of a durable plastic that is freezable, dishwasher safe, BPA-free, PVC-free & phthalate-free.  And it even fills itself!
Kidding.  But the other stuff is true!
Each pouch holds up to 7 ounces, so we're not talking about itty bitty pouches that you're going to have to fill, and re-fill, and re-fill again, just to get through one meal.  Oh no.  Fill these pouches up and you've got either an accompaniment to a meal or a full fledged snack ready to go.  It's mess-free, spoon-free, bib-free, napkin-free, break-free bliss!
My absolute favorite part?  The fact that you can fill them anything you want – regardless of the color – and the kids will drink it!
My smoothie-loving girl will drink these all day long if I let her.  My son, who doesn't like white foods (don't ask, I can't explain), will drink light-colored smoothies because…
Dun dun dun….
He can't see that they're white!
Genius on the part of Maggie and Melissa to make them colored if you ask me. 🙂
Want to trick your own kids into eating white?  Or green?  Or essentially any color you want?!
Enter the Giveaway!
There are seven opportunities to enter this giveaway.  All entries must be in this form – comments on this post do not count as entries.
*MANDATORY ENTRY:  Subscribe to the Crumbs Newsletter (or just leave your email address if you already do).  No spamming, scout's honor.
"LIKE" Don't Waste the Crumbs on Facebook (or just leave your Facebook name if you already do)
"LIKE" Little Green Pouch on Facebook (or just leave your Facebook name if you already do)
FOLLOW DontWasteCrumbs on Pinterest (or just leave your Pinterest name if you already do).
PIN THIS POST on Pinterest and leave the Pin URL.
FOLLOW @dontwastecrumbs on Twitter (or tell me you already do).
TWEET THIS (can do once daily – be sure to update this form when you do!):  Enter #giveaway @DontWasteCrumbs #win reusable pouches from @LttleGreenPouch: "High Protein, No Powder" now on Amazon
Little Green Pouch is a proud sponsor of High Protein, No Powder – the only eBook written to educate consumers on the dangers of commercial protein bars and protein powders and teach readers how to make their own using healthy, REAL protein.  Read the rave reviews about the book, and start fueling your body with REAL protein!