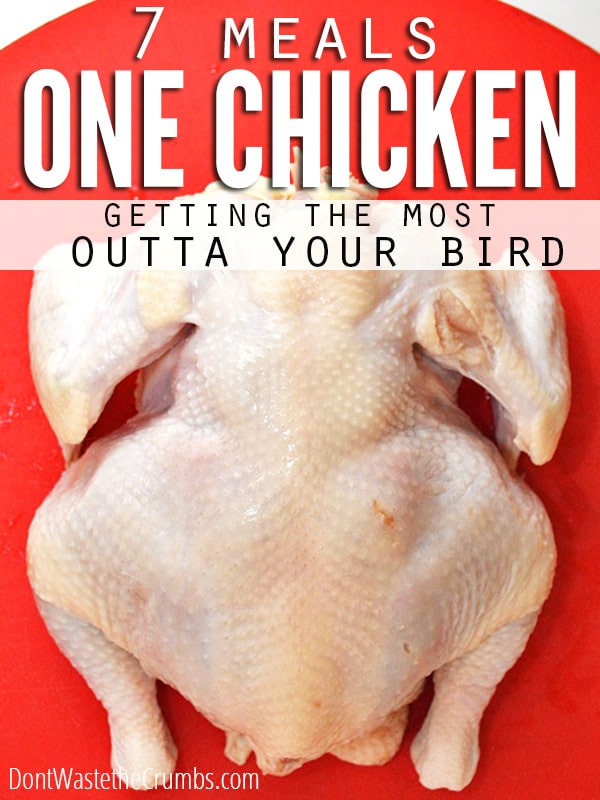 Chicken is the most popular meat in America.
It tends to be less expensive than beef per pound and can be used in a wide variety of meals.
Even buying pastured, organic chicken, I can still come out ahead than buying grass fed beef.
At the start of each grocery budget cycle, we buy two whole chickens. Through creativity and a little bit of hard work, we're able to take these two chickens and cover the majority of our meat-based meals for the next four weeks.
Skeptical on how two chickens feed a family of four for 4 weeks? Here's our method for getting the most from a whole chicken:
Getting the Most From a Whole Chicken
1. Carve whole, raw chickens into parts.
There are a few tricks to carving a whole chicken. Find my tutorial on how to cut it up HERE.
After it's been cut up, one whole chicken yields two rib-in breasts, two drumsticks and two thighs.  For my family of four (currently two elementary-aged kids), that gives us three meals with endless ways to use the different cuts of meat.
Note: If carving your chicken is a little much for you, you can start with a slow cooked all purpose chicken. Shred up all of the meat, portion it out, and use in various dishes. 
2. Cook the carcass, organs and smaller pieces with meat, first.
Before you run to make chicken stock with everything you have left, cook any piece that has meat first.  Put it in a slow cooker and cook on high for four hours.  Then when it's done, pick the meat off the bones.  Measure this shredded meat into 1 cup portions.
The wings, organ and spine, plus any other random pieces of meat, from one chicken create about one cup.  When we do this for two whole chickens at once, we have two, one-cup servings of shredded chicken that give us two more meals for the month.
3. Make chicken stock.
With as much meat as possible account for, take the skin, and all the leftover bones (both from the original carving and from post-cooking of the carcass) and make chicken stock in your slow cooker.  The recipe and tutorial for this can be found here.
With two whole chickens, we kick off the month with four quarts of chicken stock.  This is enough to get us through at least two soup nights, sometimes three depending on the type of soup we make.
If you come up with more stock than you can use in a month, simply freeze the extra. You can use glass jars like these and follow my tips to ensure your jars don't break.
4. Keep the bones.
Remember that you have bone-in breasts and chicken legs to cook and eat up too.  After you've cooked dinner and you're cleaning up, keep the bones!  Add these bones to any bones you already have in the freezer. I usually throw the bones in a Ziplock bag, but you can also use a BPA-free container like these.
When you need more stock, simply cook all of those bones again.  The stock will be lighter, but it's still full of nutrients and delicious!
At your fingertips is the ability to make soup anytime, and often!  As a frugal and healthy meal, soup makes it on our menus at least three times each month, more when it's cold outside.  Plus with chicken bones in your freezer, you'll never pay for chicken stock again!
Total Possible Meals with Just Two Whole Chickens:  At Least 7
How To Stretch the Meat
It's hard to explain exactly how we stretch two chickens to last an entire month, but here are a few meal match-ups and real-life examples to give you a better idea.
Using the Breast Meat
We'll use one breast, either rib in or rib out, for all of these meals:
stir-fry
buffalo chicken wraps
Greek pitas
fajitas
Kung Pao Chicken or other asian chicken dishes
creole (if it's mostly chicken)
If Mr. Crumbs is craving a chicken sandwich, I try to use just half of a breast, or leftover chicken from previous meals.  A little bit of chicken goes a long way on a sandwich that's full of veggies, so keep that in mind.
Using the Dark Meat
When the kids were younger, I was able to serve two thighs and just one drumstick at dinner.  As they're getting bigger, we're cooking up all four pieces of dark meat at one time.  Here are a few meals where this happens:
baked chicken (any variety)
bbq chicken on the grill
homemade fried chicken
Using the Shredded Meat
Mr. Crumbs is not a fan of the texture of shredded chicken, so in order to use it to its full potential, I'm very careful when both picking it off the bones and chopping it into pieces.  Depending on how non-shredded the chicken is, it ends up in a variety of meals.
You only need about 1-2 cups of shredded chicken for these types of recipes. Less if there are other fillers like rice or beans, more if it's a heavy meat dish.  Keeping chicken in 1 cup portions in the freezer makes it easy to pull out just what I need:
mixed veggie dish over pasta
pizza
creole (if it's a mixed meat dish)
Need more recipe ideas? Find over 30 meals you can make with shredded chicken HERE!
Stretching your meat and getting the most out of your grocery dollars is one of the foundational elements of Grocery Budget Bootcamp. In the course, I teach you all the methods I know on how to save the most on your groceries and stick within your budget. It's only open three times a year so get on the waitlist HERE!
Food for Thought
Whole pieces of meat should be treated differently than the shredded meat, and each piece should be used in a way no other piece can.
For example, I would NEVER cut up a whole breast and cook it just for it go in a casserole with cheese and veggies.  What's the point when I already have shredded chicken that can do the job just as well?
I can't grill shredded chicken. Or bread and bake it in the over. But I can with pieces of dark meat.
Breast meat is unique in that it can easily be boneless, and therefore serve in a much different capacity than dark meat.  It can easily be sliced, diced and chopped without losing the integrity of the meat itself.
Have you ever tried to slice meat off a thigh to use it on a grilled sandwich? It's lumpy, uneven and difficult to really get it all off without having to pick off tiny pieces anyway (which will likely end up in the trash anyway, if we're being honest).
It's MUCH easier to slice up a breast for the same purpose.  You can slice them evenly, thinly, and successfully make sandwiches where the meat isn't constantly falling out from the middle.
Does that make sense?  Do you see my point?  Breast meat is not the one-size-fits-all meat for every meal.  Even more so when it's the most expensive part of the chicken!
Carefully consider what type of meal you're cooking before grabbing just any piece of chicken from the freezer and you'll not only be able to stretch what you have, but you'll learn to enjoy using all the parts of a chicken.
Don't like breast meat?  Don't like dark meat?
Just because you (or someone else) doesn't like a certain cut of meat, doesn't mean you shouldn't serve it.  To satisfy both aversions to texture and budget constraints, I'll serve half a breast to Mr. Crumbs, and shredded chicken to the rest of us on taco night.  And you know what?  No one notices, nor cares!  We save half a breast for future meals, we use up the shredded chicken and everyone is happy!
If your family doesn't like dark meat, or meat on the bones, then cook it up in a slow cooker in step #2 above and use it in casseroles, pizza or tacos.  Then save the breast meat for when you need whole cuts of meat instead.
Think outside the "one piece fits all" mentality and mix it up!  Make it easier on you and package each piece of meat separately.  Cut breasts in half and legs into drumsticks and thighs when you're carving it from whole.  Then you can pull just what you need for dinner without creating leftovers that might not be eaten.  You never know – doing it this way just might get you an extra meal each month!
Which reminds me:  Never, EVER throw away leftover chicken.
Unless it's gone bad.  But then shame on you for not doing something with it sooner!
If you don't know what you're going to do with leftover chicken, freeze it.  Regardless of the type of meal it was – BBQ, baked or Mediterranean flavored – no one will notice when you're making stuffed peppers or chicken enchiladas or mix in with a big bowl of pasta.
In fact, I myself mixed up leftover sliced BBQ chicken with leftover Italian pasta salad just the other day in an effort to not waste food and eat what we already have on hand.  I couldn't even taste the sauce!
***Guess what?!***
We get our chicken from Butcher Box, and they are offering to get
two FREE pounds of grass-fed beef EVERY MONTH! (Happy dance!)
Butcher Box delivers grass-fed beef, pasture-raised and organic chicken, and heritage pork directly to your front door each month. You can read my honest review on Butcher Box here, and also my updated Butcher Box review here.
The FREE 2lbs of ground beef for life is available now through March 31, 2019, but it's only while supplies last. They ran out the last time this promotion was available. I highly suggest you take advantage of this deal ASAP if you're interested in getting two pounds of FREE GRASS-FED GROUND BEEF every single month! Click HERE for ground beef for life.
That's how we get the most from a whole chicken – how do you stretch yours?