Call me weird, but I love getting ready for a trip. I like making lists, checking things off and the overall feeling of preparedness.
I even challenge myself to see how much stuff I can get into as few suitcases as possible!
It's totally nerdy, I know, but my type-A personality THRIVES on packing days and Mr. Crumbs has learned to just let me do my thing and keep the kids in another room!
Growing up, I lived near a big, international airport. When we flew, it was always a 2-hour nonstop flight to see my grandparents. My parents walked my sister and I to the gate and my grandparents picked us up. In general, flying wasn't that big of a deal.
Fast forward two decades, one husband, two kids and a small-town airport and flying is the furthest thing from simple. Aside from the trip as a whole, going to, staying at and leaving the airport is an event all on its own!
We've figured out that word searches, chapter books and walking around the terminal generally keeps the kids content during layovers. The one thing we struggle with though is food.
Every time we're in an airport, it feels like we're surrounded by kiosks and restaurants with nothing but overpriced fried food on the menu. Finding healthy, and affordable options seems practically impossible!
Fortunately, eating healthy food at the airport is totally do-able, so long as you leave the house prepared, and know where to look.
Mr. Crumbs' family lives on the East coast and there are several things we know for certain when we go visit them:
We will leave our house at 3 am and arrive at their house no sooner than 10 pm.
Food won't be served on the flights.
We will spend as much time in an airport as we will in the air.
There will meltdown moments caused by hunger at least twice, for both parents and kids.
Without a plan for the day, this is just a recipe for disaster. Unhealthy, heavy and grease-laden (or sugar-laden) food just makes it worse.
How do you eat healthy food in airports without spending a lot of money?
First, eat breakfast before we leave the house. Yes, 3am is really early for breakfast, but having something in the belly before you leave the house makes the world of a difference.
Think about it – in a short hour or two, you'll be somewhere in the airport… possibly just arriving, going through security, finding the gate, boarding the plane… and none of these situations are optimal for finding a place to eat breakfast. If your flights are like ours, you're out of luck for food once you board (unless you want to pay $5 for a mini-bag of pretzels.)
Overnight single-serve oatmeal in the slow-cooker is a great option for a fast breakfast, but so is anything leftover from earlier in the week. Pancakes for one kid, bagel for another… there's nothing wrong with everyone having something different for breakfast and what better way to not waste food than to eat what's left before you leave town!
As you're making meals earlier in the week, bear in mind your travel day and be sure to set aside something so that everyone has a chance to fill their bellies before they leave.
While you're at it, set aside healthy snacks for the day too. Some of our favorites include:
cut up fresh fruit (the non-messy kind)
We like having a good assortment of snacks with us so there's a little bit for everyone. Not all airports have great eating options too, so at least this way we're prepared for worst case scenario.
Plus these snacks can be made ahead of time and won't go bad while you're away, making coming home to an empty fridge and kitchen a little easier.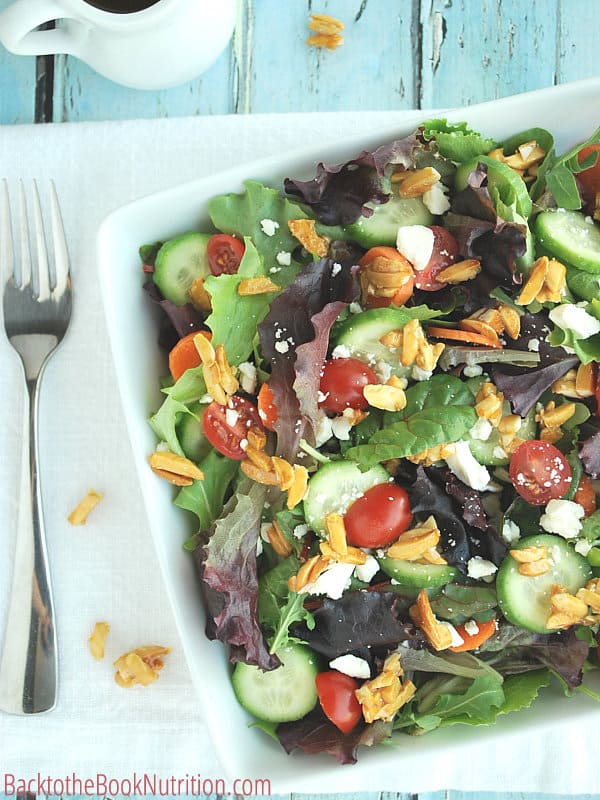 As for eating at restaurants at the airport, commit to eating a one of two meals: sandwiches or salads.
Restaurants at airports usually don't have full-scale kitchens, which means they're not preparing food from scratch like a typical restaurant would. There's a REALLY good chance that the food being served was prepared someplace else, frozen for shipment, and then cooked earlier that day.
When you're looking for healthy eating options at the airport, sandwiches and salads are your best bet. Asking to substitute the traditional fries or potato chips with fresh fruit is also a good idea.
There's no way around the fact that the price of food in airports is high, so I recommend taking a few minutes to walk as much of the terminal as you can to see what your options are. Not all kiosks and restaurants are created equal, and you can sometimes get a little more bang for your buck a few shops down.
One way to cut back on the cost of food though is to split meals and supplement what you buy with what you brought. We'll often split a sandwich between the kids and supplement with a snack or two that we brought from home.
Another idea is to view eating at the airport as a snack rather than a full meal. Food is ALWAYS cheaper outside the airport, so if at all possible, wait to indulge in a full blown meal until after you've gone through baggage claim and left the airport.
Don't forget to drink plenty of water during the day too! Sometimes we think we're hungry when we're really thirsty, and staying hydrated is important when you're flying. Drink a few extra glasses of water starting the day before you leave, and have everyone drink a full glass before they leave the house (along with a potty break).
Bottled water is costly in airports, but buying a bigger bottle is more cost efficient than buying several smaller bottles. Once you're past security, find the nearest snack shop or gift shop and buy the biggest bottle of water you can comfortably carry. Water is usually more affordable at gift shops than restaurants, and you can refill as necessary throughout the day.
Tip: Keep an eye out for restaurants with soda fountains. They usually have a dispenser for water, and if you ask the employee if you can refill the water, they'll often say yes!
The thought of finding healthy food at airports – among not losing your passport or kids – can be overwhelming. A little bit of preparation ahead of time and a "clean eating" mindset can make it easier, and more affordable!
How do you eat healthy while traveling? Leave your tips and ideas in the comment section below!
Disclaimer:  This post contains affiliate links. By making a purchase through those links, I will earn commission that helps to keep the lights on in the Crumbs house – with no additional cost to you. Thank you for supporting Crumbs in this way. Read my full disclosure statement here.