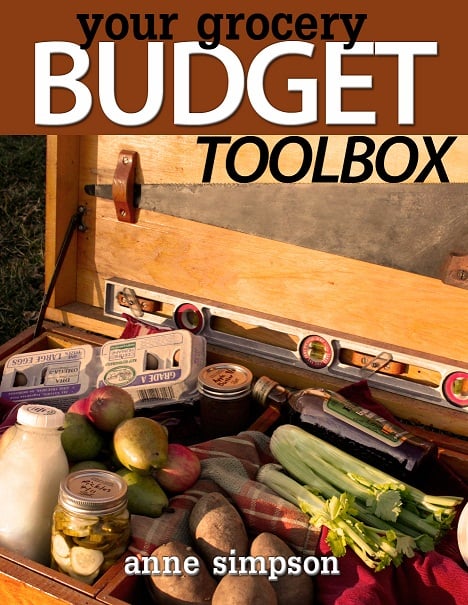 This post contains affiliate links. 
  Congratulations to
[email protected]
!
When Anne contacted me to review a copy of her first book "Your Grocery Budget Toolbox," I was honored, excited and skeptical – all at the same time.
I was honored because Anne is a reputable and well-seasoned blogger who has been sharing her ideas and recipes at Authentic Simplicity for nearly five years.  Five years peeps!  That's a long time to be coming up with fresh ways to prepare healthy food without your input going stale!
I was excited because despite the fast-forward motion of technology, I've never read an e-book.  The mere fact that I was "reading an e-book" was thrilling!  (Go ahead, call me a geek and laugh, lol.)  I don't own a reader or a smart phone, but fortunately "Your Grocery Budget Toolbox" comes in a PDF version so even us geeks can participate too.
I was skeptical because I'm not new to budgeting in general, or to keeping a grocery budget.  I've already shared with you how we created our own budget and continuously post (or confess) how I'm counting my crumbs every Friday.  This book is geared towards newbies, right?  Could this book possibly have anything to add to the seasoned budgeter?
YES.
If I had to label the audience of this book, I'd call them "all of the above."  In nine chapters, Anne breaks down the essentials of a grocery budget:  creating the food budget, creating and using a price book, sources for healthy food, shopping one month at a time, knowing the maximum price for an items, using coupons without sacrificing nutrition, recipes for basic foods (that we often buy for convenience), using food beyond the kitchen and ways to save on food without stepping foot into a store.
Each chapter walks you through the fundamentals:  perfect for someone who is just getting started on their own budget or trying to eat better within their current means.
Each chapter contains Anne's personal experience and insight:  great for someone who doesn't need a how-to, but simply wonders how other people "do" grocery budgets in their own homes (and is willing to take a few pointers from others' lessons learned).
Each chapter contains a challenge:  an especially eye-opening tool – for both beginners and advanced – to ensure your grocery budget is aligned with your personal nutritional beliefs.  These also safeguard ourselves from becoming complacent in our savings and nutritional goals.
As I was reading the book, bits and pieces of each chapter jumped out at me and made me immediately think of how I could improve our grocery budget and spending habits.
Her informative advice on a price book (chapter 2) hit home since I've been trying to be better about tracking the individual cost of items.
Her ideas on menu-planning when shopping once-a-month (OAM, chapter 4) made me re-think my approach to how I plan my meals.
Chapter 7 is about making basic foods (like butter, baking powder and apple cider vinegar) ourselves to save money and control the ingredients in order to make it healthier.
She has suggestions for making your food go far the typical path of store-pantry-table-trash (chapter 8) which have already prompted me to start saving the dirt-covered ends of my celery and carrots and raw meat bones for homemade stock.
Despite these great kitchen-altering ideas, the chapter that impacted me the most is chapter 1.  Anne attacks the grocery budget in terms of food groups and assigns spending percentages to each.  She then attaches this idea with nutritional goals (like increasing your fruits/vegetables to half of your diet).  The outcome is the ability to purchase your groceries, stay within your budget AND meet your nutritional goals all at the same time.  ABSOLUTELY BRILLIANT!
You can find a common thread throughout the book:  it doesn't have to be all or nothing.  This is such an encouragement!  Whether you're just starting a grocery budget or making things from scratch for decades, there's always room for improvement and "Your Grocery Budget Toolbox" offers a plethora of ideas for all levels of grocery budget geeks.
For this week only, Anne is offering a 20% discount to Crumbs readers!  Perfect for those who "never win anything" or if you simply don't want to wait on the drawing.  Use the code CRUMBS during checkout and you can use the practical tips found in "Your Grocery Budget Toolbox" for only $3.99 – an investment that will certainly yield positive returns!  The discount code CRUMBS is valid through July 16th at 12:01am EST.
[GIVEAWAY CLOSED]
Disclaimer:  This post contains affiliate links.  By making a purchase through those links, you support the ministry of Crumbs without any additional cost to you. Thank you for supporting Crumbs in this way!  Read my full disclosure statement
 here
.