This is Part 2 of the Creating a Frugal Grocery Budget series.  Catch up with Part 1 here.
This next step of creating a frugal grocery budget is often overlooked, but I honestly can't imagine this process working out well if you skipped it.  And the fourth step?  Well, let's just say today might be a rough day in grocery budget land. 😉
Step 3:  Categorize Your Spending
On a few pieces of paper, write down the following categories of food, giving each about a half-page worth of space:
Meat
Fats
Produce
Dairy
Grains
Beans
Sweeteners
Toiletries
Eating Out
Miscellaneous
Next, go through all of the receipts you tallied in your one-month period.  Write down what you bought and how much you paid for each item in the appropriate category.  For example, a one pound bag  of barley that I bought two weeks ago for 99¢ would be "barley – 1lb – 99¢" under grains.  The beef I bought on mark-down would go under meats and the various types of sugar would go under sweeteners.  (This is the shopping trip I'm referring to.)
Once all of the purchases are separated out, add up the total cost for each category.
This exercise serves two main purposes.  First, going through each receipt and seeing what you bought – after you already bought it and ate it – gives a true bird's eye view of your kitchen.  In the midst of a shopping trip, we often justify small purchases like a single granola bar, a package of gummies from the $1 spot or a Starbucks latte from the cooler.  (Although I'll warn you that those things have A TON of sugar.  You're better off making your own latte before you leave the house!)
Within a few hours of drinking that latte or divvying up the gummies to the kids, the wrappers are in the trash and we forget we ever bought it.  Unless we immediately make note of what we spent, we'll likely omit that small purchase at the end of the week, simply because it's already out of sight (and out of mind).  When the end of the month finally comes, and we can't quite place where we spent every dollar, we blame bad math or assume those extra dollars (or in some cases larger sums) were spent on something meaningful, like a meal.
Seeing all the receipts from little purchases sitting in front of you at one time allows you to really see how much you're spending on non-essentials, or where onsie twosie "treats" have become a regular, poor shopping habit.
Secondly, going through the receipts lets you see how much you're spending on what you're buying, as a whole.  Many of us buy foods when they're a good deal, like the marked down steaks in this trip.  But when you see that over the course of one month you've spent $100 on meat, and realize that you could have probably bought twice as much meat if you invested that same sum into a bulk purchase, those single marked down packages suddenly aren't that great of a deal.
Having your kitchen laid out in front of you on a piece of paper like this can be a real eye opener.  Don't beat yourself up if you're discouraged with what you see.  Here are two changes that you can make NOW that will have an immediate and long-lasting impact on your grocery budget:
Eliminate all non-essential purchases, i.e. the "Miscellanous" category.  Some of what you bought might not fit nicely into another category, and that's okay.  I'm talking about the lattes, crackers, pretzels, microwave popcorn, salad dressings, etc. that aren't really necessary and don't offer much, if any, nutrition.  Reinvest those funds into seasonal, inexpensive produce for snacking, and learn to dress salads with a simple salad dressing, like the vinaigrette in this salad, our favorite Greek salad dressing or this Italian version.
Reduce the "Eating Out" category by half.  Last year we ate a fast food meal on our way back from a camping trip.  Dinner for the four of us cost $23, but would have only cost $4.76 if we had made the same thing at home.  And that includes the bacon AND fries.
Just so you know, our eating out expenditures don't come out of our grocery budget and I don't expect yours to either.  However, many of you are including these expenses in your grocery budget and it makes it worth addresses.  In short, reducing what you spend eating out means you can allot more for your groceries, and then you'll be able to afford more meats or more produce, or to buy better quality food.  Yes, you'll have to cook more,  but in the journey of eating better, it's really a win win.  Plus you become more intentional with your eating out – choosing better restaurants, choosing better food, choosing to eat out instead of doing it because there's no backup plan or you don't feel like cooking…
Next, take a look at your totals.  Do they match up with your real food eating philosophy?  Are you committed to eating lots of fresh fruits and vegetables, yet spent the least on that group?  Committed to eating fewer grains, yet that's where you spent the most?
Here's another idea:  View your budget as a dinner plate.  If your plate is 1/4 meat, 1/4 starch and 1/2 produce, your budget should be somewhat representative.  The numbers aren't going to match up completely – meats and quality fats are two of the most expensive foods, yet starches (when made from scratch) cost significantly less – but you can at least compare the groups to each other, and compare each of the groups to the whole.
Finally, here's one last exercise for you work on before moving on to the next step.  Make a list of the categories in order so that the group with the largest total is at the top, and the group with the smallest total is at the bottom.  For example, your list might look like this:
Meat
Eating Out
Produce
Dairy
Toiletries
Miscellaneous
Fats
Grains
Sweeteners
Beans
Absorb what you wrote.  Do you want the bulk of your money to go to what is listed as #1?  Should produce and beans rank higher?  Should eating out and miscellaneous rank less?  Marinade on your expenses for a few minutes and let's move on to the next step.
Step 4:  Wants vs. Needs
If this step came earlier, it would likely be the hardest.  No one likes to say no to things they want!  However, we've got every single food purchase we've made in the past month laid out in front of our eyes, and we've been staring at it long enough to be mentally prepared for some big changes.  So let's get to it!
Going through what you wrote down in each category of food, put a little star * by the ones that are "wants" and not "needs."  For my family, that was bacon, fresh cranberries x2, cashews, variety of apples from the farmer's market, juice and a few other items.  Were those items fun to have in our kitchen?  Did we enjoy them immensely?  Absolutely yes!   Would we have eaten just as well without them?  Sure would.
Now, your goal is to eliminate as many of those starred  * wants as possible.  This might not happen overnight.  Start with one or two things and consciously choose to no longer buy those splurge items until you've got a good grip on a frugal grocery budget.  You can always add them back in later, when you've got this penny pinchin' thing down to a science.  But for now, the fun stuff can wait and you can reap the savings.
Are you curious what I would have saved if I hadn't bought those "want" items mentioned above?  $50!  That seems like so much money, and considering it can be stretched in so many different ways, it is!!
Looking for some extra help with getting your budget under control?  I have good news!!
There are now 5 pages worth of printables available to help you reclaim your grocery budget, and they're all yours – for FREE!  Simply subscribe to the Crumbs weekly newsletter and they'll be automatically delivered with your welcome email, along with a copy of "22 Days to a Fresh Start."
By the way, if you're hesitant to sign up because you're afraid I'll clog your inbox, let me reassure you – I won't.  The Crumbs weekly newsletter comes just once a week.  I might share a really amazing deal with you guys (like when you can get a bazillion books for mere pennies, or when my own book is on sale ;)), but the fact that you allow me into you inbox is something I take very seriously and I will never spam you.  I am absolutely passionate about eating real food on a real budget, and I simply want to share what I've learned with you and help you achieve your own real food and grocery budget goals!  If I could invite you all over for a cup of coffee and scones to answer your questions, I would!  But since we're all scattered across the world, answering your questions via email is the next best option.  PS – don't forget to fill out the welcome survey and share your questions with me so I can answer them!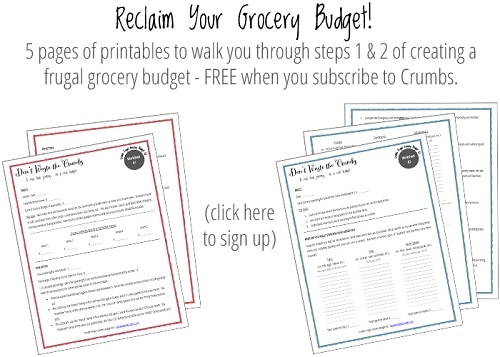 To get worksheets #1 and #2 from the Crumbs Frugal Grocery Budget Kit for FREE, simply click HERE or click on the graphic above.  That's it!
Can I ask which of the groups did you spend the most money?  Where did you spend the least?  I'll go first.  I spent the most in dairy ($115.70) and the least in toiletries ($10.97).
This is the second post of a short series on frugal budgeting.  Continue onto part 3 by clicking HERE.