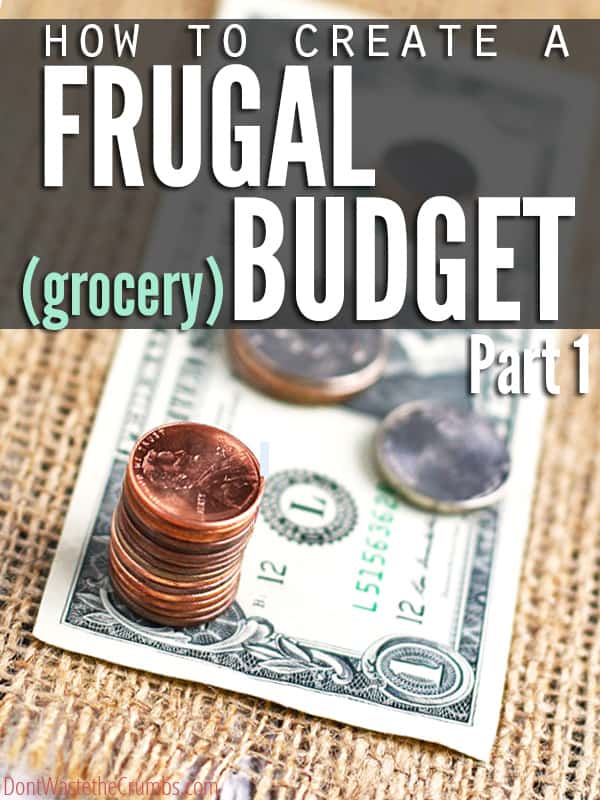 One of the first series I wrote on Crumbs was on how to create a budget. It was a popular series back then, and actually it still is, but I've been wanting to update it since… oh, about a week after I hit "publish."
There were lots of little ideas I forgot to include, information that should have been left out and the emphasis was primarily on the overall household budget, rather the grocery budget. Pardon Crumbs' early identity crisis. 😉
Every now and then we stumble across ways to reduce the electricity bill, experimenting with reducing the water bill, or being more efficient with laundry, but for the most part, we've got food on the brain 'round these parts and it's about time there's a cornerstone "creating a frugal grocery budget" series to reflect that!
And I'm sure you're wondering just how we ended up at a grocery budget of $330/month for our family… it wasn't just some random number!
With the new year just less than a month away, now is the perfect time to revisit that series and give it a little facelift. One of the early steps takes a few weeks to finish, so you'll be all set to go for 2014 by the time you finish this up! (That is, if you're ready commit to a grocery budget. 😉 ).
Step 1: Commit to the Idea
Despite being almost two years old, this first step is still the most important. You absolutely, cannot, in no way shape or form, create a budget nor work within a budget if you're dead set against it. It simply will not work. Here's a prime example.
When I was a kid, I had a bad experience with Froot Loops. Because of that, I will never ever eat them, ever again. Pinky swear. Even if the first ingredient wasn't sugar, the cute little o's hold their shape without fake plasticky trans fat and they get their colors from natural fruit or vegetable juices instead of colors assigned a number, I still won't eat them. No way, no how.
So I know Froot Loops isn't exactly the same thing as a budget, but my point is still the same: You must be willing to have a grocery budget in order for this budget thing to work.
If you are stubborn and want nothing to change, then you'll get your wish. But that type of attitude won't lower your grocery budget and it certainly won't help you to eat better without overspending every month.
So mentally prepare yourself first. Commit to the idea of a grocery budget – no if's, and's or but's allowed. There will be a cap on your spending, and if you reach the bottom of the money jar before the month is over, you're going to have to learn to make do with what you have. But take heart – eating well with only your pantry at hand is not an impossible task.
By the way, everyone who takes part in either the earning or spending needs to be on the same page. The wife can't commit to a budget if the husband could care less. Like me eating Froot Loops, it's not going to happen.
If more than one person has their hand in the money jar, insert step 1(a) here and sit down with everyone. Explain why you think it's important to have a grocery budget and share with them your greater goals of grocery budget stewardship (emergency savings, paying off debt, buying a car with cash, upgrading to pastured/grass-fed meats, organic produce, etc.).
While it is possible to go solo with the grocery budget thing, I personally wouldn't recommend it. Soup nights, leftovers and meat-less meals go over much easier to manage when the family knows the reasoning behind them.
Step 2: Tally Up Your Current Spending
If you were a track runner, this is the official starting line. Step 1 was shaking out your legs, swinging your arms and a couple of last minute calf stretches. By adding up your current grocery spending, you know exactly where you stand and where you need to go.
For the next month, keep every single receipt you spend on food, including dining out. We're not going to account for that in the final budget tally, but seeing how much you spend eating outside the home is very insightful while in budgeting process.
If you buy from a market that doesn't offer a receipt, make sure you write down your purchase somewhere. Keeping all of your receipts in one central location is really helpful, so you might want to designate an envelope so receipts don't get lost. Keep the envelope in the same spot and make sure everyone who buys food is emptying their receipts into it every few days. Hold everyone accountable and ask every couple of nights or so for receipts. Don't go all crazy type-A on them, but if you don't ask often, the tendency is to forget about smaller purchases or to throw receipts in the trash can.
Now be careful – you might be tempted to cheat. A tall cup of coffee from Starbucks or a bag of popcorn while shopping at Target seem harmless, but it's still food and it still counts!
At the end of the month, add up all the receipts for a grand total. Include everything you bought for home and personal use in this – groceries, toiletries, kitchen gadgets, etc. – and compare it against your total monthly income by determining its percentage.
[For the math challenged, here's how you determine that percentage:
(Total Spent on Groceries)/(Total Monthly Income) = A.
Move the decimal point of A two spaces to the right for the percentage.]
What percentage of your monthly income do you spend on food?
In Total Money Makeover, popular financial adviser Dave Ramsey suggests that families spend somewhere between 5-15% of their monthly income on food, and he includes eating out.
The

official USDA food plan

says the "liberal" family of four with two kids (ages 6-8 and 9-11) spends $1250 while the "thrifty" family of the same size spends $632.
This spreadsheet shows data from 2009, listing what the biggest 100 cities spent each month in food.
Where do you fall in the spectrum? Are you at the low end? Are you at the high end?
Although comparing ourselves to what other people spend is interesting, it isn't something we should make a habit of doing often. Every family is different – different sizes, ages, dietary needs, allergies, etc. – so it ultimately boils down to doing the best you can for your family.
So as a starting point, whatever your monthly total was on groceries is now your new grocery budget. From here on out, your first goal is not spend more than that on groceries. Your second goal is to lower your spending, and that starts with step 3!
Looking for some extra help with getting your budget under control? I have good news!!
There are now 5 pages worth of printables available to help you reclaim your grocery budget, and they're all yours – for FREE! Simply subscribe to the Crumbs weekly newsletter and they'll be automatically delivered with your welcome email, along with a copy of "22 Days to a Fresh Start."
By the way, if you're hesitant to sign up because you're afraid I'll clog your inbox, let me reassure you – I won't. The Crumbs newsletter comes just once a week. I might share a really amazing deal with you guys (like when you can get a bazillion books for mere pennies, or when my own book is on sale ;)), but the fact that you allow me into you inbox is something I take very seriously and I will never spam you. I am absolutely passionate about eating real food on a real budget, and I simply want to share what I've learned with you and help you achieve your own real food and grocery budget goals! If I could invite you all over for a cup of coffee and scones to answer your questions, I would! But since we're all scattered across the world, answering your questions via email is the next best option. PS – don't forget to fill out the welcome survey and share your questions with me so I can answer them!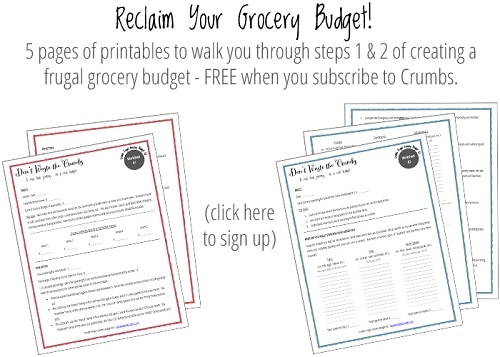 To get worksheets #1 and #2 from the Crumbs Frugal Grocery Budget Kit for FREE, simply click HERE or click on the graphic above. That's it!
May I ask how big your family is and what you spend on groceries each month? I'll go first. I'm feeding two adults, two kids (ages 4 and 6) and I spend $330.
This is the first post of a short series on frugal budgeting. Continue onto part 2 by clicking HERE.
Disclaimer: This post contains affiliate links. By making a purchase through those links, I will earn commission that helps to keep the lights on in the Crumbs house – with no additional cost to you. Thank you for supporting Crumbs in this way. Read my full disclosure statement here.