My grocery budget is $330 each month for a family of four – two adults and two kids.
This real food budget includes food, toiletries, household items as well as health & beauty products.
Today marks the end of July 2014.
—–
This was a somewhat strange month for us.  It started with Mr. Crumbs out of town for a couple weeks and the kids and I were fully intent on eating out the kitchen as much as possible.  Which we did, thankfully.  Those two quarts of soup in the freezer were taking up valuable space!
Then our CSA subscription started (a gift from my step-mom – THANK YOU AGAIN DEBBIE!) so we've been getting tons of fresh produce each week and I hadn't planned on buying any.  Silly me thought that we'd be able to shave quite a hefty sum off our monthly expenses with all the produce, but after doing the math, that didn't happen.  Hmmm….
Here's how the month panned out.  I'll share my thoughts on where we could have trimmed back, but I'd love hear yours too in the comments!
The Farm – $27.20
avocado, 1.50
organic beets x3, .25
organic rhubarb, 2.60
organic cherries, 3.78
organic day-old strawberries, 20
5% discount, -1.43
Ok, so we're looking at total splurges here.  I admit, nothing was a "need."  At the same time, I figured that I had wiggle room with the CSA box.  I probably should decide which is more important, saving the money, or trying new foods and stocking up on some favorites for later in the year.  Which would you do?
In either case, I smeared the avocado onto a few grilled sandwiches and saved some for a recipe (see below), blended the beets up in smoothies and made strawberry and rhubarb baked oatmeal (that totally tanked and led me to this delicious recipe instead).
We did nothing special with the cherries except eat them. 🙂  The day-old strawberries were dehydrated for one batch, then frozen into two gallon bags.  One gallon bag is left, so I hope to restock it again soon.
The discount is part of our CSA subscription too.  One of those little perks I was talking about.
Savemart – $7.37
organic whole milk, 6.38
organic mixed salad greens (discounted), .99
Whole milk for coffee creamer and kefir, mixed salad greens to make salads.  We've got lettuce growing in the garden, but it's not producing as fast we're wanting to eat it.  Plus I'm still learning restraint with discounted produce versus the CSA box.  It's tough!
Grocery Outlet – $23.91
canned salmon, 2.99
brie, 2.99
organic free-range eggs, 4.99
sharp cheddar, 2.39
blueberries, 3.99
new zealand butter x2, 1.29
pineapple x2, 1.99
While Mr. Crumbs was away, we tested a few recipes that I knew he wouldn't be a fan of.  The salmon, brie and cheddar was for those.  Eggs are a staple, blueberries were a splurge (and not organic, since I haven't even seen organic blueberries yet this season) and the pineapple is for snacking.  Anchor butter is grass-fed butter from New Zealand, and at just $2.40/lb, it came in slightly cheaper than Kerrygold at Costco.  I picked up one pound to hold me over and prevent me from making a Costco trip until Mr. Crumbs came back.  I figured staying OUT of Costco alone should help the budget, right?
New Recipes: 
Savemart – 7.96
bag bananas (discounted) x4, 1.99
More 'nanas for snacking and smoothing.  Not a fan that they raised their price by 50¢ per bag.  At this rate, it legitimately might be cheaper to by them individually and perfectly ripe at Trader Joe's at 19¢ each instead… the saga continues….
Gizdich Ranch – $18.30
11.09lbs u-pick strawberries
Another splurge, but incredibly tough to resist with the fact that we live practically next door to the major strawberry fields that supply the ones in the stores.  The kids and I teamed up with my step-mom, my friend Maria and her kids and picked until we couldn't carry anymore.  To be honest I really thought my total was going to be much higher.  These too were frozen and we ate LOTS fresh, but we also tried a few recipes.
New Recipes:
Costco – $86.20
electrosol tabs, 11.49
granny smith apples, 6.79
trash bags, 15.49
yellow onions, 5.49
sourdough bread, 6.99
organic cheddar, 11.99
fresh mozzarella x2, 6.99
kerrygold butter x2, 6.99
Soap for the dishwasher (on sale) and trash bags because we were out!  Apples for snacking, onions for cooking, cheddar for recipes, mozzarella for pizza and butter because it's awesome.
I cheated and bought sourdough because it was just the kids and I and I REALLY didn't feel like making bread.  However, you should know that this decision did NOT come lightly.  I stood in that aisle (<–thanks Nikolia!) and STARED at the bread, knowing that it was a big splurge and that I could easily make it for less.
In the end, I justified the purchase by the fact that it was just me and two kids for two weeks and thought that if it only took two loaves of sourdough bread to keep my sanity, then I was doing pretty good.
PS – two loaves came in the bag
Whole Foods – $6.45
organic garlic granules, 1.65
organic pepitas, 4.80
I bought these while researching for this post, which worked out well since I was out of both.  I am considering buying herbs and spices from Mountain Rose Herbs though since they have really great deals.  See the difference in garlic here.  Do any of you have any experiences to share?
Grocery Outlet – $1.99
romaine 3pk
A complete last-minute stop by Mr. Crumbs.  We were hosting company and forgot that we needed lettuce for a salad.  Doh!
Savemart – $4.66
whole wheat spaghetti x2, 1.33
white spaghetti 2lb, 1.99
Along the same lines as the Grocery Outlet trip – can't have spaghetti without noodles!!
Savemart – $3.26
whole wheat rotini pasta, 1.39
red potatoes, .64
white potatoes, 1.23
We used the pasta to make a nothing-like-the-original summer squash pasta and roasted the potatoes for dinner one night.  I actually wanted to plant these since our spinach plant was taken over by ants, but we ate them first.   Oops.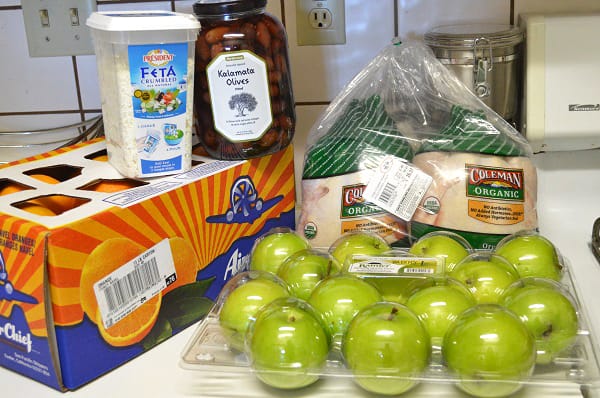 Costco – $59.93
kalamata olives, 7.39
feta, 7.69
organic whole chickens, 26.57
granny smith apples, 6.29
Mr. Crumbs is officially back in town and he requested his beloved couscous, so that's what the feta and olives are for.  Two whole chickens are our standard monthly purchase and apples again since he takes one to work every day and the kids split one for a snack every day as well.
Savemart – $8.37
sour cream, 1.99
organic milk, 6.38
Again, milk for for coffee creamer and kefir.  Sour cream was for chicken enchiladas very similar to these, but not quite the same.  They were a COMPLETE hit, so recipe definitely coming soon on those.
Grocery Outlet – $26.65
nitrate-free bacon x3, 2.49
new zealand butter x3, .99
corn tortillas, 1.99
arborio rice, 2.49
guacamole mix, .79
wasabi peas, 1.99
pickles, 1.99
sun dried tomatoes x4, .99
avocados x2, 1.50
No real foodie can pass up a good deal on nitrate-free bacon, so I bought three.  More butter and for a lesser price (YES!), arborio rice for a version of risotto similar to this and guacamole spices for… drum roll please… guacamole!
I need to confess that I cheated on the corn tortillas.  They were ready-to-cook and I knew I was going to be pressed for time when making this recipe for company.  I figured I'd buy them this go around for the recipe, see how many I used (18) and then I'd know how many to make from scratch the next time.
I also apparently have been living under a rock because WHAT'S UP WITH ALL THE YUCKY INGREDIENTS IN A GUACAMOLE SEASONING PACKET?!  Sheesh.  I'm definitely going the homemade route next time (thinking about this recipe) and ditching the fake ingredients for sure.  Totally. Not. Cool. Spice Company.
We took pickles on our last camping trip and the kids totally loved them, so this was a fun treat for them.  Sun dried tomatoes for the couscous, which turned out to be a better deal than Costco's, and avocado's to make the fake ingredient-laden guacamole.
I'm still slightly peeved about that, if you haven't noticed.
Savemart – $12.17
wing sauce, 2.79
organic milk, 6.38
blue cheese dressing, 3
If you couldn't tell, it was about this time when I started to realize that my meal planning skills STINK when it comes to the CSA box.  I came up with buffalo chicken wraps for dinner, hence the sauces, but really should have made something else since a) we didn't eat anything from the CSA box, and b) we didn't have either of the sauces on hand.
Really Tiff?  Goodness gracious.
Thankfully, it's getting better.  I plan 3-4 dinners out when the box arrives and come up with tentative plans for the rest.  I also blanch/freeze/dehydrate as needed for items I know we won't be able to eat in time.  Yes, I promise I'll get this figured out.
Savemart – $6.48
salsa verde, 2.49
sour cream, 1.99
cilantro, .50
organic spinach, 1.50
Everything above was for these chicken enchiladas.  I did the math and as written, it's about a $10 recipe.  Not bad for 2+ meals (seriously), but I'd like to see if I can up the ante and reduce the bill a little bit before posting.  But it will be coming.  Oh yes, it will.
Month Total = $300.90
We saved $30 with the CSA box, which isn't too bad, but not nearly as much as I was hoping for.  With my new short-term meal plan underway with the produce box, I'm hoping to keep next month under $250.  That is, unless I find a killer deal for meat… and then I might have to stock up.
I could have made several items from scratch to save money:  blue cheese dressing, salsa verde, bread and corn tortillas.  At the same time, I think we all need a bit of grace when we know we're going to be busy.  Hence the other 80%. 😉
How's your grocery accountability coming this month?  Did you come in under budget?  Go over?  Leave your progress in the comments!