These black bean brownies are super quick & easy. With 9 REAL food ingredients, you'll want to satisfy your sweet tooth every week! They're flour-less, vegan-friendly, and simply delicious!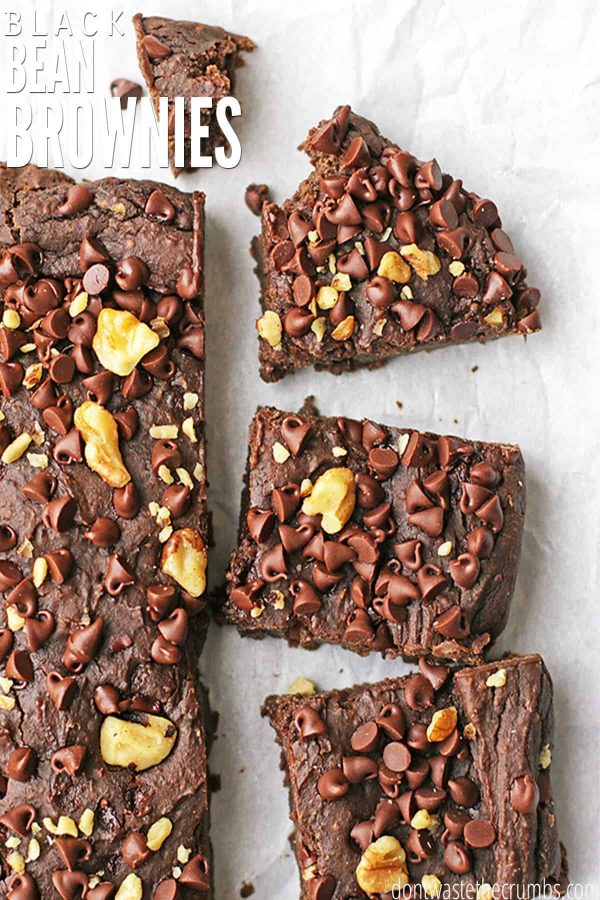 One of the biggest ways we save money is by making things from scratch that I'd ordinarily buy at the store, like Hot Pockets and Instant Oatmeal Packets. Our family was craving a sweet chocolate treat so I developed a healthy recipe for black bean brownies…

Now you're probably thinking there's no way that something WITH beans and WITHOUT sugar could even remotely, possibly be good.
But these super moist brownies are SO amazing with a rich, fudgy chocolate taste! The first time my family tried these brownies, they fell in love.
WHY MAKE BLACK BEAN BROWNIES?
Not only do they taste amazing, but these brownies are also a healthy treat!
Made with 9 ingredients that are all 100% real food.
Very allergy friendly– gluten-free, dairy-free, and no eggs! (Just double check your chocolate chips if you are baking dairy free).
NO refined sugar– sweetened with maple syrup! (double check those chocolate chips!)
Made with BEANS…without a bean taste! Need I say more?
LESS ingredients than processed brownies like Little Debbies, AND we're avoiding the especially harmful ingredients like hydrogenated oils (bad-for-you vegetable oils) and high fructose corn syrup.
I hope I have convinced you that this black bean brownies recipe is quite possibly the best thing that will happen to you this year!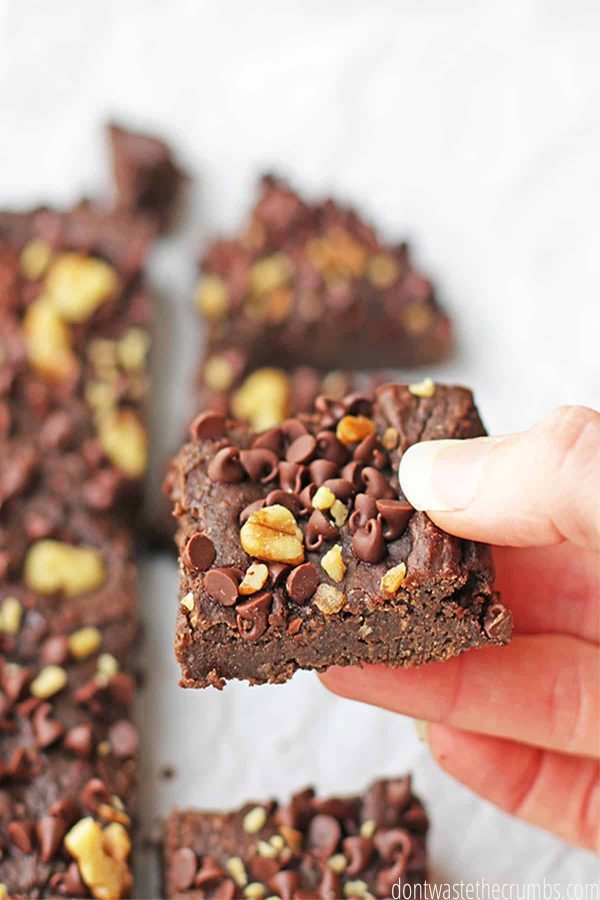 BLACK BEAN BROWNIE INGREDIENTS
Note: There are some brownie recipes that call for instant coffee, which doesn't turn out with a taste like coffee, but deepens the chocolate flavor of the brownies even more. Although I haven't tested it in this recipe, I'm sure it's a delicious option. Let me know if you try it!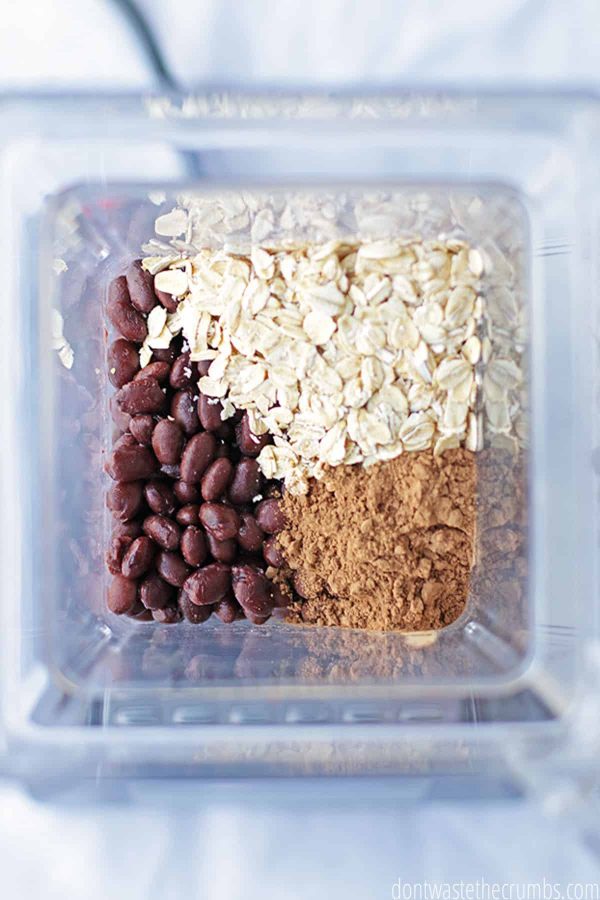 HOW TO MAKE BLACK BEAN BROWNIES INSTRUCTIONS
Step 1. Grease an 8×8 square baking pan (or use parchment paper).
Step 2. Blend the ingredients in a high speed blender (or a food processor).
Step 3. Fold in the chocolate chips.
Step 4. Spread the brownie batter in the baking dish.
Step 5. Bake in the oven at 350F for 15-18 minutes.
Step 6. Bake. Cool. Enjoy!!!
A batch of these goes pretty fast around my house, but if you happen to have any leftovers, you can save them in an airtight container on the counter for 3-4 days.
TO SERVE BLACK BEANS BROWNIES
Are you looking for something to put on as a topping? Try a pinch of salt on these delicious black bean brownies!
Psst! If you're going to add salt, I highly recommend Ava Jane's Kitchen. You may think all salt is created equal, but unfortunately, 90% of the salt produced around the world contains microplastics (gross, right?). Ava Jane's Kitchen is an exception. Their salt is 100% microplastic free, and it's SO GOOD! Plus, you can get a bag for just 1¢!! (Get your penny bag of salt on this page.)
For a yummy peanut-butter-and-chocolate combination, you could use peanut butter chips instead of chocolate chips, or top with Peanut Butter Frosting. Yum!
Chopped walnuts work well as a nut topping, but if you're not a walnut fan, try chopped pecans or slivered almonds.
And for a really decadent treat, top your brownie with a scoop of Homemade Vanilla Bean Ice Cream!
BLACK BEAN BROWNIE FAQS
What are the benefits of using black beans in the brownies?
Black beans are a great source of protein, quality carbohydrates, and fiber! They are also low in fat and contain magnesium, zinc, phosphorus, and several minerals.
Are these vegan black bean brownies?
I have good news for you if you prefer vegan treats: these black bean brownies can easily be vegan if you use dairy free chocolate chips.
Are black bean brownies gluten free?
This black bean brownie recipe is made without using gluten ingredients! Just be sure to check the oats and the chocolate chips to be sure that they are without gluten, if necessary for you.
Are brownies with black beans healthy?
Yes! Since they are made with only 9 simple real-food ingredients, they are packed with nutrition. Black bean brownies are much healthier to eat than processed box brownie mixes or packaged brownies with unhealthy ingredients like Little Debbies.
You could even boost the nutrition even more by adding a tsp of flax seed!
According to Harvard Medical School, black beans are loaded with fiber, protein, vitamins, and a ton of other nutrients. It's a great idea to make them a regular part of your diet!
I can't mention enough that these brownies are free of refined sugar (even store-bought brown sugar is refined sugar), and sweetened with natural maple syrup, which is real food that our bodies recognize as food!
MORE DESSERT RECIPES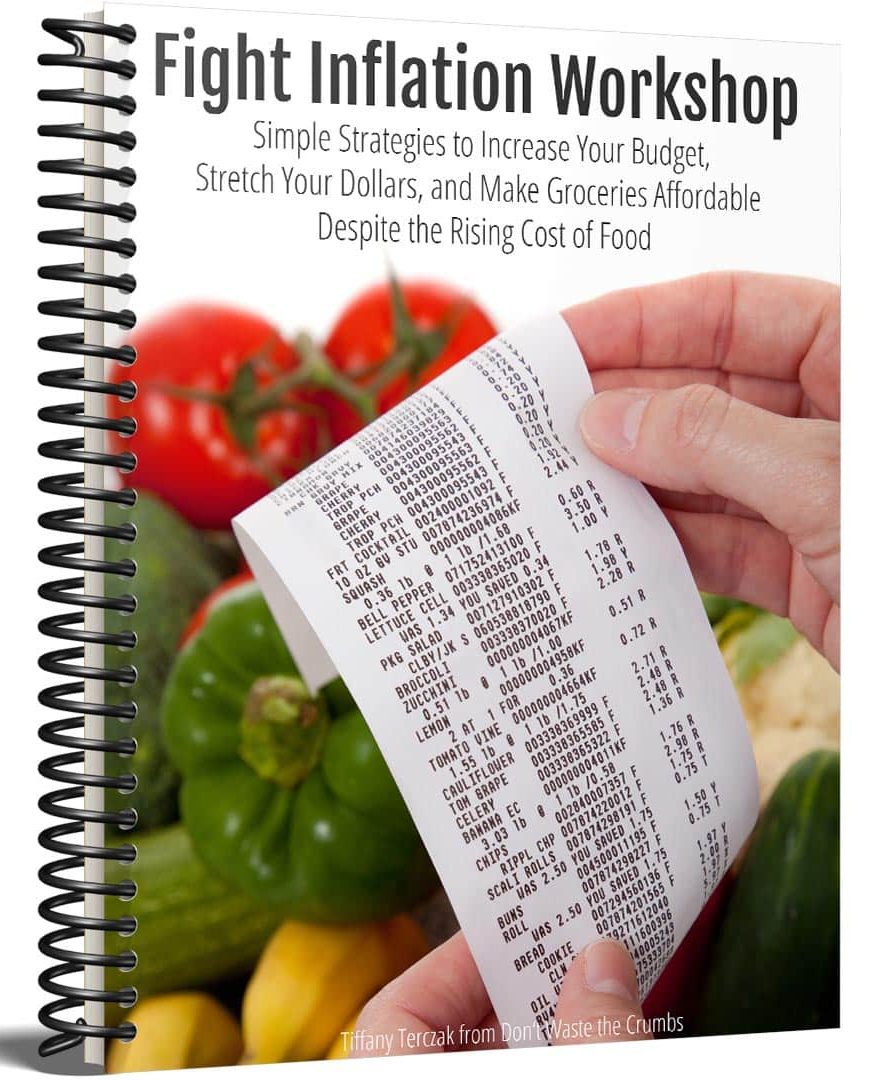 Fight Inflation Workshop
Sign up for my FREE
Fight Inflation Workshop
and learn simple strategies to save money, even with rising food costs!
Watch How to Make Tasty Black Bean Brownies
Black Bean Brownies
These black bean brownies are super quick & easy. With 9 REAL food ingredients, you'll want to satisfy your sweet tooth every week! They're flour-less, vegan-friendly, and simply delicious!
Author: Tiffany
Prep Time:

10 minutes

Cook Time:

18 minutes

Total Time:

28 minutes

Yield:

12

brownies

1

x
Category:

Desserts

Method:

Blender

Cuisine:

American
Instructions
Preheat the oven to 350F.
Grease an 8×8 baking dish or line with parchment paper.
In a high powdered blender OR in a food processor, combine the ingredients in the order listed.
Process the ingredients until the batter is ultra smooth, approximately 2-3 minutes.
Fold in

¼

 cup of the chocolate chips.
Spread the batter evenly in the prepared baking dish. Sprinkle the remaining chocolate chips and nuts (if using) on top of the batter.
Bake in the oven for 15-18 minutes, until the brownies are cooked through and set.
Allow to cool thoroughly before cutting.
Notes
This recipe is easy to double. Use a 9×13 pan and bake for 17-18 minutes so that the center is thoroughly cooked through.
If you don't want to go through the trouble of folding in the chocolate chips (and dirtying another bowl), you can sprinkle them all on top. Alternatively, you can fold all the chocolate chips in too. My kids liked having the small bits of chocolate on top.
I've made these with canned beans and dry beans cooked from scratch and we preferred the tasted of dried beans from scratch, although the canned beans came in a close second. If you use canned beans, be sure to rinse them thoroughly (until the water runs clear) before using.
Keywords: Black Bean Brownies