Written by Mr. Crumbs
I work in a large office like environment.  On a typical day I'm either in a data center with headphones on, behind a desk, or programming network equipment.  Because my weekdays are filled with fluorescent lights and more computer monitors than I can count, I prefer to spend my weekends outside of the house and away from modern electronics.
We could do everyday fun stuff like movies, eating out and miniature golf – but we could also save the money and use it towards bigger, more memorable stuff like family vacations or trips to visit family.
For me, weekends often feel like a tug of war.  One hand says to take the kids to the new Lego movie while the other hand says to spend every second outside and find ways to appreciate and admire God's creation.  The fact that the latter is free plays a factor too (and we did splurge to see the Lego movie, by the way).
It's important that we find balance in the things we like to do as an individual – and the things the family likes to do corporately.  No one – not the child nor parent – wants to be dragged somewhere and forced to have fun.  At the same time, it's important that families spend time together as an entire unit, not just Mom taking one child to ballet while Dad takes another to baseball.
As the result, we've come up with a short list of things that we all like to do as a family.  They're frugal, they're 100% family approved and they're all outside.  None are mind-blowing or earth shattering ideas, but they have become routine in our household, in which both Mrs. Crumbs and the kids all look forward to.
5 Fun and Frugal Activities to Get the Family Outside
1.  Hiking
Children love exploring and seeing new places.  As it turns out, parents kinda like it too!  Hiking is our go-to weekend activity when there isn't a birthday party or baseball game scheduled.  We've been able to explore the trails in our area, enjoyed amazing views of the ocean and mountains, and it's a great way to escape the hustle and bustle of busy life in general.  My in-laws have even jumped on board, making it something that family of all ages can enjoy.  Tips for success:
Be patient with the kids.  Depending on the age of your children, they may travel at a lighting pace, or a snail's pace.  Enjoy your time with them and let them be the guides.  If the area has maps or trail markers, let them lead the way and make it a competition on who can find the next trail marker.  Estimate about 1/2 mile per year of age (so 2 miles for a 4 year old) at first, and if you snacks, you might be able to get a bit more out of them. Parents, be patient.
If you get slack for going on another hike, give it a theme.  Our last hike was a "photo hike" and each kid had their own camera (ones we no longer used). They were in charge of all the photography for the day.  After the hike, we went to a local craft store, picked up a multi-picture frame, printed the pictures, and made a photo collage for their great grandmother.  They plan to give it to her when she's in town this month as a gift.  This idea made for our best hike yet!  Find the biggest pine cone and find the biggest leaf are two others that were a lot of fun too.
2. Go on a bike ride
It sounds cliche, but they really are a lot of fun!  If you have bikes, get out and use them.  If you don't know of any bike paths or safe areas to ride, get out and find them.  Use the internet and ask around to find parks, trails, paths and large car-free places in your area.  Tips for success:
Take plenty of breaks.  This is especially important if the kids are younger or new to biking.  Let the child set the pace and pack water and snacks in a backpack to make the trip more enjoyable.  If possible, have a destination in mind.  Smaller distance markers like picnic tables and grassy area count as destinations too!
Bring a friend.  You'll be surprised at how much farther your children will ride if they have a friend riding with them.  My 6 year old son complained one early Saturday morning – for 3 LONG miles – about not wanting to ride.  However, as soon as his friend joined us on the path, the complaining stopped and we rode another 11 miles at a nice brisk pace.  Remember from your childhood – friends always make it more fun!
Create an incentive or goal.  Riding your bike to the ice cream shop is so much more fun that riding to nowhere.  Our longest (and most memorable) ride was completely unplanned.  While on our regular 7 mile loop, my son decided that he wanted to ride to a local crepe shop.  The shop is over 10 miles from home, making the total trip 21 miles.  I explained to him that if we rode all the way to the crepe' shop, we'd have to ride ALL the way back.  He jumped at the opportunity and rode the entire way without complaining or whining!
3. Find a local park
Do you remember swinging as high as you could on the swings?  Finally making it all the way across on the monkey bars?  What may not seem important to you as a parent often mean the world to your child.  Make it a mission to find the most awesome playgrounds in your local area and actually visit them!  One of our favorite parks has a slide over three stories tall, that we never would have considered visiting unless we were intentional about looking.  Tips for success:
Pack a lunch and plan to stay for awhile.  It's easy as parents to want to "check the box" off that you spent a few minutes outdoors, but consider letting your kids decide when they are ready to leave (provided you have the time to stay).
Play with them.  Whether you are playing tag on the jungle gym or swinging from the monkey bars – kids love it when you get involved.  Avoid the bench if at all possible.
Bring a friend.  As mentioned earlier, it's always more fun with friends!
4.  Go to the beach
I realize this isn't possible for a large majority of the country (and that it's freezing in many parts of the country right now), but if you are within a 45 minute drive of the coast, go!  Pack the car with a blanket, umbrella, lunches and make it a day trip.  goodies.  There's a fairly good chance your kids like to dig giant holes in the sand and this can provide hours of entertainment – without an electronic gadget it sight!  Tips for success:
Get wet.  Don't be afraid to go in the water with them!  The day is about family time, not getting the perfect tan.  Jump in, have fun and enjoy the time with your kids.
Bring a shovel.  Yes, a shovel!  It's no fun looking at the beach goers next to you who have a ginormous hole in the sand, all the while your own kids want to play in it.  Dig it deeper, build it bigger and have fun!
No ocean?  Try community pools.  There may or may not be sand, but playing in the water is fun whether it's the ocean or a pool.  Look into your community to see what's available and if they open swim hours.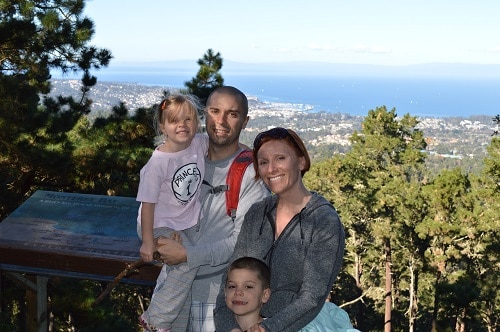 5.  Find a free concert

Don't tell me they don't exist in your area because they do.  They always do.  Use the internet to search what's happening in your local area and commit to going.  We were surprised to find that Santa Cruz offers a free summer concert series every Friday night during the summer months.  We made it a point to go to every single show last year and the whole family loved it.   Tips for success:
Make a day out of it.  Whether you're going to the beach, park or mall – do what you can do to make the most of the opportunity.
Pack meals.  Snacks and drinks offered at concerts are usually not very healthy, and often very expensive.  Save by packing your own meals and drinks.
No matter where you live, spring is right around the corner.  Living on a budget doesn't mean you can't have any fun!  Be creative with your activities, think outside the box and remember most importantly – these years with the kids will only last for so long.
What's your favorite childhood activity as a family?  What do you do NOW as a frugal way to enjoy the outdoors?