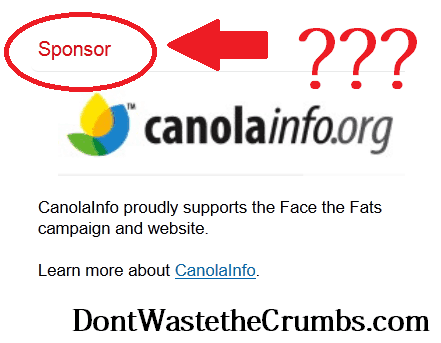 Based on all the comments, the Truth About Fat series is definitely making us rethink saturated fats and their affects on the body.  It's also making us alter what we've been led to believe on the "healthiness" of monounsaturated and polyunsaturated fats.
GOOD!
We need to challenge what we've been told!  We should be out there reading all those studies that have been done, drawing our own conclusions.  We should not be relying on people who draw conclusions in order to fatten their paychecks.
I wanted to share a couple articles that I found this week that tie in nicely with our current Truth About Fat series.  Take a gander when you get the chance.  I have no doubt your eyes will be opened and your jaw dropped to the floor too!
"An epidemic of obesity has accompanied the adoption of a low-fat diet. In 1900 only 1 in 150 people were obese, 0.7 percent of the population. By 1950, 9.7 percent of Americans were obese. Now two-thirds of Americans are either overweight (33 percent) or obese (32 percent)…  Americans have replaced saturated fat in their diet with processed polyunsaturated vegetable oils and carbohydrates… there is now good evidence that this diet is a major cause of the epidemic of obesity, type-2 diabetes, heart disease, stroke, cancer, and various mental problems (such as depression and senile dementia) that afflict an increasing number of Americans…. "
Read the full article titled "Health Benefits of a Low-Carbohydrate, High-Saturated-Fat Diet" here.
Reader Nadine raised a concern that I don't doubt we've all wondered this past few days – we've been told to keep our saturated fat intake low and that monounsaturated fats and polyunsaturated fats are really the healthiest.  You can read my soap-box response in the comments section in this post, but I had mentioned CanolaInfo.org being a sponsor of the America Heart Association's website.  Whether or not you've seen any documentaries or read any research, this should raise a flag.  Why is ANY organization even remotely related to the production of an item that could very well lead to heart disease, directly sponsoring fat education?
Check out the sponsorship (and skip the misleading information) here.
Finally, we've covered the dangers of high fructose corn syrup (HFCS)pretty extensively lately, but I found another article that was worth passing on.  This one talks distinctly about the fructose in HFCS tricking our brains into thinking we're still hungry.
Fructose… the body basically does not know how much is too much, which tends to fuel a person's desire to continue eating without abandon… when the human brain is exposed to fructose, 'neurological pathways involved in appetite regulation are modulated, thereby promoting increased food intake.' "
Read the full article titled "Fructose Triggers Brain Changes that Lead to Overeating" here.
Frightening stuff, I know!
In better news, winners of the NuNaturals flavored liquid stevia giveaway have been drawn!  A big congratulations go to:
Ingrid ([email protected])
Lisa ([email protected])
Laura ([email protected])
Sarah ([email protected])
Emails have been sent so be sure to reply if you haven't already!
And if you didn't win, remember that NuNaturals is offering 15% off site-wide using the discount code BLG0613 through June 30, 2012.  Considering their prices are extremely competitive as it is, the discount code puts them over the top.  Get a 1lb bag of xylitol for $4.58 after discount, or a 1lb bag of coconut sugar for only $4.24!  Those are dangerously low prices that even Amazon can't beat!  Shipping is free on orders over $35, so now may be a good opportunity to stock up on these pantry staples.
Read any interesting health news lately?  Share with us in the comments!